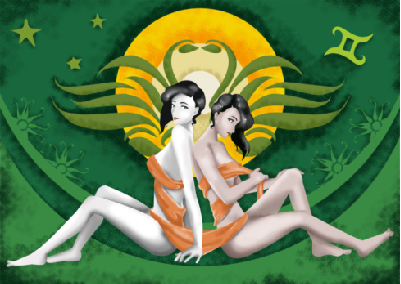 Gemini - Mercury-ruled - May 22-June 21
Their ruler is fast-thinking Mercury
Gems' middle-name - Adaptability;
Their Element is AIR,- I think, therefore
I am, - I think, I wish- for so much more.
Their Quality is Mutable - attune-
Adapt they can to mishap and to boon.
Behold the Double-Catch and charm of Twins,
Permitting them to do a zillion things.
Adapting well, resilient and supple
Gems offer double charm and double trouble!.
Have penetrating wit,- their repartee
Is sharp as is their waggish glossary.
Their color is the rainbow - many-hued.
Their flower is Lavender - well bedewed.
Quick-witted and inventive are the Twins
Their banter needle-sharp, will prick like pins.
Communication is Gems' urgent drive,
For without contact Gems lose zest for life,
Are nimble-brained,- for mediocrity
They will exact a Dunce's penance fee.
Their Energy- the YANG, thus Masculine,
Jacks-of-all-Trades, whose patience can wear thin.
The Agate is their special Stone, and Twins
With sharp sarcastic puns jab tender skins.
On high alert, and always questioning
Are interested in most anything.-
Make biting critic-writers satirists-
Enjoy hip-hop, loud rap and whirlwind twists.
Are effervescent, - but can change their mind,
If freedom is at stake, or duties bind;
The Gems are linked both by a common fate,
And great their need to contact and relate.
Some ancient choice designs show Gemini
Walk hand in hand in close and loving tie
As typical of Spirit and of Soul
And straining, striving to attain their goal.
In Grecian art the Gemini are shown
A pair of lovers, yearning to be one
Their constellation twinkling in the sky
Does promise them their union draws nigh.
Castor and Pollux,- Leda's famous sons,
One mortal, and one immortal their stance,
One by god Zeus, and one by man begot,
Jason's companion on the Argonaut.
But Christians artists did revise design,
With sickle and with lute are shown the twain,
The mortal and the immortal unite
And Soul and Spirit step into the light.
They sit upon a sun beam now and play
They vanish - and I have no more to say.
Best wishes to all Gemini!