bathing in dusky darkness
spitting out stream of silvery stars, while
cradling a sallow half-moon in aquamarine dreams
and golden sands transform into mystique moon-dust.
Palm trees sway to the symphony of the sea
as I stroll on the silvery sands of the lonely lagoon.
Zephyr ruffles my humid hair and the hissing sea-waves
lap their silvery-tongues to savor the salty shore.
Frothing foams follow my footprints on the wet mirror
tickling my vagabond feet.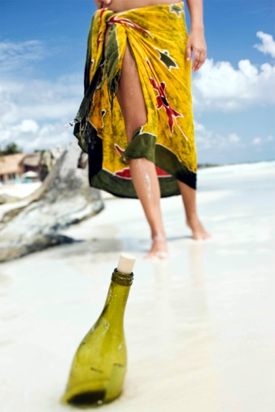 A crowd of crawling coral-reef crabs
swarm out of a spiral shell
to race with the retreating tides
while my bare feet stumble upon
washed up on sleeping shore
like a gift from womb of the ocean…
Picking up the castaway receptacle,
lamps of my eyes beam like a beacon
when I see a note folded within
the turquoise glass bottle.
pull out the folded paper,
and a film of faint floral fragrance
floats in the air
mingling with the salty smell of the sea…
Listening to the music of whispering waves!
I unfold the onion-skinned paper
and try to decipher the message -
and the faded message reads -

Treat life as sea, Your heart as sea-shore,
and friends as waves.
It doesn't matter how many waves are there,
What matters is -
Which one touches the shore?

Image (c) Gettyimages.com