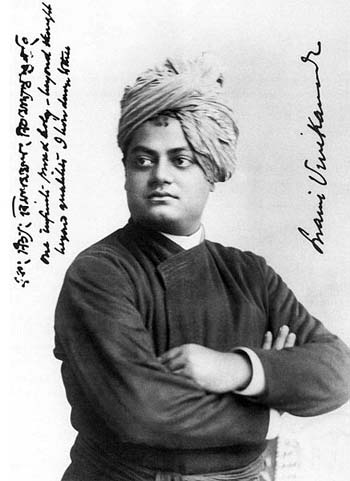 In the skies of Shimla Pally, Kolkata,
a Star was born on January Twelve, Eighteen Sixty Three -
Who had shunned the world
with love and devotion in minds, pollution free!
Darkness in the horizon was speechless and quietly spellbound,
By the brightness of this single Star that no where could be found!

Later, the brightness became brighter, when the star landed on the earth -
And declared His presence in the middle of throng by virtue of His birth!
The voice of welcome was echoed through the loud ringing bell,
To focus the 'only message' that history is now so proud to tell!
Brightness of this single 'Star' was watched closely by the God-
And changed Him to 'Swami' quickly with a very simple nod!

Thus Narendranath Dutta was born as 'Swami Vivekananda' of the universe-
And became so synonymous in every house without any rehearse!
Through the years and throughout the world, He had to fly -
To preach: joy of loving is always a pleasure and will multiply!
Today, our Vivekananda is resting in the heaven, but the legacy lives on-
And reminds His love and passions for humanity, from dusk until dawn.

Hello, Beloved Brother, please accept my deepest love and respect;
Your absence is truly unbelievable and really heartfelt.
We have kept in our hearts a "Special Spot" just for you,
'Cause your lessons are immortal and draw the global view.'
You achieved your "Spot" through sacrifice and enormous tolls -
And they are still vivid, around the world, in everyone's souls!
Your innocent smiles have stirred up the hearts of all,
And the world will remember you always without your call!
Your soft unspoken tender love and the glittering eye-
Shine at the whole universe, and never say good-bye!
Your courage was awesome, in the tales it can be found -
And tears still pour in, globally, to make us spellbound!
You never gave up your efforts and had unlimited patience,
'Cause Lord gave you His strength to exert your persistence!
From us, today, you are wandering freely very far away-
But offering us lessons while keeping your mind at bay!
Your strength and love for living beings and humanity are felt everywhere-
Around the globe, in oceans, in soils, and in open atmosphere!
Be assured that your lessons will be with us at all the time,
And direct us in the darkness and even when the winds chime!
Today, we float our broken minds immersed in dew-moistened tear-
To display our deep affections for you, Revered Brother, without any fear.
We will carry on your untiring efforts with blind folded eye,
Without any set back or hesitation and uncompromised vie.
Brother, our hearts are now crying alone in daylight and darkness,
But vividly remember your tender love with the natural harness!


So, before conclusion, I love to say this,
Although it's very very true, as it is-
You continue to inspire people around the world for 150 years,
And remove their mental darkness by wiping their tears!
Today, your love and sacrifice stunningly span around the earth,
Although the Kolkata, India, was the sacred place of your holy birth!
Brother, you are a "Citizen of the World" and are missed by all,
But your simple motto, love and peace, will stand pretty tall!

You are the "Epitome of Love and Humanity", and our eternal guiding light -
To lead us all in the direction of fellow feelings, without loosing the sight!
You will shine forever like a viable "Rising Sun" in the Far East,
So Bright, so Generous, so Gentle, and so Polite to say the least!
The aspects of your illustrious life are too simple and straight,
And will remind us to love and live, even after the "sunset"!!!