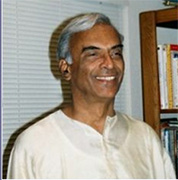 Growing up - I was always awed by the Marble Rocks (gorge) of Jabalpur, Madhya Pradesh. Sitting on a mule and going to the bottom of Grand Canyon (of Colorado) gave me a different awww! - but what GRAND sights!! :)
Having done extensive flying duties in the IAF, on retirement I was looking forward to a more down to earth and peaceful life. Life is nothing if not full of surprises. I am flying even more in India and US, and busy with my work of creative writing. Now writing about birds, travelogues, articles on scientific and environmental subjects in Hindi, and Upanishads take most of my time, that is whatever is left after giving discourses on Upanishads.
8 books of mine have been published since my retirement, taking the total to 11. (Anand panchi niharan ka - published by NBT, Beghar - An anthology of poems - pub. BSS) Also a Chapter on Upanishads in the 'World Encyclopedia of Hinduism' ( being Published from the US).