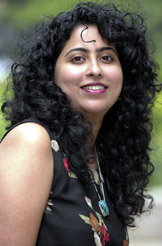 Anita Nair is the author of the best selling novels The Better Man and Ladies Coupe and the poetry collection Malabar Mind. Her other books include a collection of short stories � Satyr of the Subway & Eleven other Stories; two children�s books - The Puffin Book of World Myths and legends; Adventures of Nonu, the Skating Squirrel and she has edited an anthology of writings about Kerala titled Where the Rain is Born. Her new novel is Mistress.

Her books have been translated into 29 languages around the world.

Anita Nair divides her time between Bangalore and Mundakotukurussi, Kerala.