Continued from "The Literary Muse ... "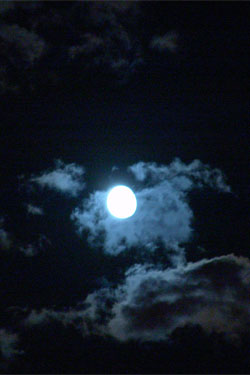 The park was bright with Sun light even after 6.15 p.m. Slowly the twilight was engrossing the park in its splendor. The two Haloens reached the rectangular pond with a statue of a woman pouring water from her pot. They sat on the grass facing the statue. A Kingfisher bird came like a bolt form the blue, splashed the surface water and stood near the foot of the statue holding a black Molly fish in its beak! It was a surprise sight to them. The bird tilted the little fish this way and that way till the fish became still. The Kingfisher swallowed it and flew away with a great satisfaction!
'I am not finding it convenient to visit the library nowadays,' said Kannan. 'How is our old librarian, Mr. Ganesan? Could you find time to see him?'
'I don't have touch with him,' said Gopal. 'I heard that he is in retirement. Now he is living in his native village, it seems.'
'A good man! How is the new librarian?'
'The new librarian is a young man, sincere and strict. Except his staff members, he never entertains any visitor inside his office.'
'O, I see!'
Gopal took out a cigarette and a match box from his shirt pocket and placed them on the grass. Both of them took a cigarette each and lit them. With a relaxed mood Kannan smoked the cigarette, while the misty clouds changed rapidly from one hue to another before the red ball like Sun in the West.
'Gopal, you have seen my preface for the Halo friendship when you met me at home just before we came here. Could you suggest me as to how I have to proceed with this venture? To put it plain, what shall I follow to collect points or facts to write this history?'
'For writing the second part of the Halo friendship, you can collect matters from the Halo magazine i.e. from the Halo Reports. For the first part i.e. The Birth of The Halo Friendship, you have to collect points directly from all the Haloens.'
'Yes, exactly that is what I am going to do. For the convenience of the Haloens, I have prepared a set of questions to be answered by you all which would be helpful for me to complete this history. I think I can say the questions to you now and can collect answers for them from you first. Likewise I shall collect answers for the questions from other Haloens too by word of mouth or on paper as the case may be which is convenient to them.'
'That is also a good method for this kind of job. You tell me the questions one after the other as I am answering you. Let me see.'
'Thank you, Gopal. Here are the questions:
When, how and where did you meet our friends of this Halo?
What were the causes for the formation of this Halo friendship?
Why the meetings were arranged and how was it helpful to you?
Mention the name of the topics that have been discussed.
Give a brief out line of the activities that took place after the birth of the Halo friendship.
Give the draw backs of our Halo and give the solution for them by suggesting suitable remedies.
That is all. I think you have understood the nature of the questions. These six questions are written in this piece of paper for your reference whenever possible. You may have it for yourself and tell me our answers as far as you can, taking your own time.'
With a cool look on Gopal, Kannan started smoking the cigarette he had in his fingers. Gopal read the questions to himself for sometime, smiled at Kannan and started his talk with him.
'Really they are all pertinent questions. I can only give you a brief answer and basing which you have to develop the best you can. Let me try how far I can recollect matters about our activities.'
He lit another cigarette and tried to give his answers. 'For No. 1 I have these points to say to you. Before I knew you, I know Selvam. After you only I know Balu and Vaithianathan. Selvam and myself studied together as classmates in the same school. We finished our school education at the same time. We became friends only after we joined the Degree Course in the same college here.
In the college only I met Balu, Vaithianathan and others. That too because we met together in the language classes, our friendship developed. Selvam was interested in Tamil literature and wanted to become a good orator. Vaithianathan wanted to speak and write essays in English. Balu was best in writing essays in Tamil and he wanted to develop essay writing skill in English also. In fact we four studied together Shakespearean Plays and English Poetry during the time of University Degree Exams.
But your case is different. You belong to the family of famous businessmen. I have seen you, your father and grand father many times in your shop whenever I go that way along with my father to purchase articles from your shop and other shops. Your shop is noted for sales in quality products like Motor pump sets, Radios, Fans, etc. Whenever I met you alone, you used to talk quite freely with me and you used to take me to the near by hotel to take tiffin in the evening times and our friendship developed in that way. But I don't know when and how Balu developed his friendship with you. That much I can say for the first question.'
'I will tell you how the friendship between Balu and me developed after you have finished answering to these questions. Not only that I shall also give you my answers to these questions. So, you please go ahead with question No. 2.'
'For No. 2, there are many causes for the formation of this friendship. I shall tell you whatever that comes to my mind. Actually the causes are all the Halo intentions. They are indeed intellectual development, moral development and development of individuality. Further I have to say that the causes are due to collective enrichment of knowledge, detecting defects and eliminating them with proper measures. Then, improving merits by realizing them and using them for the development of personality.
Then, cultivating the habit of healthy way of thinking over any matters and having our own thoughts for suggestions; analyzing any issue using our knowledge with an intellectual approach; as far as possible to be self reliant whether it is a question of suffering or enjoyment; using original methods for solving problems in order to be an individual rather than one among the herd are the causes. Cultural development through this friendship is the main purpose for getting together. Finally, trying to achieve perfection in all these matters is another cause.'
'Really you are the friend to me, Gopal. You have given the essence of the formation of this friendship as tips. Please go ahead with question No. 3.'
'As far as I know the meetings were mainly to develop our ability to express well our views on any matter; secondly, to develop our knowledge in all fields and thirdly, to solve our immediate or burning problems. For the second part of this question I have this answer to say, i.e. the meetings were very helpful to develop my outlook on life, mind and character. That is all.'
'Not bad, as I thought. You have given answer for question No. 3 also. Now could you kindly think over question No. 4 and give an answer I shall be very much thankful to you.'
Gopal threw away the cigarette butt he was having in his hand. He looked round the place, watched the people going that way for a few seconds and then took the copy of the questionnaire for perusal. He thought for a while and expressed his view.
'I find it very difficult to recollect the names of the topics we discussed in our Halo meets of the past. For question No. 4, I have to tell you that you will have to refer the Halo magazine, because I don't remember about that now.'
'Then, you can write down the names of the topics if you happen to recollect at home and give it to me afterwards. So, you may proceed to question No. 5, Gopal.'
'About the Halo activities, there are so many things to be said. Apart from book knowledge and our own thoughts, we did our level best together to gain knowledge of the world by visiting the places near by this town. I mean the places we visited together, i.e. places like the lake here, Cuddalore, Chidambaram, a near by town in Tamil Nadu and historically famous places like Poombuhar and the Madras city. I think we must have written reports on those visits in the past. For details you please try to recollect the incidences we witnessed in those places from your memory.'
'A prudent fellow, you are, man to put me in trouble and to tax my memory a lot! Okay, leave it and what is your response for the final question in my questionnaire?'
'The draw backs I can point out to you are we could not spend time more than two hours either in Saturday evenings or in Sundays; all could not get together in all the meets even though we met only once in a week; leaving the examination time, winter season and rainy months, we were able to meet for about six months in a year totally to 24 days roughly, that too 24 x 2 = 48 hours only in a year!
That means we met only 2 days per year! So, what could have we achieved in those meets? We should have extended our meets a little longer and that too two or three days in a week. Actually, though we dreamed much about our developments in all the fields, we could not do considerably anything praise worthy in deed. I could not be able to say anything more. That is all I can say, Kannan.'
'Anyway the little you have answered is a sort of consolation for my efforts. If I get the opinions of our other friends too, I shall really be able to write a short history of our Halo in the days to come.'
Kannan threw away his cigarette on the wet sand near the fence and started writing down the points he heard from Gopal on a piece of paper. He wrote everything and showed the written matter to Gopal for his correction and approval. After Gopal had accepted the matter to be correct, Kannan folded the paper and kept it in his pant pocket.
The Stars had appeared in the Sky. They left the park for the beach. The beach was over crowded with people. They felt it would be better to go and sit on the sand. They sat on the sand and saw the cool sea. It was Gopal who resumed the talk then.
'How is it possible for you to pull on the days without having a wife by your side? Don't you feel like getting married, having children and leading a family life like other family men, Kannan?'
'It made no difference to me whether I got married or not. Now I don't think about it. Even if I got married, I would not be living like other people. My way of family life will be different from others.'
'As a friend may I know what is your idea regarding this matter actually?'
'There is nothing to hide. It is quite simple. My marriage was a disappointment to me. Even though I lost my wife in that car accident a few years ago I did not feel that I had lost much. It is not in my hand only. I was an obedient son to my parents. I got married to fulfill their desire only because my better half was only a child and not a mature minded woman to understand and live accordingly. She had more recreations with other ladies of this area than she could have dreamed under the hands of her own parents! My parents consoled me that she was innocent.
She never realized that she should take care of me when I returned home exhausted. Instead, she used me rather as her play mate to roam about here and there without any purpose or sense. I got married when I entered second year of the Degree Course in Science and spent one year afterwards with her. That is all. The accident has occurred suddenly and she is no more now.
Afterwards my father-in-law and mother-in-law have come to replace my parents. They showed me young brides, but I did not have the heart to select one among them because they were all not much mature enough to replace my late wife. So, I dropped the idea of getting married altogether. If at all I get married the better half should be a mature minded one who could have known my nature and should be ready to cooperate with me in all my ventures. Otherwise, it is forever a closed chapter in my life. Come on; please talk something else, Gopal.'
In a single vein said Kannan what he had to say. Gopal did not know what to talk further. There was silence for sometime. He thought of the questionnaire and asked Kannan to give his answers for them. Kannan looked at the waves for a while and proceeded with his answer in the manner he liked.
'I had the fascination for keeping the used books with me. I studied in a Matriculation School here. Balu's father was well known to my father, his brothers and my grand father because he was a friend to my father's elder brother. It was when I was doing the sixth form of my school education, Balu's father directly contacted me and asked me to give him the third form books, which would be useful to his son Balu, who had gone to third form. Then every year he approached me to get hold of all the books and notes for Balu.
I studied my Degree Course in Madras College. During the holidays I used to come to Pudhu Town and spend my time in the shop. At that time Balu used to visit me at home to ask for advice regarding his studies in the local college here. I offered him all possible assistances for him to get through all the exams in the Degree Course with flying colors. Our friendship developed actually through such studies.
I was interested in literature though I was a Science student. He was also interested in literature though he was a science student. We discussed on intellectual matters interesting to both of us. After the demise of my wife, he only actually gave me solace and encouragement more than anybody else in the world.
I lived for about three years in the Madras metropolitan city, which molded my mind and character with modern ideas. Not only that I had the opportunity to mingle with peoples of different nations in that Madras College, where cosmopolitan atmosphere prevailed, which I lost no sooner I came back here to do business along with my father in a traditional manner with modern ideas! Once I was anchored in business I lost contact forever with my college friends.
Then I had Balu to move with me, even though I had a so called wife to consol myself. He had finished his Degree Course. You had also finished your Course of study at the same time. Balu and I used to go to the beach like we are doing now to have a walk. Slowly we started to exchange our views on traditional activities and cultural matters.
On one such walks, we happened to see Vaithianathan near the Gandhi statue. He was with some other friends. Soon seeing Balu, he left everyone there, started to walk with us in order to know what we were talking. Because of his humorous attitude, I could not defy his encroachment in our own realm. Balu told him that we two were discussing on intellectual matters and if he was interested he could join us. He replied to Balu that he was interested in philosophical thoughts in the English language. I readily accepted him to join us along with Balu mainly due to the humor in him.
Then on another day, you met us near the same place in the beach. I was over-whelmingly glad to see that you and Balu were friends too in the college. When we three were going near the Gandhi statue, Vaithianathan again met us and decided to meet every Sunday evening to discuss on general matters to our hearts' content. When we met on the first Sunday evening, there was another person also with our interest to join us forever like Vaithianathan.
He was none but Selvam, who was brought to us by Vaithianathan. He talked to me with a sort of fear; perhaps it was a new experience to him to talk in English though he was well versed in the vernacular language only like Vaithianathan. That was how we met and started our special activity. This is my answer to question No. 1.'
'It is quite interesting to hear your answer. Go ahead with the second one. Here is another cigarette for you. Light it. Yes, you proceed with your story please.'
'Then regularly we met at the beach. Afterwards we permanently decided to meet in the park. I came to the park along with Balu directly from my shop. It looked both Selvam and Vaithianathan came here as if to attend to an English composition class. All my talks were extemporary in kind. Balu's views looked quite prepared too. Whether it was agreeable or not, your views were your own. Whatever be the things, I was interested in order, originality and perfection in everything.
Balu and Vaithianathan wanted to give a name to our circle. First they said that it would be called as a Junta. Then mainly due to Balu's insistence, our circle was named as the Halo and we were specially called ourselves as Haloens, a word coined by him. Then upon the insistence of Selvam, we started to get together on Sunday evenings and spent a lot of time over the selection of topics for the discussion and discussed on them till we were all satisfied.
Afterwards Balu and Selvam ventured on the idea of starting a magazine to develop our writing skill. I headlong plunged into writing in order to forget my worries and the world in this wonderful art. The question of motto arose in our succeeding meets. I said that we could have originality and perfection as our motto. Balu and you were for friendship. Selvam was for self-reliance and Vaithianathan was for all these things. Finally we decided to have originality, friendship, self-reliance and perfection to be carved out as our motto for the Halo and to be adhered to in our activities there upon. That was how the foundation for the Halo friendship was laid. I think as far as I know this is the answer for question No. 2.'
'You are simply animating the past episode of our friends. It is fine. Please proceed with the other question. Let me see how your answer is.'
'Quite simple! Balu was then working as an LDC. Vaithianathan was seeking a job. You had just taken up the job of a typist, I think. Selvam was not having the mood to get into a job. I was once and for all destined to do business along with my relatives. So, all were speculative rather than specific in the pursuit of a work. So, our friends decided to develop themselves in general knowledge.
The Result: Topics on general knowledge were chosen and discussed upon and every month the magazine was released. In the magazine also everyone wrote in detail upon a quotation of a well known Author or like H.G. Wells or John Ruskin or Robert Browning or so chosen by all the Haloens in the Sunday meets. The meets were arranged suitably for those purposes.
It was a new kind of joy for me to give new explanations on various general and literary matters. Those meets helped me to recover my spirit. I encouraged everyone and helped you all to pull on with those activities without any boredom. I really lived a better life than before in this town mainly due to those meets and friends like Balu and you. This covers my answer for the question No. 3.'
'Do you remember the topics we discussed in our meets? That is question No. 4.'
'Gopal, I don't have any of our Halo magazines. Do you have any of our magazines at home? If so, please return them to me for arranging the topics we discussed in a chronological order. Actually whatever things we discussed could be put under many topics because they were all quite relevant and were useful to Balu, Vaithianathan to over come their entrance examinations, interviews and join a job. I have to get hold of all the magazines from all the Haloens so that it would be easy for me to sort out all the topics. In fact, the Halo Reports covered important topics only. The less we discussed were quite relevant. So, I can switch over to the next question, i.e. the activities of the Haloens.'
'Yes, what you can remember regarding our activities you may say in detail.'
'The discussions in the meets and the Halo magazines were the two main activities that united us together. We met only in the park on the scheduled time every week. That gave a sort of boredom to Vaithianathan and Selvam. They wanted a sort of recreation too along with our usual function of the Halo meets. As you said we visited the near by lake and one or two places near by this town. Let me try to recollect points on what we did on those visits from the Halo Reports. I have to recollect many matters which I don't remember now. Perhaps Balu could assist me in this respect. That is all I can say for question No. 5.'
'Yes Kannan, that is the best way to collect points regarding our out door activities. So, what about our drawbacks and their remedies you can suggest?'
'The objective of our Halo was limited. The Halo magazine was the only unique link that united us for a considerable time. To maintain that was really a delicately beautiful work. One after the other, every Haloen left for various destinations to do his job and so, the meets were not properly conducted. Due to the lack of cooperation from Selvam and Vaithianathan, the magazine work came to a stand still. These two people lost interest in this sort of activity. The meets were totally neglected by them.
The Result: The very purpose of the Halo had been shattered! The remedy I can say is that the Halo friendship is not possible; but our friendship may be maintained if Selvam and Vaithianathan change themselves and if they understand and remember the benefits they gained from those meets. But I tell you a good purpose had been spoiled and blemished by those fools that are hardly pardonable and justifiable. That is it.'
After finishing his talk, Kannan got up from the sand. He smoked a few more puffs of the remaining portion of the cigarette and threw away on the sea water. Gopal also got up from the sand and walked with him till they reached the pier of the port office. They climbed the staircase there and reached the main road. They decided to meet again on some other holiday. With a sense of satisfaction both of them took leave of each other and reached their homes.
The sooner he went to his study room, Kannan took his pen and papers, sat down to write out completely what he had discussed that day with Gopal and till he finished writing out all the details, he did not get up from his chair. For an hour or so he wrote whatever he could remember. He had his usual dinner and went to his bed fully satisfied with that day's work. It was 10 p.m. when he slept.
The cool beams of the Moon light fell on his face. The wrestling leaves of the near by trees increased the depth of his quiet slumber. He did not know what sort of a disappointment he had to coup with in the course of the coming few months. The sleep was a boon to the excited and strenuously diligent functions of his mind to see that he would achieve what he had resolutely decided a few days ago. The time had to decide whether he would be successful or not in the pursuit of his cherished ambition.
If the public holidays were many, thought Kannan, it would be better for him to devote willingly his mental energy to work of art he enjoyed most. He felt happy that such an opportunity was waiting for him within his reach. Since the Saturday happened to be a public holiday, he was very much pleased to utilize it along with Sunday also for indulging himself in his favorite art. To start with, he went through the reviews on various books in the weekly newspaper. He felt he should have a second thought on his idea of writing the history of the Halo friendship. He came to the conclusion that it would be better to express the matters he had conceived earlier in his mind. But he could not willingly let die the experiences he had gained whether they were useful or wasteful, reputable or disreputable and good or bad in the brief period of his Halo friendship with his Haloens.
He thought and thought as to how he had to give shape to his imperishable reminiscences, heart felt experiences and indelible episodes. He felt justified that all those stuffs could be expressed in the form of a novel totally with the aid of his imaginary power alone. With that final resolution in his mind he went to his study room to collect whatever materials he could to prepare the first manuscript of the novel he wished to put into the print. He searched in the nook and corner of his table drawers and from top to bottom of his bureau for the Halo magazines of the past and the manuscripts of his old writings. What he got was only a few old manuscripts of the editorials he wrote for The Halo, articles and poems and two Halo Reports without the date, month and year indicated on them. So from his memory he started trying to arrange them in a chronological order.
At that time he heard the foot steps of some one coming to his room. He placed all the papers on the table with a weight on them. He wondered who it could be. Immediately a familiar sketch of a personality came to his mind's eye with in a second. The personality contained the descriptions such as a naturally combed hair, close-set eyes, a long flat cut nose, fleshless cheeks, long face, lean body due to improper nutrition and a little bit above 5.5 feet high in stature; morally sincere in approach, kind and mild in talk, scholarly understanding of things and expressing views under the light of Tamil culture. A congenial person to all! Yes, that was Balu, who was standing near the entrance door.
'Hello Balu! Please come in. Have a chair. How are you?'
Sitting on the sofa near Kannan, Balu said, 'Fine; is not my visit surprising to you? I am very happy to see you. How are you?'
Kannan felt happy too. He said, 'Your visit here is not surprising to me because I came to know from Gopal that you would be coming here in this week. I am as usual well.'
'Is there any new news?'
'As far as my business is concerned I am relieved off from all debts left out in pending by my late father. At home myself, my father-in-law and mother-in-law are doling well. This news you may be aware of. But personally I have nothing new to say to you. Intellectually, there is quite a lot I have to improve. Merely reading books won't do good. Many things I know and have experienced I have to analyse in discussion with friends like you to ascertain the truth in them. Such truths would really be useful to me and others. But I am helpless like a scientist entangled with his own inventions or creations. What shall I do with the Frankenstein monster like friends, Balu? That is the new problem with me.'
'I know who those Frankenstein monsters are. You write what you feel and publish it. That is the way you can develop yourself.'
'In the leisure time that is what I am doing so to say. You are in New Delhi. How are you passing the days without a friend by your side?'
'I don't have a single person to consider as a friend there. It is quite dry there. Your letters are quite thought provoking and encouraging me to pull on the days. From your letter only I come to know about our friends. Gopal is now and then writing to me. Selvam very rarely writes to me. But there is no word from Vaithianathan. This is how the days are going on for me.'
'Then, why have you gone to Delhi, man?'
'I felt I had been neglected by all at home. I wanted to get rid of all the confusions, contradictions, jealousies, partialities, etc. of my relatives so that I could develop myself. I had a lot of worries due to those facts. I had consolation, comfort and encouragement in the circle of my friends. I had the ambition that I would be nonattached and detached in life' and I liked to take nothing from others. That was why I left for Delhi.
I feel proud that I am in the Capital of our country. I earn the salary that guarantees the security of my life. I had the opportunity to join an institute for getting sound coaching to pass in the IAS Exams. I was able to concentrate on my studies without any attachment to anyone and worries. Yet I have not become an IAS officer because I was not able to fair the exams perfectly well. I have one more chance to write the IAS Exams as I have the age in the coming November. In the meantime, I have come here especially to see you and have a nice time in the circle of my friends for one or two days.'
'O, I see! Preparing yourself for the IAS Exams is most important. If you have finished your preparation works well before the time to write the exams to the best of your satisfaction, you need not bother about the exams in the last minute. So, first and foremost I wish you every success in your preparation work. Then, further what's there?'
'Now I have to pass in the proper IAS. If I become the IAS officer, I can settle myself in the place I like. Once I am settled in one good place, I can have the necessary surrounding, people and friends. Once I am settled in life, I can explore many things in our religion and can understand the Ultimate Reality. That is the goal of my life.'
'Your thoughts are clear. Your plan is also clear. Make use of your time to the best you can without bothering about anyone in this world; you shall achieve a good position and shine well in life, my friend.'
'Thank you very much. Now what are you writing, any poems and essays? I am very eager to see that you should come up in this line.'
'Never mind. Though slowly yet steadily I am going on in my own way to achieve that ambition of mine. Writing is quite a time consuming work. It requires a lot of patience, painstaking efforts to overcome stagnation and leisure time to think as freely as I can. Very recently I thought of writing a short history of our Halo friendship, actually a souvenir especially for your remembrance of our past good times and for your encouragement to overcome your loneliness or home sickness if you have any wherever you work in our country or abroad. After a second thought I have decided to write a novel using our own experiences so that when it is published it could be shared by a large number of readers though in my heart of heart I write this especially for you. I hope you will cooperate with me in this venture.'
'I am very much interested to see that the first novel of yours gets into print at the earliest. I shall do my best to cooperate with you in this work of art. I am really very happy that you have not drifted away from your good ambition. I wish you full success in your venture.'
'Thank you very much, Balu. Okay, what do you like to have ' a hot coffee or a cool drink?'
'I like to have a few glasses of ice water and nothing else.'
'Okay, as you wish! But please don't be nonattached when you are here!'
It was a great joke for both of them. They laughed to their hearts' content after a long time. There was real joy in it. Kannan left the room to fetch ice water for Balu. In the meantime, Balu started looking at the contents of the manuscripts on the table. After a few minutes Kannan brought there a bottle of ice water and two empty glass tumblers. He opened the bottle and poured water in the glasses. Balu drank three glasses of ice water and let a sigh of relief.
'What's all these, Kannan? What have you been doing with these papers?'
'They are all the old manuscripts of the articles, poems and editorials I wrote for the Halo magazines. I am going to use them for the novel I am going to write on the Halo friendship. By the by, I have a questionnaire to be answered by you, my dear. You may write the answers for the questions on a piece of paper when you are free and hand it over to me at the earliest. I can make use of your points too for this novel.'
'Then please give that questionnaire to me. I shall do the best I can.'
'Here is the questionnaire,' said Kannan handing it over to Balu.
Balu went through the questions very keenly for a few minutes and kept the paper in his shirt pocket with a smile on his face.
'Have you met our friends before you have come here today, Balu?'
'I tried to meet each one in the house. But I found Gopal only at home. Anyway I have informed in their houses that we shall meet in the park today morning between 10 to 12 hours. So, I think we two can go and meet them in the park now as the time is almost 9.45 a.m.'
'What did Gopal say to you yesterday, Balu?'
'He told me about everything going on here. He told me about your idea of writing the history, which you have decided to write as a novel. Okay, we shall meet our fellows first and then talk about other matters there. Come on, let us make a move.'
'Yes, as you please. We shall now make a move!'
Kannan quickly changed his dresses, closed the door of the room and started a brisk walk with Balu. First they made a move to the park. None of the Haloens was found in the park. They sat on the grass at an angle facing the Lions Club building and the Ashram Mess. The shades of the trees behind them gave protection against the hot Sun. The four feet high fence on either side of the path concealed them from the view of the outsiders. People were seen going to and fro on the path between the fences across the place they were sitting on the grass. For a considerable time, the faces of the Haloens did not appear on the path. They waited for them with their eyes on the path.
Somehow one hour had gone by. Then there appeared a figure on the path. He had curly hair, broad forehead, thin but fully grown brows, cool black eyes, hook like nose, high cheek bone, chin rim closely set with the mouth, more or less round face, above 5.5 feet in height. No doubt that was only Gopal. He was scientific in approach to matters, kind in enquiry whether the matter is trivial or terrible, casual in narrating incidences but deep in thought on all matters. In short, he was a man of information and a friend to all!
The moment he saw Kannan and Balu sitting on the grass under the shade of the King trees, he raised his hand in a most cheerful salutation to them. Within a second he cut across the path, reached them and shook hands individually.
'Bon jour, Monsieur Balu!'
'Bon jour! Where are they?'
'They are coming at a slow speed. Bon jour, Monsieur Kannan!'
'Bon jour, Monsieur Gopal! Comment allez vous?'
'Fine! And what about you?'
'Tres bien! Merci Monsieur,' said Kannan and gestured at Gopal to sit by his side.
Gopal also made himself convenient by sitting near to him.
'Why have you taken so much time to come over here, man?' asked Balu. 'When will those punctual and dutiful guys come here?'
'Please wait, Balu,' said Gopal. 'If you are so harsh they may turn away and fly away to their houses. They are already feeling much about themselves. Why do you also prick them with your special pins? They will learn and become all right in the days to come.'
'You give guarantee for them?' said Kannan.
'You should not have said 'Get Out' to them, Kannan. You know pretty well what their standard is; whatever be the thing you should have mildly admonished them rather.'
'I had been very much considerate to them for a longtime, man. I would not go on adjusting myself to their tunes. Already we had wasted a lot of time. So, when the time came I gave a shock treatment to them. If they have realized by it, it will be well and good to everyone. I did not mean otherwise like the small kids do. If the hen presses her chicks within her, it does not mean that she is harming them; rather she is protecting them from outside enemies. As an elderly friend I had actually did so on that day.'
When Kannan finished his argument, Gopal pressed his hands with a slight smile. Then he said, 'Please don't take such a harsh measure on them in the future.'
'Don't worry, Monsieur, I shall take care of myself whenever I have to deal with them here afterwards. I shall restrain myself to the extent I can whenever I have to move with them.'
'That is it,' said Gopal.
There was pause for a moment and they three looked at the path for the arrival of their friends. Then came at a distance on the path two figures like two kids as if coming out of an hide out after the hide and seek game was over! The first figure had a well oiled and combed short cut hair, small forehead, protruding nose, narrow face with a mouth exhibiting front teeth. He was active like a naughty boy, bound to talk more than he could using oratorical words when allowed, bound to laugh innocently to trivial matters and capable of dissecting dry matters to the utter boredom of the listeners. He was just 5.3 feet in height. In short he was a short man producing humour to the occasion. That was Selvam.
The second figure had thin and curly hair, one piece forehead, thick brows, all round gazing eyes, square face, short nose, broad chest, lean body, long legs. He was just 5.6 feet tall. He behaved in a preplanned way, was artificially mannered, talked with memorized words and was hungry for news. In short, he was a man of no news and that was Vaithianathan.
When Selvam reached them first he shook hands with Kannan and Balu respectively and sat in between them. Then Vaithianathan shook hands with Balu first and gave his hand back ways to Kannan who shook his hand with his in the back ways with a cool smile on his face. There was silence for sometime. Then it was Vaithianathan who after sitting on the left hand side of Balu started to recite from his memory what he had prepared before hand.
'Yes, it gives me great pleasure to see that we have got together at last after a longtime because of the arrival of Balu from Delhi. Let us say to each other the information about what we did in the meantime between the last meet and this meet as for as our professions are concerned. To start with let me say about myself in a nut shell.
First, I joined as an inspector of Tax Office in Coimbatore. I had a terrible time with my seniors. I could not find time to think about my personal matters or friends. After a long period of suffering I have come to Cuddalore on transfer. This place is quite contrary to that place. Even though Cuddalore is very near to this place I am staying there itself along with other colleagues of my office in order to create good impressions to my seniors. If I get a chance I shall transfer myself from that place to this town itself. Till then friends have to bear with me.
Once I come here there cannot be a person happier than myself. Then I shall be often meeting our Halo friends, discuss upon all the matters in the world about the custom, manners, ambition, character, arts, philosophy, religion, God and so on. Then I shall write pages and pages about my heart to the astonishment of everyone especially to Kannan, who will be the critic to judge our matters and lead us to the constructive path in life. I feel that day is not far away and forgive me if I go in the wrong direction till then. Yes, now, Balu you can say about your matter to us. And we are very eager to hear your views.'
'I have been continuously writing to all of you. So, I need not once again say about that here. Except you, all the other friends were responding to my letters. Kannan was the only friend who responded well to all the letters. In fact I was late to drop him replies. Next comes Gopal. Afterwards I can say Selvam. But I cannot say you are next to Selvam even.
Now I come to know that Kannan is going to write a history on our Halo friendship. He is collecting points for it. He has given me a copy of the questionnaire to answer. If you and Selvam also write your answers to this questionnaire, he can complete this history at the earliest. I hope you will respond to this wish at least without any excuse.'
Kannan took out two copies of the questionnaire from his shirt pocket and handed them to Balu. Balu gave one copy to Vaithianathan and another one to Selvam and asked Kannan for another copy to be given to Gopal.
'I have got the answers for the questionnaire from Gopal long ago. So, I need not give a copy of the Questionnaire to him. It will be very kind of you, if you three answer them well and your earliest response to this matter will be of much help and use to me.'
It was surprising news for Vaithianathan, Selvam and Balu to hear from Kannan. Gopal trimmed his moustache a little and looked at them with a beaming smile, which made Vaithianathan to think deeply and keep quiet going through the questionnaire. Then Balu resumed his talk with them.
'It is not at all a great problem for me. I shall submit my answers to Kannan before I leave for Delhi. In the same way, I think Vaithianathan and Selvam can submit their answers to him at the earliest. Then coming to my matter I can say to you that I have one last chance left to write the IAS Exam. The proper IAS Exams are going to start in the month of November. This sojourn of mine here is just to get encouragement from you.
I have got a lot of portions to complete. I have three more months no sooner I go to Delhi. My father has started talking about my marriage matter; I have told him that after November only I shall talk about it. So, now I would like to get back my old spirit by having a good time spent with you. Just two days only I stay here. After that I shall go to Madras, stay there for one day. Then I shall catch the train and go to Delhi.'
'That's it, Balu,' said Kannan. 'If I get the answer for the questionnaire from three of you sooner, it would be better for me to start my cherished dream and complete it within a few months. Okay, Balu, do you have any of The Halo issues of the past with you?'
'I have two last issues of The Halo with me in Delhi. Other issues would be with Vaithianathan, Selvam and Gopal, I think.'
'I have the August issue only with me,' said Gopal.
'I have to see whether The Halo issues are with me or with Vaithianathan,' said Selvam. 'I shall find out at home what the available issues with me are.'
'I think I have returned all the issues either to Balu or to Selvam. Anyway let me also search for them in my house. If I get any issues, I shall return them to Kannan so that he can make use of it to the best of his ability and write a beautiful history of the Halo friendship.'
With that talk Vaithianathan turned to Selvam and had a secret consultation with him for a few seconds.
'I shall be highly thankful to all of you, if the response to the questionnaire is sincere,' said Kannan to everyone. 'Anyway that is very fine of you. So, what is the program you have, Balu till you depart us? Shall we pay a visit to the lake?'
'It is a good idea, Kannan. Why can't we all go to the lake and have a joyful time together tomorrow? What, Gopal, Selvam? How about this program tomorrow, men?'
'A fine program,' supported Vaithianathan.
'Okay, I like this program,' said Selvam.
'With pleasure I am ready to accompany you anywhere,' said Gopal in support of the program.
'Agreed and as you all please,' finally finished Kannan.
The heat of the day was too much for them. They looked at the coconut juice stall on the Southern end of the park. The time was approaching noon. Kannan got up from the grass and invited everyone to accompany him to that stall. They all followed him. He ordered for the coconut juice to the man in charge of the stall. Everyone drank the tasty and cool coconut juice to quench their thirst. Kannan paid the bill to the bearer for the supply of juice to his friends.
Then they all made their way to Kannan's house. They drank ice cold water there. They got immunized to the head breaking Sun's heat. They took rest under the fan for sometime.
'Okay friends, at what time shall we start our trip to the lake tomorrow?' asked Kannan.
They put their head together upon this point for sometime.
Then Balu said, 'It would be better we start earlier from the town so that we can reach the spot we prefer near the lake before it becomes too hot. Say, we can start from here at 9 o'clock sharp! That will be better, what do you say?'
They all agreed. Then they all took leave of Kannan. Once they left the house, Kannan closed the door of the house from inside and went to his room with a pleasant mood. He wrote something in his diary for sometime. Then he had his lunch and a nap in his room. Indeed, it was a day he could not forget!
Continued to "The Lake : The Halo Dreams"

The Halo Dreams:
Pages: 1 | 2 | 3 | 4 | 5 | 6 | 7 | 8 | 9 | 10 | 11 | 12