Continued from "The Lake ... "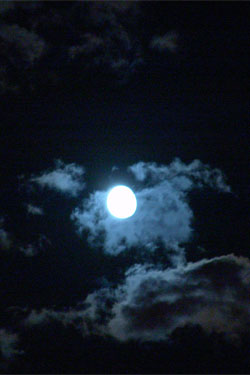 It was yet another Saturday evening. An old man and a lady in her twenties were slowly walking on the road from the centre of the Park towards the Library building. Only a quarter of a year back the old man had come and settled in the Pudhu Town. She was working in his office as a company secretary to him. She had joined his office only a month back. The old man was well known in that area as the proprietor of THE UNIVERSAL PRINTERS.
He had white hair, wrinkles on his forehead, humble face and wore a white cotton shirt and pyjama. Though he had reached the first half of his seventies, yet he paced on the road with a steady pace. The lady was wearing a green sari in the South Indian style. She had a pleasant face, bright eyes and a lean body sound in health. She was walking on the left hand side of her proprietor.
When she looked at a small fountain at a distance to her left, there was an young man walking to and fro near it in a very thoughtful mood. He suddenly stopped and gazed at the centre of the park with a great expectation. She observed him with a keen eye.
The young man had a naturally combed hair, shining forehead, eminently dreaming eyes and a naturally set nose on the face with lean fleshed cheeks and chin. He had a slightly round face, a shapely body, fat thighs and was just 5.6 feet in height. Slowly she recollected that he was gentle mannered, morally tolerant, casually prophetic in talk like a poet, a philosophic man so to say. She was sure that he was Kannan.
'Kannan,' cried she from the depth of her heart the moment she found out it was him, 'Mr. Kannan'., Mr. Kannan.' It seemed her voice had not reached his ears. She turned to her proprietor.
The kind old man knowing her position then said, 'I know my child! Please carry on. Take your own time; I know how to make way home myself. Wish you best of luck and God's blessings to you.' After saying those words he left her with a brisk walk.
'Thank you, thank you very much,' said she. From the road she stepped on the pavement, walked on the grass and reached him as quickly as possible.
Kannan with a great surprise and wonder greeted her.
'Hello, Meena! Good evening! Your sudden appearance in this place has put me in unprecedented surprise!'
'Good evening, Kannan!' said Meena, 'You were a wonder when I saw you first in Madras. After nearly a month's search for you, it is a great surprise for me to have found you at last in this fine place.'
They gazed at each other in happy astonishment for a few minutes unable to express any other thing. But their eyes talked about thousand things that are beyond the scope of description. It was Kannan who recovered first from the strange trance!
'Well, Meena, you may be wondering what I am doing here. Before I want to know in detail, let me tell you about my matters first.'
They both sat on the grass. She relaxed herself comfortably in order to listen to his words attentively as she could. He told her in some detail about what he did after he had come back to that town when THE TREASURE office closed and how he repaid the debts incurred by his late father. He briefly outlined to her about his friends and clearly apprised her of what he had discussed with his friends in the previous eight Halo meets.
Then she said, 'Last week end I came here and waited with great expectation at least for the arrival of Gopal. I was only to be disappointed. Next day, that was Sunday morning too I did not find Vaithianathan in the Venus Caf'. I felt the meets with my friends were once and for all over. I decided to have a final resolution regarding my so called dear friends today. I tried in vain to unit them together here and do something remarkable in company with this sort of friends. I don't have any grudge on Gopal. But only Balu is mature enough to understand my noble feelings and ambition. He is far away. What can he do and what can I do? That is my state of affairs. What is yours?'
'Well Kannan, during the last few months of The Treasure I saw my only brother of our family quite often very unsteady in life. He suddenly fell in love with a girl. Then one day he ran away with that girl. My mother last her balance of mind, had a paralytic attack and passed away leaving me and my father alone in this world. After the closure of The Treasure, by some fluke chance I joined a leading local newspaper organisation as a typist and worked there till two months back. The proprietor of the Universal Printers was having a printing works in Madras, which he closed a few months ago and shifted to this town. This old man was a friend of my father. He was a great company to my father.
My father too passed away last year putting me under the gravest grief in this world. This proprietor was giving me great encouragement after my father passed away. Mainly due to his insistence I have come here to work in his office with a great relief which I have not at all expected in my life. I like this calm and peaceful town very much now. He has a manager, fostered by him and he does all the jobs for this proprietor. This manager has a wife and three children all studying in the higher secondary school in Madras. He is going to bring them here next year and is going to live here forever along with this old man, who is treating me as his own grand daughter. That is how my days are going on here.
The hardships I faced in Madras, I could not forget forever. Your first poem, which was published in The Treasure magazine, suggested me as to how to forget my tension and anxieties by gazing at the midnight Star, about which you wrote so beautifully in it. Believe it or not your Midnight Star has solaced a lot during the night times. That is why I wanted to meet you immediately when I came here last month. Today only it was possible for me to meet you in this wonderful park by God's grace!'
After pouring out whatever she had in her heart with a light smile she silently looked at his face. Her words touched the heart of Kannan very much. He thought for a while and with a decisive look at her he told her, 'Your words are moving the very core of my heart. The poem, That Midnight Star which I wrote for The Treasure magazine was based on my real experience, was not possible for me to express in toto the whole of my feelings in that poem. Anyway, it has a life of its own. I don't know how you will feel if you read the other poems I wrote after I left The Treasure.'
'I shall be much pleased to read your other poems written by you like That Midnight Star. I enjoyed reading your travelogues published in The Treasure. But the reports on the life and activities of the service society were not to my likings as the whole series were documentary facts only.'
'Who were the other writers of The Treasure you like, Miss Meena?' Kannan asked with some curiosity.
'There were writers like Ganesh, Vijayan, Kumar and Sinha. Their articles were like ordinary newspaper reports. They were not as lively as your travelogues. Even your reports were very clear and easy to understand and remember the peoples you described in detail. Your style of writing is quite modern. There is no difference between your written language and conversational language. Most of the people prefer to read your articles.
Next to you I liked the articles of Kumar and Sinha. They were much better than Ganesh and Vijayan. But your poems and travelogues were quite new to the readers of The Treasure. Your single poem, That Midnight Star has solaced and touched my heart so much that I could not forget it forever. I love to read and enjoy your other poems of this type. I am going to stay and spend the rest of my life in this peaceful town only. So, you will not fail to give me the pleasure of enjoying your beautiful poems, I suppose.'
'I like your very much Meena. Your appreciation is a source of great inspiration to me. I shall give a copy of all the poems to you and shall continue to write poems you enjoy most. If my writings are not to your enjoyment, to whom else they will be written to? But there is another soul who openly loves my poems as you do. He is my dearest of dear friend, Balu working in New Delhi as an UDC. He is preparing himself to write the IAS Exam. Soon he is sure to come here on transfer once he becomes an IAS officer. I am happy that in lieu of him and in an entirely unique way you are giving me comfort and real pleasure to me this evening. Will you kindly give me a companionship as today forever in my life?'
'Kannan, your writings are meant for solacing many lonely persons in this world. Your service is quite noble and endless. If you ask me for my companionship for your whole life, with my full heart I openly declare that I accept your offer with out any hesitation at all! That is my last and only wish in life. I shall live with you to your satisfaction till the end of my life.'
'I love you and accept you with my whole heart!'
'Really?'
'To be very frank with you, Meena, the moment I saw you in The Treasure office, I liked you very much. In the dinner meet of that night, after I heard your personal affair, really I thought of asking you for a life companionship with me. Immediately, I felt within me that perhaps I would be hasty. I thought there would be a lot of opportunities for you to chose a better person for your life partnership. So, I decided that it would be better for me to mind the work for which I had gone there.
I never thought that the Time that made me to meet you there would again give me another opportunity to tell you about my heart in this fine evening. I have to say that God in the form of Time is helping much by offering you as an invaluable asset to me at this most unexpected and critical moment in my life. My many thanks to the great Time!'
'In the first meeting itself I understood you were a gentleman. In that night dinner I found that you were really a gentleman. Your kind, sincere and affectionate words and manners have not undergone any change by the passage of time. I have never talked about my personal matters with anyone but you because of your gentleness. Today only I really feel very happy after I hear your wish. I love you much and there cannot be a greater bliss for me than to cooperate with your wishes.'
With great peace of mind and contentment of heart she placed her face with closed eyes on his chest and remained so till their kind feelings came to a mutual settlement after an elapse of five minutes. Then they sat side by side and looked at the beautiful rose flowers near them. Next, their talk was about the address in which each one was living. He told her about his routine. They decided to contact every afternoon over phone.
He promised her that he would take her to his house after he had discussed about their matters with his father-in-law and mother-in-law. She was very happy about it and joyful that he would be meeting her guardian, the proprietor of The Universal Printers the next day morning. Finally, he also told her that he would not be disappointed from that day as he would be surely meeting her in her own apartment every evening after he returned from his office.
It was beyond 8 p.m. She told him that the mess would be closed by that time and that though she had to go home without a supper that night, she felt she had a sumptuous dinner that evening since she had seen Kannan after a long time! But Kannan did not leave her to return to her place without giving her a best treat in the Best Hotel there! She really agreed to his wish and they both moved away from the park to the Best Hotel near the Port Office.
When they reached the Best Hotel, they went to the terrace and took their chairs near the wash basin. Kannan consulted Meena and placed an order to the bearer for the special items they liked to have in their dinner. They took their dinner as slowly as they could.
'It is a surprise,' said Kannan, 'that we have to meet like this and decide about our life for good. There is another lonesome soul, Balu in Delhi remembering about me. I have to drop him a letter in response to his of last week. Tomorrow I shall write a letter regarding what our friends did here and about our happy news. But I have not told you about one important thing I have decided to do two months back. Do you guess what it could be, Meena?'
She replied, 'I know what your interest is. Perhaps you would be thinking of writing a new poem or an article or something like that.'
'You are almost near the point,' said Kannan. 'Yes, I have decided to write a history about the Halo friendship. As I have found that the points I have are not adequate for writing a history I have conceived in my mind, I have decided to write a novel basing my experiences with my friends regarding my writing profession. This I am going to do as a mark of remembrance of the old days I spent in company with Balu and other friends.
Further, this will be depicting in detail about the evolution of my writing career. In short, this novel will become a sort of souvenir to Balu and at the same time it will reveal the stage of my maturity in this profession. Since you have come here to cooperate with me in my life activities, this work of art will be easy for me to venture upon and complete it at the earliest I can. What do you say, Meena?'
'This is a new and nice idea, Kannan,' said Meena. 'I shall be very much pleased to cooperate with you in this venture. Why can't you start writing this novel tomorrow itself? What is the title you have proposed to give to this novel?'
'I have not thought about it yet. That is a good question. Shall I give the name of our group itself or shall I give an imaginary title to it? Or shall I write the complete novel and then decide about what title I could fix for it?'
'What harm will it give to anyone, if you give the title, The Halo for your first novel?'
'Okay, that is very fine. But, what about the names of the characters do you think I can give?'
'You have the full substance with you. You have also fixed the title for the novel. So, giving names to your characters is not at all a problem. Now what is the vital thing is what has made you to follow as model in order to begin, proceed and bring a natural ending to the story. There are so many novels. You have to choose one among them which is more or less suitable to your story and you have to keep that as your model while you are writing yours.'
'That is not at all a problem for me. Okay, who are the novelists you like most Meena?'
'I like Pearl S. Buck, Denise Robins, A.J. Cronin, Agatha Christie, Earl Stanley Gardner and some other novelists like that. But who are your favourites, my dear?'
At that moment the hotel bearer came to them with a tray full of all the items of the dinner ordered by them. He neatly placed everything on the table and left the place with a bow.
'Well, my dear,' said Kannan to her, 'let us start tasting the items one after the other in our dinner programme now. I shall be pleased to hear what you like to have after these items.'
'This is more than sufficient for me, Kannan. It will give me great pleasure if you share with me some more quantity of dishes arranged on my side. Generally, I am a poor eater. Please don't tax me more.'
'Your pleasure is my pleasure. I don't press hard, my dear. You have agreed that I am a gentleman. I shall try to maintain myself so!'
'Thank you, my dear. Let us please go ahead with our discussion on your novel as we taste this delicious dinner.'
'Yes, as a writer I have great esteem for many novelists from the 18th century to the present one. I like Richardson, Henry Fielding, Austen, George Meredith, Dickens, Flaubert, Guy de Maupassant, Maugham, Aldous Huxley, George Orwell, Alistair MacLean, A.J. Cronin, Ian Fleming and Frederick Forsyth. I like their writings. Now my most favourite authors are Leon Uris and Forsyth. But for my first novel I may have to follow the models of Flaubert, Maugham and Dickens because the story, incidences, atmosphere and my own experiences are akin to those novelists' expressions. However, my experience is not the same and so my expression will also won't be the replica of theirs.'
Then their attention was over the dishes placed on the table. Kannan finished his dishes first. They ordered for hot milk. After taking milk along with her, Kannan paid the amount for the Bill in cash with 50 paisa as tips to the bearer. They got up from their chairs, moved from there and sat on a Sofa placed at the far end of the terrace. From there they could see clearly the sea. The sea breeze was fine in that calm hour. As a gesture of conclusion, she talked about the novel with him.
'Now you have the model to be followed for the novel you are going to write. Okay, do you have any idea of dividing it into so many parts or chapters, Kannan?'
'Yes, my dear, I have thought about that earlier. I am going to write it in a few parts. Part I will be a sort of prologue. Part II is about the birth of The Halo. Part III will be allotted for the activities of The Halo i.e. its achievements and drawbacks. In Part IV I shall deal with the solution to compensate the drawbacks of the Halo. Finally, in Part V, I shall give a wonderful conclusion. Each part will have chapters according to the development of ideas that occur best to me. That's all.'
'So, the plan for the novel is over. What is my share in your grand work of art?'
'With your assistance, my dear, I am thinking of completing this work, say with in a period of six months. Then I like to redraft the chapters, do the editing work and make it a well finished product. Shall I have the writing business whenever I meet you in your apartment?'
'Sure, you can carry on with this business in my room. I shall take down the matters in short hand as you dictate and type it out then and there. I have all the equipments in my room.'
'That's fine, Meena! I would like to discuss about the scenes and the chapters with you. Mainly basing your suggestions I am going to dictate this complete novel to you. I think you won't mind, know?'
'I shall be very glad to do that for you. So, are you completely thorough, my dear?'
'I am perfectly clear to start the job tomorrow. Now I think we may leave the Hotel for your apartment.'
'Yes, my dear, it is getting time. We may go on an auto rickshaw standing at the corner of the road.'
They stopped down to the ground floor and left the hotel. They got into an auto and left the place. When they reached the building Meena residing, they saw some people going in and coming out. They both got down from the auto.
Meena took him to her apartment. It was a neat one. He sat on a chair for a few minutes. After a few minutes' chat he started moving from there.
'Well, my dear,' said Kannan, 'auto will be waiting for me in the street. Good night and see you tomorrow at about 10 a.m.'
'Yes, dear! Good night! I shall be readily waiting for you tomorrow.'
'Sweet dreams!' said he and left the place.
The sound of the auto rickshaw too disappeared. Meena closed her apartment door, prepared for the bed and switched off the light.
The regular meets of Kannan and his friends had gone to the winds. Instead, every week the meets of Kannan and Meena took place at the exact times. Every day he met her at 6 p.m. and discussed with her about the characters, the incidences and the scenes of the concerned part of the novel till 8 p.m. Every Sunday he happened to meet some of his old friends or his Ex-Haleons between 8 a.m. to 10 a.m. in the Venus Caf' and conversed with them in order to know something about the general affairs and business of the town. From 10 a.m. to 1 p.m. he dictated to her the complete matters of the concerned part he had discussed with her for the whole week. There after he took her to his house and enjoyed with her a delicious lunch and dinner prepared by the able hand of his mother-in-law. His father-in-law too was very much pleased to see them in that happy mood every week.
Kannan totally forgot the existence of his friends in the town after he got the life companionship of Meena. The failure of his friends to turn up to his house in order to express their regret for their inability to meet him for their usual discussions for the correct understanding of the matters concerned with their respective subjects or general subjects useful to everyone of them did not breed any sort of malice in the heart of Kannan. However the letter correspondences between him and Balu ceaselessly continued like a free flowing river. Kannan was quite happy about his friendship with Balu, his love with Meena and his company with his father-in-law and mother-in-law. That life was sufficient and satisfying to him and he did not expect much more than that.
A month had passed away. In the first week of October, like a bolt from the blue, Selvam, with a great nervousness and excitement extended to him his wedding invitation card and kindly requested him to attend his marriage function in order to make that a grand success with everyone in his family. Gopal said to Kannan that they could together attend the marriage of their friend so that Selvam could be comfortable and really happy in the ensuing function. Kannan could not say much, but simply wished Selvam well. There upon they took leave of him and Kannan prepared himself for his usual affair. It became an obligation for him to honour the wedding invitation extended to him in his own house.
The night before the wedding day had come. As per the suggestion of Gopal, Kannan decided to go to the wedding place that night itself and spend the night joyfully among his friends. He made his way to the far North end of the town along with Gopal carrying a beautifully packed presentation material in his hand. By the time, they reached the wedding hall where the marriage had to take place the following morning between 3 to 4 a.m. they could not see even a single companion of their sort. Kannan saw Gopal with a great questioning look. Placing an encouraging hand over the shoulder of Kannan, Gopal entered the inside door of the big hall. Some elderly people requested them to have a cup of milk being carried by a servant maid on the way. But the friends coolly requested them to supply the milk to others as they too belonged to the bridegroom's party and went further inside to meet the bridegroom Selvam, who was approaching them after having seen them walking in the centre of the hall. Selvam shook hands with them and immediately scolded Gopal for having come there so bluntly late along with Kannan with out fixing any sort of programme before hand. They further came to understand that every one of their sort had come and gone out too. Selvam, then, left them by requesting them to present themselves there the following morning without fail.
They came out to the road. Kannan purchased two packs of Wills cigarette with one match box from a petty shop there. They further planned to meet somehow or other a few companions who could have gone to the movie running in a touring cinema theatre a furlong from that place. Kannan lit a cigarette and offered the pack to Gopal in order to enjoy a long and cool smoke. They could not find even a single fellow they knew well in the theatre too! So, they set their foot to meet Vaithianathan, who was living in a house situated one kilometer from that theatre. Everything was dark because the time was 11.30p.m. They walked the complete distance with a new sort of sensation till they reached the house of Vaithianathan.
With a great astonishment, Vaithianathan asked them what made them to come to his house at that unusual hour. Gopal coolly explained to him about what he had planned to do along with Kannan and what had happened to them. BY the time Vaithianathan's mother too had come there from inside the house and on knowing those friend' intention, she suggested to them to take rest in the house itself as after an elapse of three hours they all had to get up, have bath and go to the wedding party. Both the friends accepted it and willingly decided to take rest on the verandah by refusing the wish of the whole family to remain inside the house as both of them felt that it would be a great disturbance to others.
After the doors were closed, Kannan lit a cigarette and offered the other materials to the custody of Gopal. The night was cool and calm. Kannan enjoyed smoking the cigarette to the best he could. Two hours went by without any notice. Vaithianathan opened the door of the house and came out to wake them up. Kannan was not asleep and so, he along with Vaithianathan made Gopal to get up from his sleep. They all had a French bath, a cup of hot coffee and the friends and all the members of the family made a quick move to the wedding place.
The renowned South Indian Carnatic music attracted the on coming people and the beautifully decorated illumination settings welcomed everyone to enter the wedding hall. Kannan and his friends took a convenient seat in the hall to observe the wedding proceedings going on there. The short man Selvam had actually selected a mango red coloured lady as his bride. Many had come to bless the couple. The friends had also come to bless the couple. The friends were happy to listen to the marriage rituals going on there in the centre of the hall. The bridegroom was sitting there in dhoti performing the religious duties as per the direction of the priests. The marriage madapam looked very small due to the in-rush of the crowd. Hence the friends could not talk much with Selvam or see properly the bride. However from along distance it was quite clear to note that the bride was decorated much with jewels from head to foot. After the ceremony, people took fiftin on the floor. The items included in the tiffin were a sweet boiled cake, kesari pongal and coffee. Finally they got the opportunity to see the couple while taking photos with them. The couple was matching with one another.
The time passed without any one's notice. It was heard there that the bride was decorated with 30 sovereigns of Gold and the bridegroom was donated with a cash of Rs. 10,000. A clandestine note spread in the area of the friends that the couple was going to enjoy their honey moon in a nearby village and in the library of a near by town. Some people said that Selvam was a lucky person and had settled in life with a good lady. The friends gave their presents and wishes to the couple, took leave of them and somehow escaped from the crowds.

~*~

Balu could not come for the marriage of Selvam as he was busy with his exam preparation works. Vaithianathan's mother could not get on well after that marriage, as suitable brides were not available for her son. In a state of hysteria she uttered to her relatives that she would certainly bag a freshly blossomed flower for the sake of decorating the life of her son. The selection of a bride for Gopal also went on at a full swing. Gopal's mother too seemed to have been going on a negotiation with a would be father-in-law of Gopal as far as the dowry matter was concerned. Gopal did not interfere in here adventure. She tried for a dowry of 5+4 sovereigns of Gold and a cash of Rs. 1000 or so with the party of the bride. Balu's father also did not remain in inertia. He set out in search of good and suitable brides for his son. It was impossible for Kannan to predict whose marriage would take place next. Every day he talked about those matters with his lady, while he had headlong plunged in dictating suitable matters to her for his maiden novel.
In the second week of December, Gopal gave his wedding invitation card to Kannan and requested him to attend his marriage function going to be held in the third week of the same month in a village near Cuddalore. The marriage function was a simple one. Gopla's friends, important relatives and one or two dignitaries came for the marriage. Gopal's better half was educated up to BA, BEd. and was working as a school teacher in Cuddalore. They were perfectly matching well. Kannan and other friends congratulated the couple, wished them a prosperous life, gave them a huge presentation collectively and took leave of them immediately in order to attend to their other engagements. Though Gopal wanted to settle himself in an established position in his legal profession first, he had to get married to settle himself in life, because he had happened to be the eldest son of a big family with many sisters and brothers and everyone expected him to remain with them together and show them a better way of life by actively participating in the affairs of the whole family. Though it was a difficult responsibility for him, yet he had to shoulder it one day or other. Balu could not come for the second marriage also as that occurred within a very short notice to everyone concerned. Kannan wrote to him in a detailed letter regarding the position of Gopal, the marriage ceremony and the responsibility he had to shoulder in the future.

~*~

By the end of that year Kannan had developed the story of his novel to a great extent. He had almost beautifully completed more than sixteen chapters with the sustained encouragement and the able assistance of Meena. Kannan revealed to Balu only about the love affair with Meena and his secret venture of writing a novel. Other friends were totally unaware of those astonishing facts. Kannan wanted to keep those matters in suspense till he finished his ambitious work of art. In his letter, on the last week of December, to Balu alone he announced his intention that the novel would get into the print with in a period of four months. For each and everyone of his letter Kannan regularly received kind and encouraging response from Balu. He shared all of his happy news, ideas and thoughts with his beloved Meena.
Yet another New Year too came. Kannan sent New Year greeting cards to everyone concerned. He wished prosperity and life long happiness to everyone he met everywhere. Quite early on that day he met Vaithianathan in the Venus cafe. Vaithianathan looked to be quite indifferent in that crowded Caf'. He was not in a cheerful mood, which was a great contradiction against the general mood of cheerfulness prevailing there on that New Year Day.
On enquiry, Kannan came to understand for the first time certain facts regarding Vaithianathan's marriage affair which was the cause for his general break down. Vaithianathan's mother had been going on seeing so many brides in order to select one bride most suitable to him. A few months ago actually she had selected a beautiful bride. While the parents of the bride visited her house to see the bridegroom Vaithianathan, she out of overwhelming happiness decorated the bride, who had also come with them, with many jewels. On their departure, she did not take back the jewels from the bride. After an elapse of a few days some of the relatives of Vaithianathan's mother created a bad impression about the mother and the son in the minds of the bridal party by telling them a story basing some misunderstanding of the past between them and Vaithianathan's family. Due to this set-back, the marriage matter got postponed for months together. Finally she came to understand that the bride's side was not interested to have alliance with them. More over jewels had also not been returned to Vaithianathan's mother. On enquiry they got the response that the jewels were not at all taken by them. Vaithianathan, her mother and others could not do anything with them and they were afraid to see some other bride due to the adverse intervention of their relatives in their affairs everywhere.
Kannan, who got a clear picture of Vaithianathan's position, told him to forget the past and search for a better bride without the knowledge of anyone of his own family. That way he could settle his marriage matter in a concrete way. And in addition to that suggestion Kannan wished him that he would get married before the end of that year itself. Vaithianathan became cheerful and talked with him about man things such as his office works, his new interest in photography and a few more unknown matters regarding Selvam.
From Vaithianathan he came to know that a rumor had prevailed in the area in which Selvam lived regarding the conversion of Selvam to Christianity by some local people there who mistook the general acceptance of all the religions as one by visiting the church whenever possible by him had been taken as a proof of confirmation of the rumor by the neighbors gave him a sort of irritable uneasiness whenever he entered or left his house and he was quite restive at home for a period of six months or so as the other members of his family too admonished him very much believing the rumors to be a real fact. Only his marriage had put an end to the great confusion which had been prevailing in his locality and clarified everyone there that he was what had been in the past. Kannan also felt bad to hear about that rumor, but he felt happy that Selvam had done a right thing at the right moment to dispel the wrong notion about him.
Then Kannan came to know about how Gopal had happened to see his better-half since a few years back before the marriage. It seemed Gopal had known one of the uncle of his wife working in a government office in the town. On several occasions he had been meeting that uncle in the Govt. Office itself on some purpose. By some rare coincidence, he had seen her too along with her uncle many times. But he had never felt in his heart that she would become his wife one day. For the first time, when he had been to her house in Cuddalore along with his mother and other relatives as a bridegroom he could not believe own eyes and was out of wits! He had immediately given his consent to his mother and everyone of his acceptance of the bride known to him pretty well and had married her without any delay. Kannan felt that Gopal's marriage had become a natural one. He felt very much pleased to hear many good things of the past. After he took leave of Vaithianathan, he contacted Meena and conveyed to her those happy news in that New Year day.
From January to March he occupied himself dictating matters for the novel at the scheduled hours. At a stretch he finished this assignment of his own interest without any difficulty. As per his plan he included relevant matters from Part I to Part V. But the beginning chapters of Parts I, II and V contained only vital points in brief without supportive details in description. He felt he had to include supportive points wherever necessary in those three parts. It was a problem for him to insert matters without spoiling the beauty of the course of the theme of the whole manuscript. Whenever he added any points in anyone of the parts, he asked Meena to read the chapters one after the other to see how the coherence was and how the structure of the whole novel remained. He found out a lot of mistakes in the construction of sentences. He reduced certain sentences in some places and added a few more words to make them beautiful and sensible in some other places. At that moment his work was some what tedious, dry and uninteresting. Till the end of April he was able to correct his manuscript up to Part II. As he could not proceed further in that sort of work, he decided to have a pause for a period of one month, so that he would be fresh with new ideas which would be enormously helpful for him to reconstruct with new maters for the remaining parts of the novel.
One Thursday in the second week of May, Vaithianathan phoned Kannan to be present at home as he would like to call on him and discuss with him on a most important personal matter. He answered him in the affirmative and waited for him unable to guess what that important matter could be. Vaithianathan directly came from his office to Kannan's house after half an hour and met his friend in his study room. He sat on a chair below the fan and gave a printed card to Kannan. While Kannan was going through the card, the face of Vaithianathan was sweating much, and his heart was unusually beating high. By the time Kannan finished reading the card, his heart beat started becoming normal. It was the wedding invitation card of Vaithianathan. After placing it on the near by table, Kannan appreciated the quality of the paper, the style of the letters printed on the card and the manner in which the matter was conveyed.
Then Vaithianathan handed over the photo of the bride he had selected to Kannan and asked for his opinion. He observed the photo in hand for sometime. Returning back the photo to Vaithianathan, Kannan said that the lady in it looked to be a sensitive one. He reminded him that when the Halo activities were going on smoothly and other Haloens were properly responding to the needs of the Halo, he was the only Haloen, who had promised much promulgated in action less and had not written even single report till the close of The Halo. He warned Vaithianathan that he could very well deceive his friends, but he could not do so with his wife who had happened to be a sensitive one. It seemed to be a great joke for Vaithianathan. He forgot all of his worries and confusion of mind that moment and heartily laughed for a few minutes. Kannan also joined him and agreed that he would attend his marriage and make it a grand success. Vaithianathan had a few glasses of ice-water, thanked him and took leave of him.
In the next Saturday at 6 a.m. Kannan, Gopal and Selvam traveled in a Bus to Karaikal. In Karaikal they got down from the bus at 9.10 a.m. Within a few minutes they walked on foot to the wedding mandapam. They were received by kind and smiling faces. They were a sprinkled with scented water, offered sandal solution to be applied on the hands and threat and offered sweet smelling flowers. Honoring all these welcome ceremonies they went inside and occupied the chairs close to the wedding couple.
The marriage ceremonies did not proceed in the traditional way. It was carried on in a new and reformed way, wherein the self-respect of the personalities connected and involved in the marriage was maintained. In the traditional method it was well known that the marriage rituals were carried out by the prohithers belonging to Brahmin caste of the Hindu community. In the present marriage instead of the prohithers, well versed Tamil intellectuals undertook the responsibility of carrying out the marriage proceeds as per the rich heritage of the Tamil Culture cherished honorably by great Tamil Kings of the Golden Age in the Tamil Historical Literature. It was a remarkable occasion for the friends of Kannan and other dignitaries connected, related, dear and near to Vaithianathan and his father-in-law to witness such marriage proceeds in that memorable day. The marriage feast was simple and fine. The three friends of Vaithianathan conveyed their hearty wishes for a long life to the wedding couple. Each one gave them the presents which they thought that to be a best one in that occasion. The wedding couple matched well, Vaithianathan too had at last settled in life.

~*~

On the 31st of May, Kannan's mother-in-law handed over a letter to him when he was about to leave the house in the evening in order to meet Meena. The letter was from Balu. He opened the letter after he had reached her room. He asked her to read out the letter for him and he lay on her bed in a relaxed mood. He was very glad to hear the contents of his friend's letter. The letter conveyed the message that Balu would be coming to the Pudhu Town on the 3rd of June. He had got a leave of two months. Within the leave period, he would like to select a suitable bride for him and get married too and return back to Delhi to attend his office works. Meena asked him after reading out the letter if two month leave would be sufficient to accomplish that mission like, calculated plan. Kannan coolly replied her that it would not be an impossible plan.
Two days passed quickly. No sooner Balu arrived there, he contacted first Kannan in his house around 6 p.m. Kannan first wanted to introduce him to his beloved Meena and second, Pleased to show him the manuscript of his first novel, an achievement in his life. In no minute they reached the room of Meena. Balu and Meena were introduced to each other by Kannan. Meena called the room boy and ordered him to bring good tiffin and coffee for three of them as per the wish of Kannan. They sat around a table there and took the tiffin. After a few minutes, the room boy cleared the contents on the table and placed on it three sets of cup and saucer. Then he brought there a Thermos flask, opened the cark, poured coffee in the cups and left the room.
While taking coffee, Balu said that his father had seen a few ladies living in places like Trichy, Tanjore, Madurai, Madras and Coimbatore for him and that he had to go along with his father to all those places one by one to see face to face those brides and had to give his consent of the bride he liked most to his father so that an alliance could be finalized then and there between his family and the bride's family. A week or so he had decided to allot for selecting a suitable bride for him.
Then their talk was on the Halo meets and their friends. Finally Balu told Kannan that a few days back, while he was reading some of the poems and essays written by Kannan could not fail to appreciate the beauty of THAT MIDNIGHT STAR even after the passage of a long time. He said that he had come to the breaking point and that he could not restrain any more from putting forth his opinions on that master piece of his. It was, he said, excellent and the rhythm in it was exquisite for the most part. Further he expounded that Kannan had given a good shape to his thoughts. Balu wondered very much how dexterously Kannan could employ the words in the appropriate places. And he hoped that Kannan would carry on in that field creating more and more good works of art. The poem, THAT MIDNIGHT STAR had attracted different persons due to different reasons. Kannan was very much fascinated and inspired beyond the limit of any human being as he happened to experience a direct singular impact produced by the coincidence of tastes on that same poem of the type he was too fond of as he had the personal assistance, cooperation and support of Meena. Then he asked her to hand over a copy of the manuscript of the novel he had finished the previous month to Balu for his perusal criticism, comments and suggestions. He said it was a souvenir to Balu, a partial history of their past activities and a first novel of his own efforts to fulfil one of the cherished goals of his ambition in life. Balu readily received the copy from Meena. He appreciated the sincere efforts of Kannan and promised him that he would send him a detailed review of the novel after he had gone through it at his leisure.
Balu went on a hiking trip to different places in search of a bride he had already conceived about in his mind along with his father. A week had passed. No use. At home one of his relatives brought the photo of a bride and asked Balu for his consent. He invited all the Haloens to his house for the lunch one day and discussed with them regarding the selection of a bride. In that connection he showed them the photo of a bride in hand and asked for their opinion. Selvam said that the bride was a suitable one for Balu. Vaithianathan also said that the bride was not bad and that it would be better for Balu to get all the information regarding the relatives of the bride, the position of her parents before he could go and see the bride in her residence.
Within a few days all the informations came to him. He was not satisfied and so the selection of that bride had been dropped. After two days a letter came from Dindugal. The letter was from the father of another bride. The bride's family and other relatives were followers of Gandhian philosophy. Most of the members of that group were working as officials in various levels through out India. Balu was interested in such a family. He immediately went to Dindugal along with his father. He saw the bride and he gave his consent of acceptance of that bride to his father. His father gave his word of consent to the bride's parents. Then they talked about fixing the date It was unanimously decided by both sides that both the ceremonies could be conducted on the 14th and 15th of July respectively.
Balu returned back home along with his father, conveyed the sweet news to all of his friends and relatives and occupied himself over the matter of selecting clothes, printing wedding invitation cards and purchasing other articles necessary on the occasion of his marriage. Before the end of third week of June, invitation cards were printed, clothes were stitched into Pants and Shirts and other items were purchased. In the last week of June Balu's father started visiting different places to see his relatives and to invite them for his son's marriage. Balu on his part met all of his friends close, near and dear and kindly invited them to attend his marriage. All the works went on at a full swing.
Two weeks passed as If a day had ended and another day has come. On the 15th July marriage of Balu took place at the bride's residence in Madras. Every one came for the marriage and blessed the couple with long life and prosperity. Next day of the marriage Balu gave a fine reception to all of the dignitaries colleagues, friends and important persons at a grand reception hall in Madras itself. Kannan, Gopal and Selvam individually came and attended the function. Kannan with Meena were standing close to the couple. Kannan and Balu were laughing for most of the time. Gopal with his wife did the same and stood there talking with the relatives of Balu. Vaithianathan with his wife congratulated the couple for the success of their marriage. Gopal seeing Kannan sitting with Meena near by the couple approaching him and slowly enquired him when he had come there. Kannan told him that he had come first for the function along with Meena whom would marry soon. Gopal was surprised very much and told that sweet news to his wife. They both approached Meena and talked with great surprise, laugher and praised her to be a lucky one as she had been chosen by Kannan at long last as his better half for life. Gopal and Vaithianathan talked with Balu and they did not seem to have noticed Kannan. Gopal approached them too and said about that happy news to them. They smiled a bit and restored their poise as if they were talking about a trivial joke. At about 8 P.M the function came to an end everyone took leave of the couple and vacated the hall slowly.
At last Balu had wonderfully settled with a good lady for his life partnership as per plan. He took leave of everyone and returned to New Delhi along with his newly married wife to mind his duty in order to better himself further in life. Another successful matter had added a few more sweetness to his happiness soon after he reached Delhi. The result of IAS Exams had come out. He had passed in the exams. Later he had been posted to Pune for a training of six months before he was given a post somewhere in India as an IAS Officer Truly he had successfully settled himself both in life and in job.
~*~
One day in the beginning of August while taking coffee at home in the evening Kannan was musing over a topic in order to write an essay. He was brooding over what was called the settlement. So many points came and clashed in his mind. Settlement was also a state of mind he thought. Society preferred to follow a routine which was changeable as tradition too. Evolution thrived on change. Some say it was a struggle. There was joy in creation. Everything in nature was creative under a set pattern. So evolution was not a struggle.
For him it was creative. Change was the essence of evolution. Creation was change. If you say a fixed routine was settlement it would be a struggle for you in life. Settlement was not the same pattern for everyone. There was variation in the pattern as per the taste of each person. The settlement of a person should allow a creative change in life than only everyone could feel free to follow a pattern that was possible by one which was the essential ingredient contributing much to the evolution in the larger context.
Kannan felt he had not drifted away from the right path He felt an inward happiness to see that he was actually in line with the evolutionary process which was beneficially aiding him to give shape to the sensitive and beautiful thoughts of his creative mind.

Continued to "The Result : The Halo Dreams"

The Halo Dreams:
Pages: 1 | 2 | 3 | 4 | 5 | 6 | 7 | 8 | 9 | 10 | 11 | 12