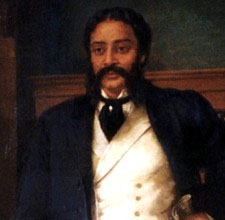 Michael Madhusudan Dutta (1824-1873), the 19th century Bengali poet and playwright, was born on 25 January 1824 in a landed family in the village of Sagardari in Jessore district, Bengal (now in Bangladesh). He was the only son of a well-to-do Kayastha Family. His father, Rajnarayan Dutta, was a law practitioner in Kolkata. Madhusudan in his early years, was taught at home by his mother, Jahnabi Devi, and later he joined Sagardari Primary School. At the age of 7 he went to Khidirpur School, Kolkata. In 1843 he got admitted to Kolkata's famous Hindu College. Here, amongst other subjects, he also studied Bengali, Sanskrit and Persian.
Madhusudan began writing while at Hindu College. He drew everyone's attention at a college function when he recited a self-composed poem. He won several scholarships in college exams as well as a gold medal for an essay on women's education. While a student at Hindu College, Madhusudan's poems in Bengali and English were published in Jnananvesan, Bengal Spectator, Literary Gleamer, Calcutta Library Gazette, Literary Blossom and Comet. Lord Byron was Madhusudan's inspiration.
Michael's exceptionally colourful personality and his unconventional, dramatic and in many ways tragic life have added to the magnetism and glamour of his name. Generous in friendship, romantic and passionate by temperament, he was also fond of the good life; he was financially irresponsible, and an incorrigible spendthrift. He experimented not only in the field of writing, but also in his personal life.
On 9 February 1843, Madhusudan ran away from home and converted to Christianity, to escape a marriage his father had arranged and also to satiate his fascination with everything English and Western. He took the name 'Michael' upon his conversion and wrote a hymn to be recited on the day of his Baptism. However, on becoming a Christian, Madhusudan had to leave Hindu College as Christians were not allowed to study there during that time. In 1844, he got admitted to Bishop's College and remained there until 1847. There, he also studied Greek and Latin.
Madhusudan's conversion to Christianity estranged him from his family, and his father stopped sending him money. In 1848, Michael left for Madras where he started teaching, first at Madras Male Orphan Asylum School (1848-1852) and then at Madras University High School (1852-1856). Besides teaching, Madhusudan was also involved with a number of newspapers and journals. He edited the Eurasian (later known as the Eastern Guardian), the Madras Circulator and General Chronicle and the Hindu Chronicle. He also worked as Assistant Editor of the Madras Spectator (1848-1856).
While in Madras, Madhusudan married Rebecca Mactavys Thompson and had a family by her. Meanwhile, his mother died and then his father. After his father's death, Madhusudan abandoned Rebecca and his first family due to a failed marriage and returned to Kolkata in February 1856 to live with a Frenchwoman named Henrietta White and had a second family by her. She and Michael did not seem to have been formally married, presumably because Rebecca had never granted him divorce. There is no record either of their marriage or of Michael obtaining a divorce from Rebecca.
In Kolkata, Michael first worked as a clerk at the police court and then as interpreter. He also started contributing to different journals. His friends urged him to write in Bengali.
Madhusudan realized the paucity of good writing in Bengali as well as his own ability to fill this vacuum. While translating Ramnarayan Tarkaratna's play Ratnavali (1858) into English, he felt the absence of good plays in Bengali. He became associated with the Belgachhiya Theatre in Kolkata patronized by the Rajas of Paikpara. In 1858 he wrote the western-style play Sharmistha based on the Mahabharata story of Devayani and Yayati. This was the first original play in Bengali, making Madhusudan the first Bengali playwright.
By dint of his genius, he removed the stagnation in Bengali literature both in style and content. He was the first to use blank verse in 1860 in the play Padmavati based on a Greek myth. This use of blank verse freed Bengalipoetry from the limitations of rhymed verse. This success prompted Madhusudan to write his first Bengali poem, Tilottama-Sambhava in blank verse in that very same year. It is based on the Puranic story of the war waged on the Gods by the demon brothers Sunda and Upasunda. This poem was written entirely in blank verse, and so were the two later poems Meghnad-Badh Kavya (Ballad of Meghnad's Demise in Ramayana) in 1861 and Virangana. The later poems silenced the critics and detractors, and permanently established the vogue of blank verse literature.
Madhusudan's epic poem: Meghnad-Badh Kavya is considered his all-time masterpiece till today. Written in blank verse, this epic was based on the Ramayana but inspired by Milton's Paradise Lost. Madhusudan transformed the villainous Ravana into a Hero. This grand heroic-tragic epic was written in nine cantos which is quite unique in the history of Bengali Poetry. Meghnad-Badh Kavya was Bengali literature's first original epic and gave Madhusudan the status of an Epic Poet.
The years 1861-62 were Madhusudan's most fruitful period. These were the years of publication of Meghnad-Badh, Krishna-Kumari, Vrajangana, and Virangana-Kavya (1862). Virangana was modeled on Ovid's heroic epistles, and contains some of Madhusudan's finest blank verses. Technically it is his best work. Almost all his poems, except Brajangana-Kavya (1861) were written in the blank verse pattern.
Madhusudan worked briefly as Editor of the Hindu Patriot before leaving for England on 9 June 1862 to study Law. In 1863 he went to Versailles in France, staying there for about two years. It was in France that Madhusudan overcame the longing for England that had inspired his early works and realized the importance of his motherland and mother tongue - Bengali.
Much of his time abroad, especially in Versailles, was spent in abject poverty, as the money from his late father's estate on which he was relying did not come regularly. His Indian friends who had inspired him to cross the ocean had by now managed to forget the beggar Madhusudan altogether. He fell hopelessly into debts and appealed for help to the great personality, the scholar, social reformer, and activist Ishwarchandra Vidyasagar (this kind soul was known to all as Dayar Sagar – the ocean of kindness, for his immense generosity).
Vidyasagar labored to ensure that sums owed to Michael from his property at home were remitted to him and sent him a large sum of money to France. However, as Madhusudan was still not in a position to clear off all his debts, he was very often threatened by his creditors with the eventuality of prison-arrests. He was deeply over head and ears in debt.
Madhusudan returned to England from Versailles in 1865. In 1866 he became a Barrister. He returned to Kolkata on 5 January 1867 and started practicing Law. But his practice did not pick up and in June 1870, he was obliged to give up his legal career to work as a translator at the High Court on a monthly salary of Rs 1000.
However, his habit of reckless spending ran up debts again. Despite all ups and downs, Madhusudan kept on writing. In 1871 he wrote Hectarbadh after Homer's Iliad. His last composition was Mayakanan (1873).
Madhusudan's last days were painful, because of debts, illness and lack of treatment. He had no place of his own and had to take shelter in the library of the Zamindars of UttarPara, Hooghly, W.B.
His extravagant life-style, fickleness in money matters, and reckless drinking to drown problems conspired to wreck his health and happiness, and likewise the health and happiness of his second partner Henrietta, who had also succumbed to alcoholism during her days of poverty in Versailles.
On 29 June 1873, three days after the death of Henrietta, the greatest poet of the Bengal renaissance died in Calcutta General Hospital in a miserable condition at the age of only 49 years. Thus, he and his partner both died prematurely, within 3 days of each other's demise, leaving behind orphaned children.
Even now after more than 100 years to his death, Michael Madhusudan Dutta is revered as the pioneer of the new 19th century awakening of Bengal. With his unusual talent, he brought about revolutionary changes in Bengali language and literature. Drawing profusely on Sanskrit themes for his poems and borrowing from western literature, he set a completely new trend in Bengali literature.
He was a man of real, though somewhat erratic, genius, and a courageous innovator of forms and types which altered the whole course of Bengali literature and added new dimensions to it. To his adventurous spirit, Bengali Literature owes its first blank verse and the sonnet , its first modern comedy and tragedy, and its first epic.
The life-style and poetic virtues of Michael Madhusudan Dutta were not only unconventional but awe inspiring. He would be always highly regarded and remain immortal in the history of Bengali literature as the founder of Amitrakshar Chhanda or blank verse (rhyme less verse) and as its best ever exponent.

Madhusudan used to collect themes for his poetry from the Sanskrit Puranas, ancient Hindu epics and also English and French literature. He also wrote poems about the sorrows and hurts of love spoken by women. He is considered as the Father of Bengali Sonnet. He was also a wonderful linguist. Besides Bengali, Sanskrit and Tamil, he studied Greek, Latin, Italian and French and could read and write the last two languages with perfect grace and ease.
Madhusudan's life was a stupendous boon and also an enormous sorrow. Loss of self-control was mainly responsible for his life's financial and emotional sorrows and yet it was a God-gifted boon for his over-flowing poetic originality.
The all-inviting epitaph on his grave came from the poet himself:
Stop a while, traveler!
Should Mother Bengal claim thee for her son.
As a child takes repose on his mother's elysian lap,
Even so here in the Long Home,
On the bosom of the earth,
Enjoys the sweet eternal sleep
Poet Madhusudan of the Duttas.


(compiled from various sources)