Krishna

Feigning to do your hair
Why did you raise your arms,
Why did you smile like a flower in bloom?
Why did you pose like that in my presence?
Now to save my life, my cherry,
Allow me to hold you close to my heart.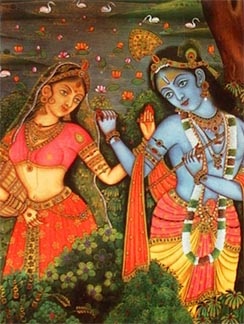 To make me mad
Why did you remove your scarf
And expose your breasts?
Under the kadam tree
On the Yamuna's bank
Half-covering your face
Why did you steal a glance at me like a flirt?

All these make me lose my mind, you know.
While drawing water from the river
Why did you whisper such enticing words?
Of whatever I do
You are the root cause
I cannot leave this place
Everyday to see you at least once
All day long
I frequent these river banks.

Radha

As I was in a hurry
(It was to escape you, in fact),
My hair became disheveled
And I had to raise my hands to dress up, my friend.
I was dog tired
Which made me yawn
And because of fatigue
I was in such a pose.

Sooner shall I die
Than lose my mind because of you.
It was the wind that blew away my scarf
And you didn't lose that chance
To see my breasts!
I looked in that way
Because I felt so shy
And covered my face in a haste.

What I did say
While drawing water from the river
Was anything but sweet.
You'll die, you say,
If you leave this place.
You rogue, I know it very well
Why you do what you do.
Don't be a Romeo
You should know you are obsessed
Before it is too late you mend your ways
Or go to a madhouse.
Transcreation of two songs by the Vaishnava poet Chandidasa who flourished before Chaitanyadeva, the exponent of the Bhakti cult in Eastern India.