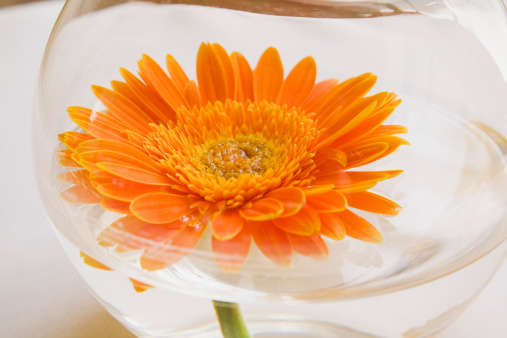 O you alien flower
When I asked you,
'What is your name?'
Nodding your head you only smiled
Then I understood
You need no name
You are known by your smile.
Holding you close to my heart
When I asked,
'Where do you live?'
Smiling you nodded your head and said,
'I don't know.'
Then I understood
To know the place where you live
Is of no use
Whoever loves you
In his bosom you live.

O you alien flower
Whispering into your ears
When I asked,
'What language you speak?'
You only smiled and nodded your head
The leaves rustled in the trees
And I said, 'I know,
Your hopes and desires
Find their silent expression in beauty
I filled my heart
With the breath of their words.'

O you alien flower
When first I came and asked,
'Do you know me?'
You only smiled and nodded your head
And I understood it matters little.
I told you, 'Don't you see how by your touch
You have filled my heart to the brim with love,
Who knows me more than you?'

O you alien flower
When I ask you,
'Will you keep me in your mind?'
You only smile and nod your head
I know you will remember me at times
After I shall leave
You will remember me in your dreams.
---------------------
Transcreation of the poem Bideshi Phul from the collection Purabi by Rabindranath Tagore. It was composed on 12th November, 1924 when the ailing poet was staying at Buenos Aires as the guest of Victoria Ocampo. The poet called her Vijoya and dedicated this collection to her.