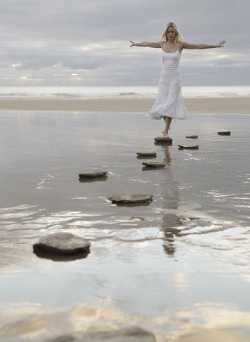 Ananda! Indescribable delight!
Flowing like a river
Into the terrain of pure bliss,
Unending pleasure,
Undying happiness,
Unbelievable state of joy!

Greater than a kingdom on earth,
Happier than a seat in heaven,
Cooler than a twilight moon,
Sweeter than any sweet nectar,
Cosier than a lover's embrace,
Is Ananda! The undefinable mirth!

Ananda! Boundless bliss,
Beyond doubts and disturbances,
Above all confusions and connivance
There are no questions to be asked
Nor any queries to be answered
There is only the illumination of infinite joy.

To let go of all material wealth,
To push out all desires,
To chuck out the ego,
To let lose oneself in divinity,
By embracing love - pure love,
Only then, can you find Ananda!

To pursue only the path of devotion
To serve with selfless motives
To open up to the will of God
To realise the oneness of creation
Through sympathy and empathy,
Only then, can you find Ananda!

When devotion is steady and intense,
The devotee gains knowledge,
Knowledge of unity of existence,
Knowledge of Oneness or togetherness
The unity of consciousness
Of Self in all beings and all in the Self.

The mystic wanders - as a subject
Seeking his God - the Object
As the mystic embraces love
And the love ripens like a juicy fruit
The duality ceases - no subject or object
Only Ananda of love supreme!

The bond of love
The lover and his beloved
Get absorbed in love, so intense
There is no lover now
Nor any beloved
There is only love!

Ananda! The unity of the triad,
The knower,
The knowing and
The known!
The three are not three entities
But just one unit of love!

Ananda cannot be measured with a tape,
Ananda cannot be tasted like a delicacy
Ananda cannot be acquired like a property,
Ananda cannot be inherited from the forefathers
It has to be earned with infinite love
It has to be experienced by the silent inner being!
Comments on this Poem
---
Dear Rupradha,
Feel so good to know that you liked the poem "Ananda".
Please forgive me for replying so late.
with good wishes and warm regards,
Dr. geeta radhakrishna
---
Dear Nathmal Sharma ji,
Namaskar!!!
Extreme Apologies for responding so late.
Thank You so much. I am happy that you enjoyed this poem.
Surely, i would be happy to write more poems on spirituality.
Meanwhile, with lots of respect and regards,
Dr. geeta radhakrishna
---
Creative writer always acts & reacts upon writing.You write very emotionally and heart touching poetry.Why have you stopped writing
poetry with spiritual touch? Very few writers adapt
their views on these serious subjects.I cordially
request you to write some more poems for
"Bahujan hitay, Swant sukhay".I liked your poems
too much.I think,you review on it. A lot of thanks.
Thank you very much.
---
Respected Geeta Radhakrishna Mam,So many births and rebirths pass yet people don't turn to this heavenly taste of Aananda.You are so much lucky to have this type of wisdom.I am sure that it is blessing of God that you have experienced that Aananda and now are distributing this nectar of Parmananda among the boloji readers.In this way,we are also lucky that we have got an opportunity to enjoy this
bliss through your poem.A lot of thanks.Hope that
you will be continuously provide this Aananda by your poetry writing.Again thank you very much.I felt
nice.
---
| | | |
| --- | --- | --- |
| | this poem makes the readers ecstatic too..every word is so true..thanks a lot for showering so much Ananda.. :) | |
---