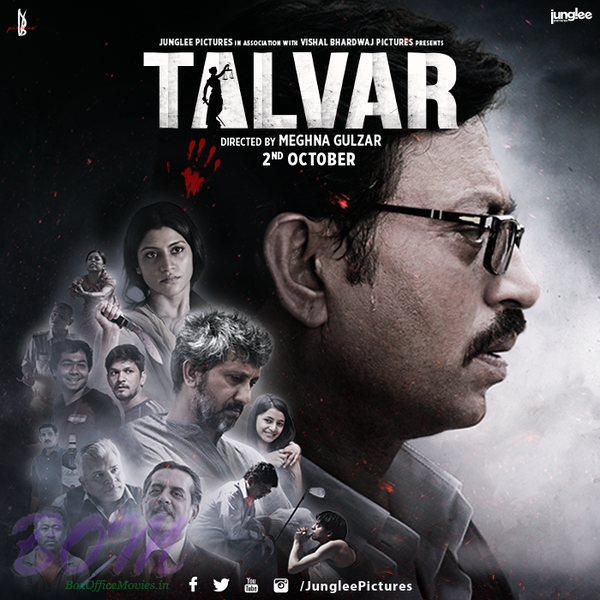 At one level, the film Talvar is a hard-hitting and satirical take
On how a messed-up crime investigation can put lives at stake.
At another, it intelligently exposes police methods and procedures,
That piece together different facets of a whodunit with conjectures.

Talvar the Movie, holds a mirror to the serious fall-outs,
That leaves the viewers with no two opinions or doubts,
On how far the police and agencies could go to be seen right,
Merrily twisting evidence and presenting people in poor light.

Weaving a web of facts, hearsay and insinuations to satisfy personal egos,
The movie offers ironical insights into the depths professional rivalries go.
Interspersed with sly wit and wry humour, the film subtly yet amply showcases,
The perceptions on the "accused" of people from varied socio-economic spaces.

Vishal Bharadwaj has come up with a taut and pithy screenplay,
That impresses with his razor-sharp dialogues and witty wordplay,
Ably aided by Meghna Gulzar's realistic direction nowhere overdone,
Pankaj Kumar's cinematography and Sreekar Prasad's editing spot on.

As every actor of Talvar fits into the character and manages to impress,
Irrfan Khan as usual, steals the show with his transformations seamless
From a light to an intense moment that stamp his acting skills above par,
That both entertain and move us at the same time and nowhere ever jar.

Konkona Sen Sharma and Neeraj Kabi as parents do stir our soul,
Sohum Shah, Atul Kumar and Gajraj Rao do justice to their role.
Despite her brief appearance, Tabu's acting as always stands out,
Her scenes with Irrfan Khan do touch a chord without any doubt.

This movie based on a much publicized, media debated double murder,
Sends a real chill down the spine and leaves us to think with a shudder,
On the fate of those caught in the vortex of faulty evidence collections,
By agencies with fixed mindsets, prejudices and preconceived notions.

My rating for this film, is a full Five Stars for its gripping narrative,
That engages the viewers throughout with performances superlative.


Talvar (English title: Guilty) is a 2015 Bollywood murder mystery thriller film written by Vishal Bharadwaj and directed by Meghna Gulzar. The film is based on the 2008 Noida Double Murder case, in which a teenage girl and the family servant are found murdered and her parents were convicted for the murders. The film stars Irrfan Khan, Konkona Sen Sharma, Neeraj Kabi and Sohum Shah in key roles and Tabu in a guest appearance.
Talvar (originally titled "Nyodda" after the place of the murders - Noida) premiered at the 2015 Toronto Film Festival and is reported to have adopted Rashomon style storytelling.