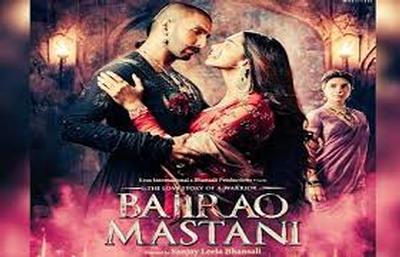 Bajirao Mastani is a magnum opus,
With love being its primary focus.
Yet whether romance or war zone,
Both have been with class shown.

The Hindu-Muslim love story is nothing new,
But Bhansali paints it with a refreshing hue.
Each performer in the film, big or small,
For perfect characterization stands tall.

The film reflects both grandeur and perfection,
Be it acting, music, camerawork or direction.
As a passionate movie maker of huge talents,
Bhansali has surpassed himself in every sense.

Whether Bajirao's battlefield valour,
Or Mastani's death-like facial pallor,
Or Kashibai's angst filled attitude,
Brilliantly captured is every mood.

As Deepika Padukone fills Mastani with soul,
Ranveer Singh lives the Peshwa Bajirao role.
Priyanka Chopra as the hurt Kashibai shines,
Tanvi Azmi as Bajirao's mother is all brine!

To Cinematographer Sudeep Chatterjee, full marks for breathtaking visuals.
Prakash Kapadia's crisp dialogues raise the film's bar by several levels.
Quite like Mughal-e-Azam and Jodha Akbar yet so different from them,
Bajirao Mastani is a grand, spectacular film - truly a rare cinematic gem!

Bhansali's attention to details is most impressive,
As each character in the film is oh-so expressive.
Razor-sharp and pithy dialogues are a real stand out,
That engage and grip audience attention throughout!

The Puneri Marathi accent that Ranveer Singh captures
With felicity is a total delight and so pleasing to hear!
The dances and music send the audience into raptures,
Being visual and aural treats so easy on the eye and ear!

Grandly yet aesthetically mounted and exquisitely crafted,
The film Bajirao Mastani has a star cast perfectly drafted,
To superbly portray director Bhansali's grandiose vision
Of a Maratha Warrior who makes love his life's mission.

My rating for Bajirao Mastani is a rare five star plus plus,
Mainly for Sanjay Leela Bhansali's direction and his guts
In having made a period film on such a magnificent scale,
With each frame spelling quality that nowhere seems to pale.
Bajirao Mastani is an Indian historical romance film produced and directed by Sanjay Leela Bhansali. The film narrates the story of the Maratha warrior Peshwa (Prime Minister) Bajirao I of the Maratha Empire and his second wife Mastani. Ranveer Singh and Deepika Padukone portray the titular protagonists, and Priyanka Chopra plays Bajirao's first wife Kashibai. Music: Sanchit Balhara, Songs: Sanjay Leela Bhansali with assistance by Shreyas Puranik and Cinematography: Sudeep Chatterjee.