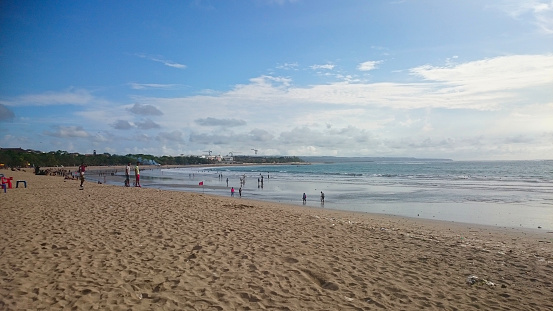 Beach, I remember of getting wind in my hair
Eyes were full of tears of joy and not grief
And to stand on the sand and simply to stare
Clothes dampening while playing "run away"
Hear the wavelets at play, tickling our toes.
Be seated on the beach with feet in the sand
Listen to ocean's song to clear the mind
And watching the crimson sunset at the same time
Not to bother for any cares, watching God's bounties.
Kept roaming on the beach to find colored shells
Eavesdropping to hear the ocean's deep roar
The tired mind to be refreshed smelling the salt.
Behold the beach! Here I have found peace
I have found love too, here, here and here
Nowhere but on grains of sand that blanket
Graciously and gorgeously offering a bed of comfort.
Oh, the freedom to run, fall, hold, cuddle and coil.
**************
I visited the Kuta beach in Bali, Indonesia in the early 1990s. The expressions in this poem are based on the recollection of powerful feelings in tranquility in 2011, remembering the visit looking at old pictures. This poem is written in Acrostic form.