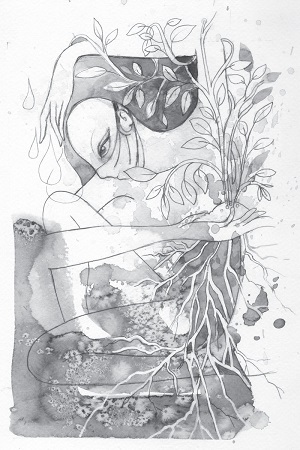 Ever since Corona
raised its ghostly head
for a ghastly dance
to the pandemonium tunes,
causing death and disruption,
everyone is anxious.

Exasperated and helpless,
seeking refuge,
I have invoked Amma,
several times, wondering,
how she would have dealt
with the uncertain situation

Each time,
Amma's gospel
resonates therapeutically:
Always remember
but fear not Yama
for death is inevitable

Know and follow Yam
the Patanjali sutras
of self-control

The situation demands
rigorous discipline
more than ever before.
I hear Amma reiterating:
Love yourself
by being true to yourself.

~*~

The sutras are aphorisms –

TO BE:
clean, committed, content,
honest, kind, loyal, non-violent,
persevering, poised and tolerant,

and

NOT TO BE:
a cheat, greedy or a thief.
Illustration by Niloufer Wadia