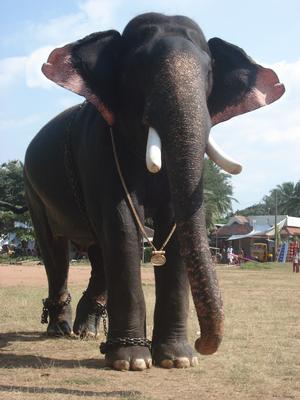 It is Ganesh Chaturthi,
birthday of our dear deity
with an elephant visage;
hymns and chants everywhere,
joyous crowds in cheer.
Elephants caparisoned,
besmirched with vermilion,
holy ashes, sandal paste
are taken around on the streets
with drumbeats.
Devotees piously prostrate.
The celebrations this year
have more heat and gusto,
for an atheist politician just two months ago
had dubbed the elephant God a myth
drawing tonnes of acid flak
from ardent detractors around the globe.
He was indeed wrong,
the deity can't be a myth,
when He is an inspiring presence
living and omnipresent in the hearts
of His devotees all over the earth
guiding them in their myriad paths.
But the tragedy – behold the mammoths
on the streets
surrounded by cheering crowds -
their legs are chained both back and front!
Chain, chain all over,
selfish to the core,
we like to keep the granter
of liberation from worldly woes,
the elephant God, our dear deity,
sadly bound and shackled in us.
His glorious birthday morn.
Image © Madathil Rajendran Nair