What I am?
A confluence of epithet
That defines my identity
Discernible with relationships
Giving me a semblance of
A son, brother, husband, father, uncle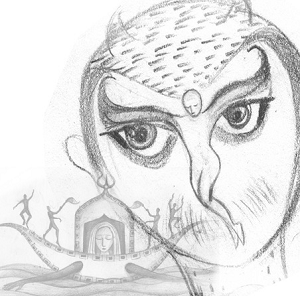 Colleague, friend, enemy, neighbor -
An earthling, Indian, Hindu!
Or just another somebody
A mere nobody!
What really I am?
If it is relationships
Then why they are seemingly there
But not available when I need them!
And,
am I available when they need me?
The proximity and the distance
Of these relationships is also
Mind boggling
Some so close
That I can even hear
The sound of the beating heart
Or is the beat my own!
Pounding and echoing in theirs?
A feeling that affirms
That "I" exist!
Yet some so far and away
That I seem to communicate
Only with thoughts
That keep coming and going
Without any effort on my part
But I seem to be entertaining
Some of them
What really I am?
An entity through which
Permeates the flow of thoughts
Apparently giving me freedom
To dwell on some
Or is my dwelling too
Related to the force and energy
Of the thoughts that pass by
What really I am?
A naked self
Clothed by masks
Of thoughts, relationships
Projections, emotions
Attachments, detachments
Aversions, diversions
The dual of opposites!
What really I am?
In a vast canvass
Of unending chain of relationships
A "Speck" - trying to balance
And complete the picture
Or, being helped
By everything on the Canvas
For me to discover
That I am bound, captured and caged
Or, liberated, Free and soaring
To remain in the end
A silent spectator
What really I am?
Is there really an "I am"?


Illustration by Simi Nallaseth