Workshop # 3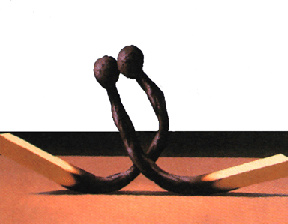 In the oceans of divine love,
around the world, hearts like to swim -
While a few of the minds remain silent
to watch or steer any whim !
With the arrival of dusk
our eyes quietly tend to sink -
Through the mood of pleasures
that we always think !
Wait for the midnight,
as if suddenly seems over -
While ribs start to throb
and heart loves to hover !
This is the true cycle of lives,
since the good old days -
And swings like ebb tide
or the bright yellow sunrays !
"Fruit of love" rings the bells to announce:
"Hey, it's the time -
To spread the news, birth on earth,
through the winds' chime" !

The conceptions in inner minds
whisper in the way -
To bond the two young hearts forever
to prevent any sway !
The "magic glue" is somewhere in air,
hidden for Cindy and LaPalm -
Who were so excited before but suddenly
I see they are extremely calm !

Now, let me pray for their lives
to be drowned in happiness and joy,
And blessings from God,
fill in their rooms with "healthy live toy" !
Let the celebrations of today linger
in their hearts to enforce the glue -
Of deeper love and respect from each other
to expect without a clue !!
Workshop # 3
A Different Realm by Maria Reed-Shore
A Frozen Memory by Hippie Gal
A Whisper in the Ear by Hillol Ray
Abuse by Pavalamani Pragasam
After Glow by Cynthia Proctor
Annexation by Hillol Ray
Broken Hearted by Beth Hancock
Burn and Glow by Meenakshi Madhur
Burning Problem by Pavalamani Pragasam
Early Trust by Hillol Ray
Eternal Flames by Krista Nicole Hubschman
Face To Face by Hillol Ray
Faith of a Match by Nicholas LaMattina
Fate by Bhagwat K. Shah
Fire of Life by Rajender Krishan
Forgotten Sorrow by Thomas Eng
Glue Without A Clue by Hillol Ray
Her Smile by Saurabh Kumar
Immortal Lovers by Trupti Derashri
Indelible Ink by Hillol Ray
Lean on Me by Bijal Dwivedi
Love by Dr. Soumya Panigrahi
Love by Shanon
Love's Fire by Hecletia
Lovers by Pili Pubul
Mission by Pavalamani Pragasam
Moment of Truce by Hillol Ray
My Burning Desire by B.K. Swaminathan
Our Love Burned Me by Frank Sheehan
Our Project of Love by Muralidharan R. Nair
Passion Does Not Wither by Vaish
Salute by Pavalamani Pragasam
Signs and Reckoning by Mary Ann Harrison
Spirits Rebellious by Uma Parthasarathy
Staying Together by Dr. C.S. Shah
Still Together by Smitha Abraham
The Eternal Flame by Ahmed Tanhaa
The Fire Inside by Joseph Allen Hardy
To Be or Not To Be by Pavalamani Pragasam
Touch by Helena Fernz
Two Images by Seema Banerjee
Two is One by Chandra Shekhar Das