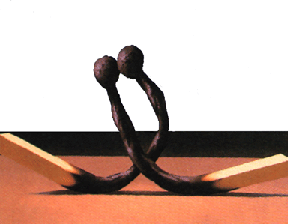 Workshop # 3
Playing with the 'real' hearts is a serious business,
And unauthorized for all –
Even the surgeons have to think it twice,
While nurses sleep at the beck and call!
The decisions still dance around,
Until the dilemma uplifts the veil –
And the moments arise, upon fusion of hearts,
To cherish or ring the bell!
We trot the globe in the wings of dreams
In search of our own sweetheart –
From dawn till dusk, the 'move' stays on,
To push the life's one and only cart!

The webs of joy weave the threads
To create a strong happiness net –
And tangle two floating hearts, like a roping
In the rodeo, until the bull is set!
Romances bloom in the stems of mind,
And fence around the life's beloved goal –
While keeping the high hopes alive,
Where heart will never touch the flaming coal!

The dazzling rainbow creates a smile on the sailor's ship
Battling the troubled sea –
And keeps on hoping to reach the shore,
Where lies the happiness key!
Life in an essence resembles the worried sailor,
But moves on with the throbbing of the hearts –
While playing hide and seek at times,
As shown in the movies or visual arts!

But today, this is reality that we drench here
In happiness and joy –
'Cause of a merger of hearts, held in Jamaica,
Between a girl and a boy!
The sunset on the islands witnessed the vow,
And waves roared the lonely shore –
While Tony slipped the ring, and Linda couldn't think any more!

Well, the jubilation, nurtured in the remote islands,
Is now imported in Nyork for us to tell –
About the happiness of Linda and Tony, forever,
Through the wedding bell!
Now, let their hearts be showered with
The deepest blessings from the God –
Because throughout in life, He is our savior
Who has given them His precious nod!
Let us pray for their restless minds to bond together
To form an indelible link –
And we will carry on the festivities,
While in the ocean of love they long dearly to sink!!
Workshop # 3
A Different Realm by Maria Reed-Shore
A Frozen Memory by Hippie Gal
A Whisper in the Ear by Hillol Ray
Abuse by Pavalamani Pragasam
After Glow by Cynthia Proctor
Annexation by Hillol Ray
Broken Hearted by Beth Hancock
Burn and Glow by Meenakshi Madhur
Burning Problem by Pavalamani Pragasam
Early Trust by Hillol Ray
Eternal Flames by Krista Nicole Hubschman
Face To Face by Hillol Ray
Faith of a Match by Nicholas LaMattina
Fate by Bhagwat K. Shah
Fire of Life by Rajender Krishan
Forgotten Sorrow by Thomas Eng
Glue Without A Clue by Hillol Ray
Her Smile by Saurabh Kumar
Immortal Lovers by Trupti Derashri
Indelible Ink by Hillol Ray
Lean on Me by Bijal Dwivedi
Love by Dr. Soumya Panigrahi
Love by Shanon
Love's Fire by Hecletia
Lovers by Pili Pubul
Mission by Pavalamani Pragasam
Moment of Truce by Hillol Ray
My Burning Desire by B.K. Swaminathan
Our Love Burned Me by Frank Sheehan
Our Project of Love by Muralidharan R. Nair
Passion Does Not Wither by Vaish
Salute by Pavalamani Pragasam
Signs and Reckoning by Mary Ann Harrison
Spirits Rebellious by Uma Parthasarathy
Staying Together by Dr. C.S. Shah
Still Together by Smitha Abraham
The Eternal Flame by Ahmed Tanhaa
The Fire Inside by Joseph Allen Hardy
To Be or Not To Be by Pavalamani Pragasam
Touch by Helena Fernz
Two Images by Seema Banerjee
Two is One by Chandra Shekhar Das