The Fire Inside
Workshop # 3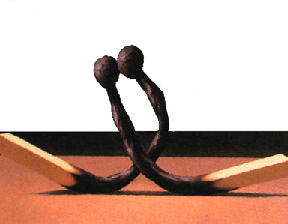 I can feel its intense heat
The ever-present warmth in my heart
The afterglow was nice,
But even it started to fade.
There is a lead-laden soul deep within
Do I really know myself?
Nicely fitting puzzle pieces
or intersecting diamonds that lack a self worth?
In my blood, the fire continues its wild blaze
Grasping tattered remnants of my heartstrings,
I knew that real love wasn't unmasked
Revealing fleeting romance after none existed.
Reality was as a brick lain across my jaw
Numb to the pain, I finally collapse
under my own dead weight.
The bubblegum kisses
and candy-coated giggles
were temporary pacification to my senses.
Still interrogating my modus operandi,
I feel that deeper knowledge
must fill the craters you left me with.
My breath feels as a wastage
My words were so true
Yet, your eyes appeared to have amnesia
for these brief moments
Your heart in urgent need of equilibrium
In those last evanescent moments
when I yearned so strongly
for even one simple hug
or 'How are you?'
you defied my advances
Trampled my heart again
and I finally, reluctantly concluded
that the flames' sparks were to be its last.
My heart had taken residence
in my sole-forgotten shoes.
I felt as low as a layer of dirt
under another trodden crust of earth.
Now that the flame has diminished
into a nothingness I have not altogether embraced,
I retrospect and again desire
to have your lips caressing my own,
Your hands trailing down the small of my back
But when I ask If you still have those times
and all you can muster up to say is 'nope'
Another pungent sting hits me square,
shaking my bones and making my head throb.
I reply, 'sure'.

Will my fire blaze once again?
Don't be afraid.
I have the matches to light the fireplace.
Just keep it burning.
I'll hold the ashes
in my trembling hands
Because I can feel its intense heat
There's an ever-present warmth inside.

Won't you come in?
Workshop # 3
A Different Realm by Maria Reed-Shore
A Frozen Memory by Hippie Gal
A Whisper in the Ear by Hillol Ray
Abuse by Pavalamani Pragasam
After Glow by Cynthia Proctor
Annexation by Hillol Ray
Broken Hearted by Beth Hancock
Burn and Glow by Meenakshi Madhur
Burning Problem by Pavalamani Pragasam
Early Trust by Hillol Ray
Eternal Flames by Krista Nicole Hubschman
Face To Face by Hillol Ray
Faith of a Match by Nicholas LaMattina
Fate by Bhagwat K. Shah
Fire of Life by Rajender Krishan
Forgotten Sorrow by Thomas Eng
Glue Without A Clue by Hillol Ray
Her Smile by Saurabh Kumar
Immortal Lovers by Trupti Derashri
Indelible Ink by Hillol Ray
Lean on Me by Bijal Dwivedi
Love by Dr. Soumya Panigrahi
Love by Shanon
Love's Fire by Hecletia
Lovers by Pili Pubul
Mission by Pavalamani Pragasam
Moment of Truce by Hillol Ray
My Burning Desire by B.K. Swaminathan
Our Love Burned Me by Frank Sheehan
Our Project of Love by Muralidharan R. Nair
Passion Does Not Wither by Vaish
Salute by Pavalamani Pragasam
Signs and Reckoning by Mary Ann Harrison
Spirits Rebellious by Uma Parthasarathy
Staying Together by Dr. C.S. Shah
Still Together by Smitha Abraham
The Eternal Flame by Ahmed Tanhaa
The Fire Inside by Joseph Allen Hardy
To Be or Not To Be by Pavalamani Pragasam
Touch by Helena Fernz
Two Images by Seema Banerjee
Two is One by Chandra Shekhar Das
11-Nov-2000
More by : Joseph Allen Hardy
---