I am again back to Madmaheshwar after 6 years with my brother Ujjal Banerjee. Madmaheshwar is one of the five Kedars in India. According to legend, Lord Shiva's navel fell here torn apart by whom else - Bhima! When lord Shiva was trying to avoid the Pandavas in the guise of a buffalo, Bhima recognized him with a trick and caught hold of the buffalo. The resultant tug-of-war dismembered the buffalo into six parts.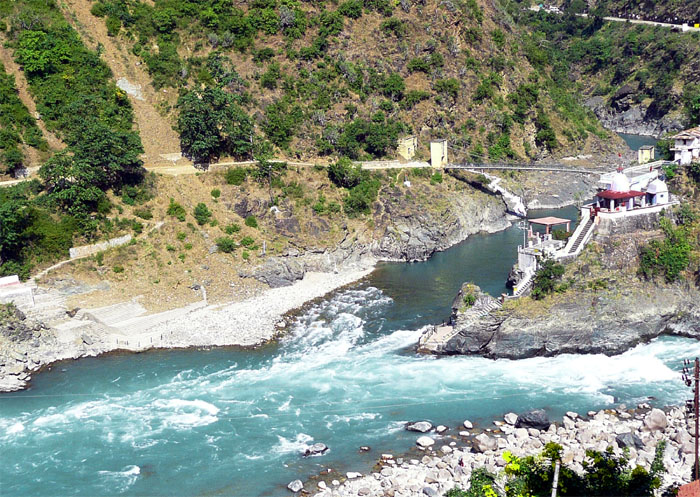 The five places where the five parts fell are the five Kedars - Kedarnath, Madmaheshwar, Tunganath, Rudranath and Kalpeshwar. The sixth part fell in Nepal, and that is the Pashupathinath temple.
Other than being a pilgrimage to Lord Shiva, the place is rich in flora and fauna and offers all the diversities a trekker can dream of.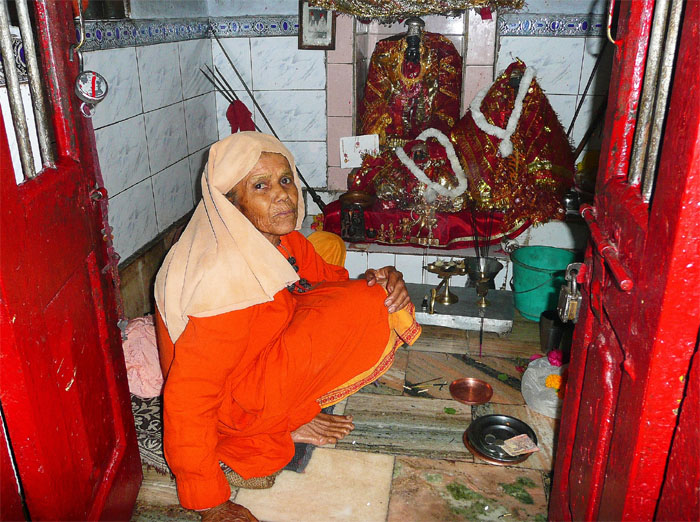 We start from Hardwar as usual, reach Rudraprayag at a distance of 162 km by bus. We stay overnight at Rudraprayag. This picture is of the confluence of Alakananda (right stream) coming from Badrinath, and Mandakini (left stream) coming down from Kedaranath.
The lady is the only lady priestess I have seen in Garhwal. She is preparing worship-rituals at the Chamunda temple on the confluence at Rudraprayag.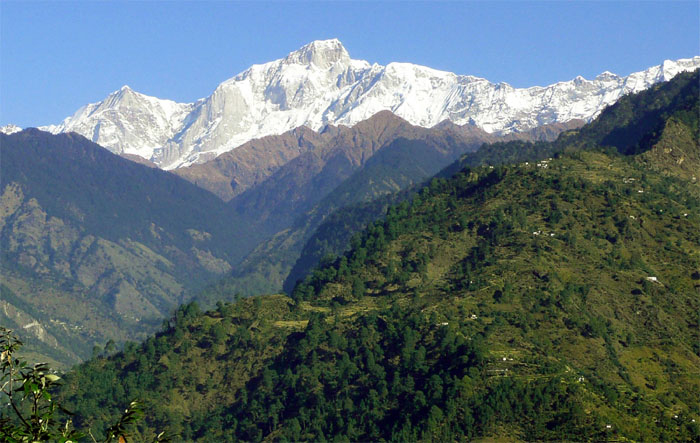 Next morning we reach Ukhimath, a distance of 43 km from Rudraprayag. The idols of Kedaranath and Madmaheshwar are brought down here during winter by a spectacular Doli-Yatra. This is the Mandani range visible from Ukhimath.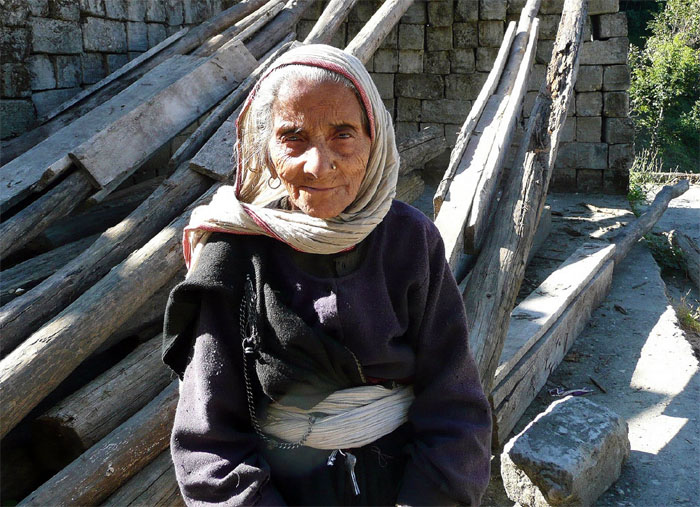 We have some time to visit the Ushamata temple at Ukhimath where the idols of Kedaranath and Madmaheshwar are worshipped.

As we trek down to the temple at a distance of 1 km from the bus stand, this old lady greets us with a benign smile.

The Ray of Wisdom and fortitude smiling through the clouds of poverty and ruin!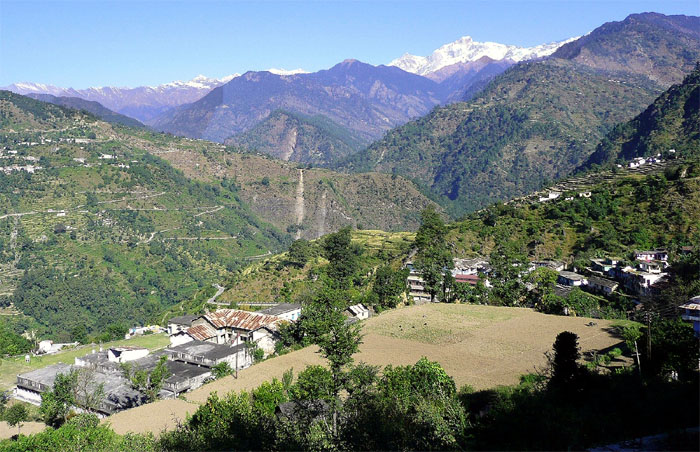 A view of Ukhimath (right) and Guptakashi (left) on the other side of river Mandakini (not visible).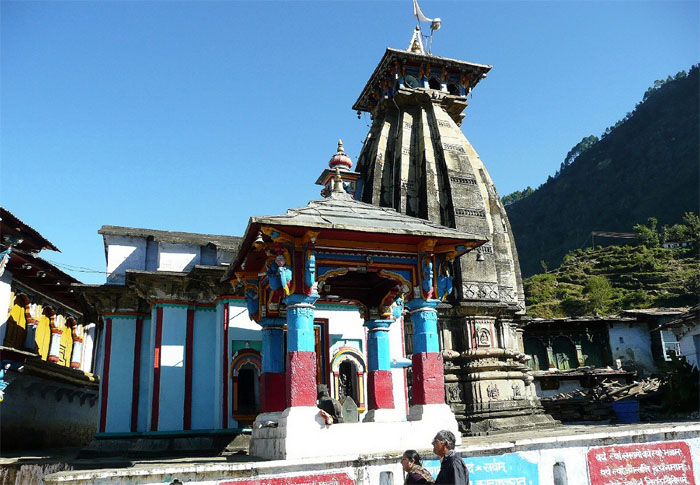 This is the Ushamata temple.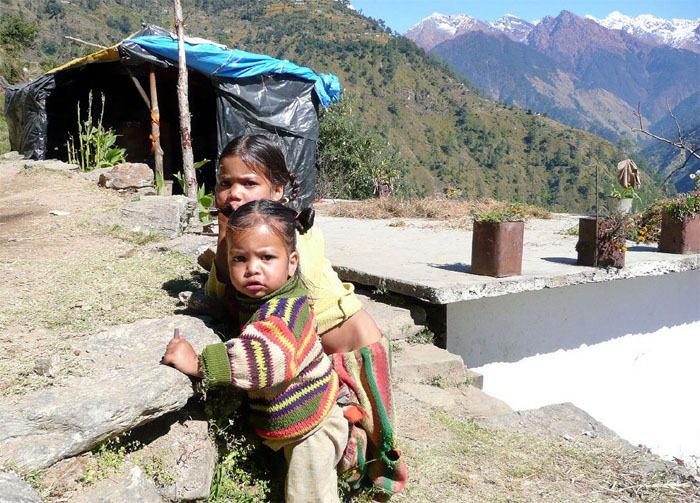 We reach one kilometer ahead of Uniyana village by jeep, a distance of 22.5 km from Ukhimath. I have visited this area two times before, once in 1996 and the second time in 2001 with my mother. The first time, we had to trek all the way from Monsoona, a village 7 km from Ukhimath, and the second time from Yogasu, a village 7 km from Monsoona. Then, it was a trek of about 70 kms (up & down). Now it is only 36-38 km (up & down). There is now rapid development in Uttaranchal, and the road-project upto Gaundar village will leave a trek of only 20 km (up & down). Good news for locals and businessmen, but certainly not for Himalaya-lovers. As we start our trek, these sweeties greet us.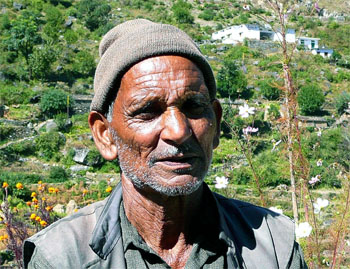 We have reached Ranshi after a relaxed trek of 3 km, and we will stay here tonight. It is only 12 noon now. After a lunch with Chapati-Dal-Sabji we will explore the village, meet with local people, and visit the Rakeshwari temple and the Purohit. We are staying at Ishwari Prasad Bhatt's 'hotel'. This Bhatt family is the most famous family in this village. Ishwari Prasad's father Late Janardan Bhatt was the previous Purohit and the present Purohit's elder brother.

Late Umaprasad Mukherjee stayed with the Bhatts whenever he visited this area, and Ishwari Prasad boasts the possession of Late Umaprasad Mukherjee's original handwriting, which I have photographed. The document has historical value, though Bhatt does not seem to be much aware of it. I advised him to laminate the document. This old man was making threads from sheep-hair to make wears with hand-made loom. It was a very interesting watch. The old man gave us much information about the local economy. I bought two 'shepherd-sweaters' from him to present one to my father. Back home, my father tried it and remarked, 'well, it really sweats!' Impossible to wear the heavy things down here!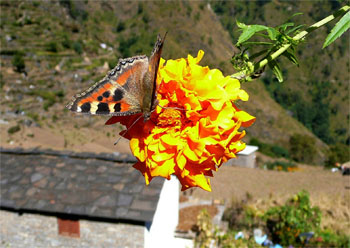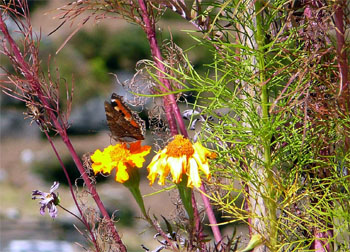 A heavenly sight at Ranshi. Let us be silent and drink the beauty.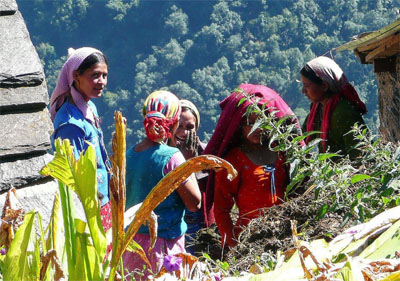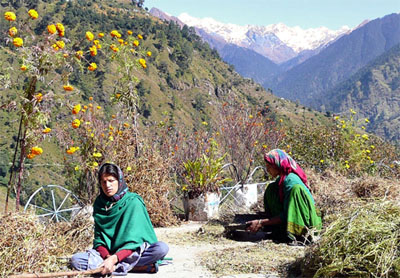 Gossiping girls having a rare leisure-time and watching us with all curiosity. Women are the backbone of economy of these areas. Women at their daily chores.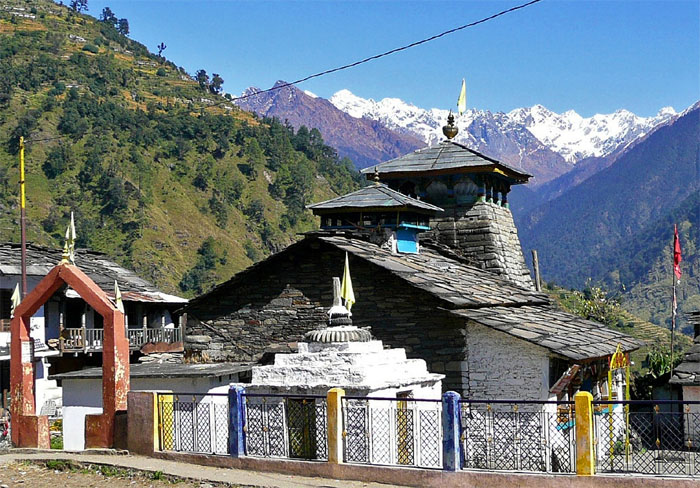 This is the famous Rakeshwari temple of Ranshi crowned with snow-capped glory. The legend goes that Ramachandra meditated here. Lord Soma also had his innings of meditation here. Originally the temple was called 'Rameshwari. The temple has an idol of Goddess Tara. In the months of Baisakh and Ashwin there is worship with much festivity. Shivraj Singh Panwar sings Pandava-gatha in the temple.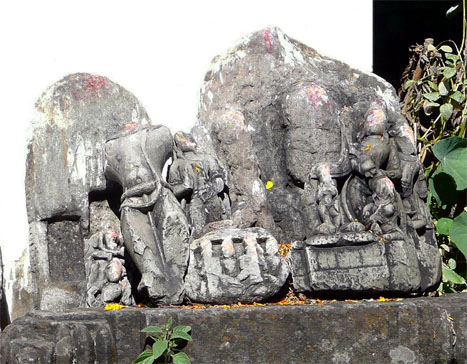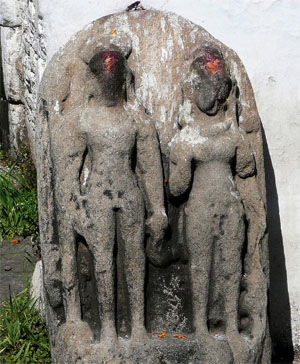 Remnants of ancient sculpture at Rakeshwari temple, Ranshi.

There is also the Hanumanji Rakeshwari temple, Ranshi.
At Ranshi we enjoyed a splendrous sunset and next morning we start our trek from Ranshi. We will trek 10 km and stay at a place called Khadara-Khal. On the way we will have our lunch at a village named Gaundar, a distance of 6 km from Ranshi. This picture is of Ranshi as we turn back from a distance of 2 km.

Continued to Mighty Chaukhamba

Pages: 1 | 2 | 3 | 4 | 5 | 6