Continued from Madmaheshwar Valley

We have reached the top, and this is the scene for which I have traveled thousand miles for the third time. There are four pools of water in Buda-Madmaheshwar top mirror-reflecting the mountain ranges.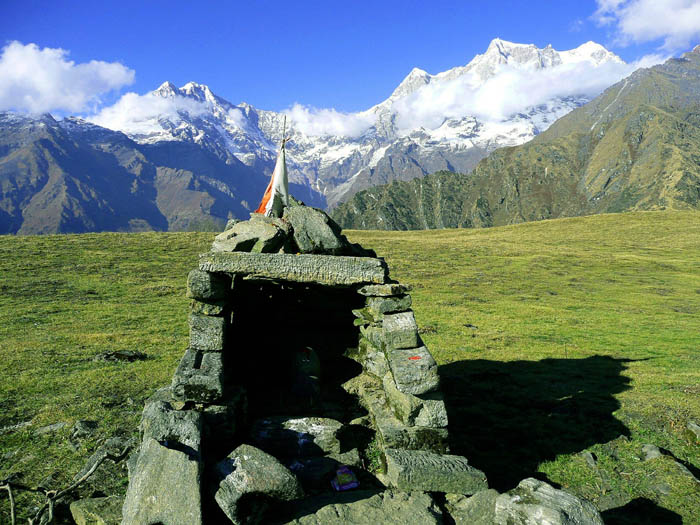 This is the Buda-Madmaheshwar temple which trekkers worship with biscuits and chocolates!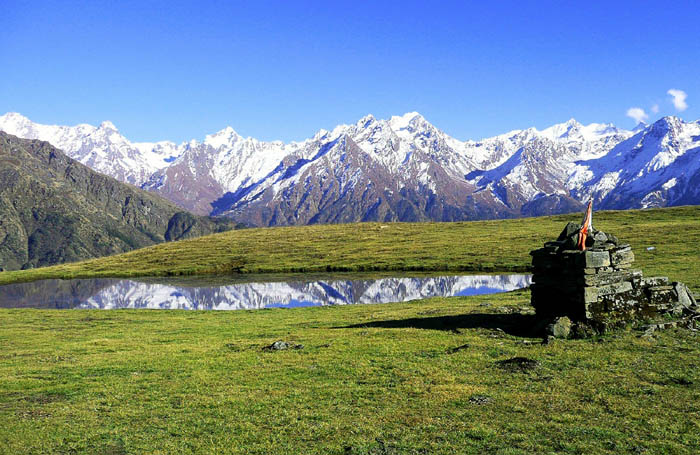 We will not speak a single word now, and enjoy the celestial beauty in deep silence. There is nobody around, only I and my brother.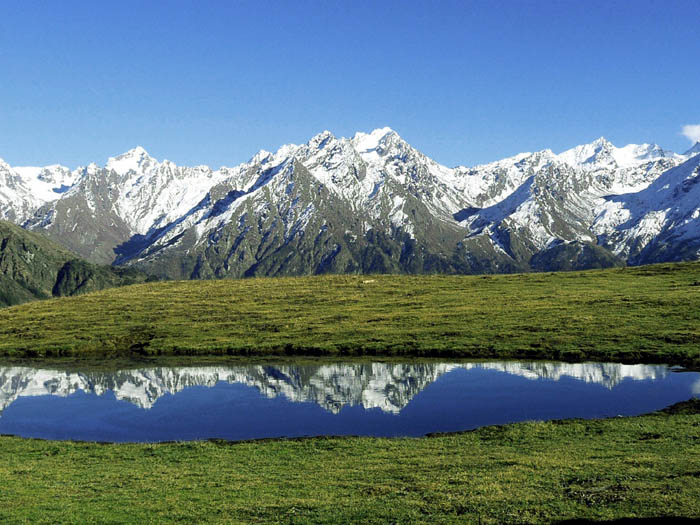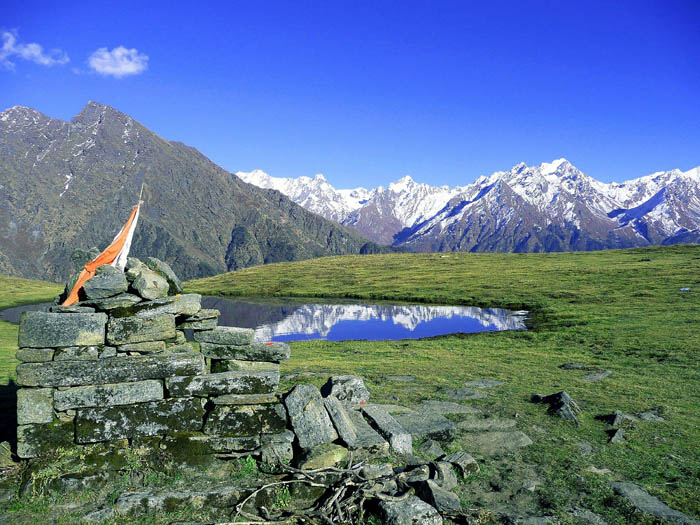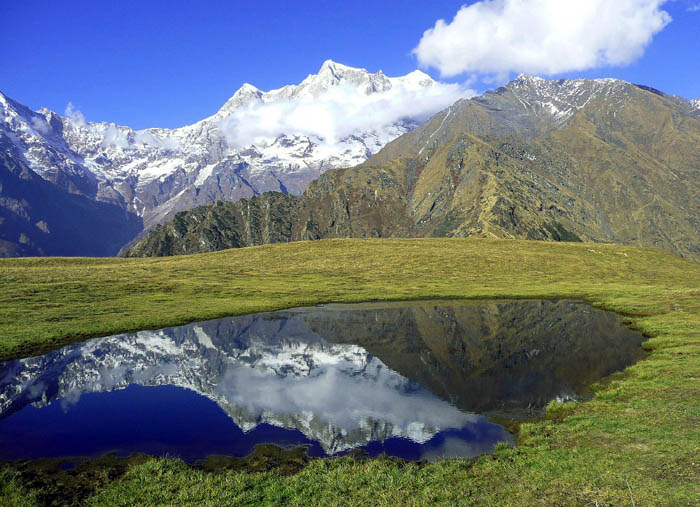 The sun is about to set. It is 5.20 p.m now.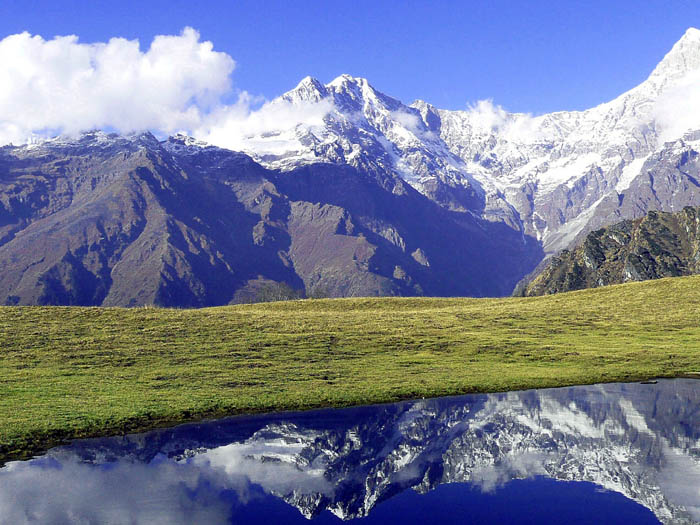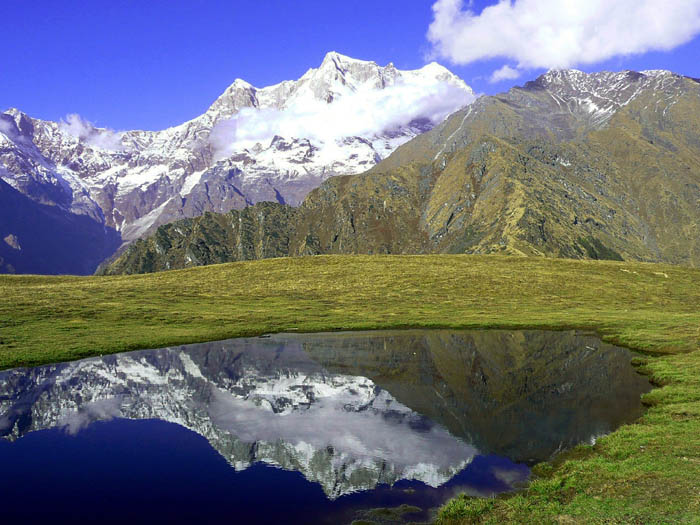 Down there in the Madmaheshwar valley it is already dark. We must start our return journey now for our night-stay at the Mandir-committee Dharamshala. Wild beasts of prey frequent the top at night. Besides, an uphill journey in the dark will make it hazardous for us. As we start descending Chaukhamba is readying for sleep. The cold mountain is wrapping up itself with a cloud-shawl.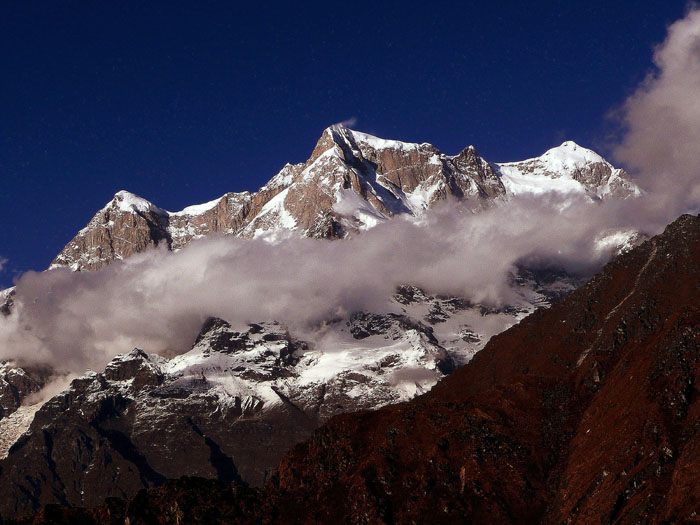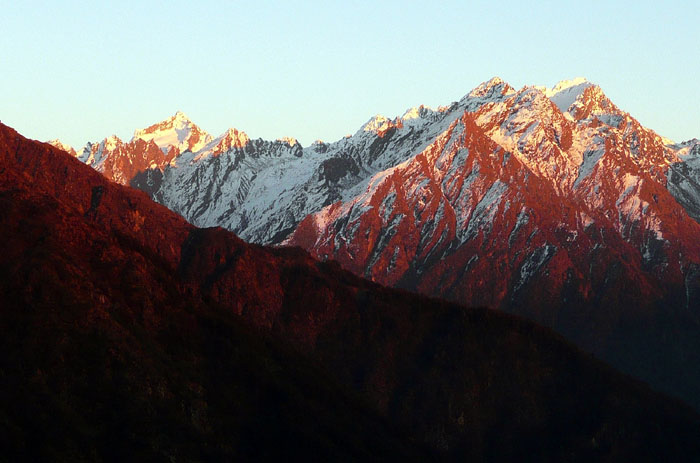 Good bye Chaukhamba. The mountains take on an inimitable reddish hue.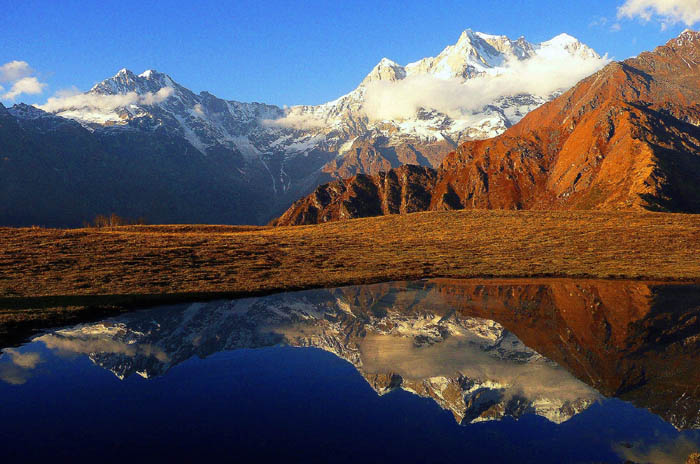 We reach Madmaheshwar valley in the dark. This scene seen up there will remain ever fresh in our memory. And undoubtedly I will have to come back again!

Exotic places like Kachni Khal, Pandusera, Nandikund are still left unexplored by me. One has to go beyond the Madmaheshwar valley to reach those places. Guide, porters, tent and ration are must. There is a sad side to our journey to Heaven. We learn that many local people are actively involved in poaching. The infiltration of Urban culture of the plains also make us sad. Well, Himalaya will remain Himalaya despite all these.

Pages: 1 | 2 | 3 | 4 | 5 | 6
Comments on this Article
---
| | | |
| --- | --- | --- |
| | I am 66yrs. old. Planning to visit in 1st week of Oct. this year. unable to trek. want to know how to book horse in advance. | |
---
Hi Dominic,

We are going on this trek coming September. You can contact me on my mail id for any details about the trek.

Anjalee
---
Hi
I am from Cochin
Let me know few details about
Madmaheswar trekking
I am 62.now
I hopes to trek this place next month
With my son
How many days required to complete this journey.
Brisk walking is not possible at this age
Any local guides avilable

---
| | | |
| --- | --- | --- |
| | I want to go with my 6 yr old daughter and my wife , I am 52 Yrs fit enough for any trek , but worried of my daughter. - any suggestion ? | |
---
| | | |
| --- | --- | --- |
| | Amazing travelogue. Hats off to you. | |
---
Hi Indrajit,

This is a really good article on the MadMaheshwar. Pics are really good and clear. I do love to go there and I am collecting information from various sources. Though I would like to ask that if this trekking can be done with my wife as she is a nature lover too. We both have been to few places like, Mukteswar, Vaishnodevi. But those are quite safe journeys with my wife. I am not sure of this. I have a plan to cover atleast 2-3 kedars out of 5 in a single vacation. So please help me with the details and also please share the cost of fooding & lodging, guides, rent for tents.

Awaiting for your response.
---
Hi Indrajit,

The snaps are awesome and article is informative. Thanks for sharing this.

We, a group of 17, visited Madmaheshwar this September and really enjoyed the beauty and peace. We stayed there one night so could not visit Buda Maheshwar. But after looking at these snaps, tempting to visit again and this time Buda Maheshwar too.


---
| | | |
| --- | --- | --- |
| | Have seen two of the Pancha Kedar shrines ... Kedarnath and Tungnath. Thanks for sharing the pictures of Madhmaheshwar and Rudra Nath trek. | |
---
| | | |
| --- | --- | --- |
| | information for modmaheshwar to sujal sarovar route | |
---
Well, first things first let me divulge about my background. I have not been going to Garhwal for the last 20 years as you have. I was born and brought up in Garhwal and yes therefore I take your comment as highly objectionable.

Just because your travelogue was praised by many does not give you the sanctity to write anything you want. If you want to point that some people are involved in poaching then don't write locals are actively involved in poaching.

You seem to be a bit confused: once you say you saw people with guns, then you say informers tell you about these things, then you say it is your real experience. Which one is it? and do you have any proof of locals actively engaged in poaching.

I am impressed with your love for local traditions and custom and with your topic of research, but how can a researcher like you give an "out of context" statement which puts the community in a bad light.

And certainly your pictorial representation of the trek is exemplary, I very much admire it and I will go my way, but kindly refrain from making loose comments, because facts are not ideas or stories.
---
i cannot understand what your point is. this article is about my travel there in 2007 when i went there for the 3rd time ... and regarding poaching, my idea did not change ... it is a sad reality wherever there is a jungle out there. certain of your comments are highly objectionable -
a) "local people are actively involved in shooting"
- you seem to be obsessed with a particular statement out of context. pl read the lines before and after that
b) "...and coming from a seasoned trekker like you, it sorts of maligns the community .."
- you seem to malign me by imagining something in my mind which i don't have. there is no question of maligning a community for the crime of a few - and the crime of the few is a confirmed reality because i mix with local people and their culture, not just pass a village while trekking. for your information, my sphere of research is mahabharata - and garhwali folk mahabharata in particular. i have informer-friends there who have the trust in me to divulge some dark sides. whether you believe in something or not is your choice - i stand by my statement - and that is not to malign a community, just trying to understand the reality as a whole, and as it is
c) "Reading these kind of views, one goes with a preformed veil of prejudice against the locals, which I feel does not let you mix properly or learn about the tradition and customs from locals."
- i have been going to garhwal for the last 20 years, and i cannot accept your view by any count. i think you are prejudiced against me for some reasons you know better. who goes there with prejudice? if you think that a statement made by me based on my real experience would create prejudice, that is very immature - and i don't think any himalaya-lover would be so immature to react to my statement the way you react. read the comments i receive on these travelogues, and you will understand what i mean.

i think this is enough. you go with your ideas, and i with mine. i don't know you or your background or whether you to actually go to garhwal etc, but i am well in touch with the tradition and custom of the place - and that cannot be stained by crime of a few. it is a truth there, as elsewhere. i suggest, you shift your focus elsewhere in the travelogue, or if you don't like just "gently pass."
your suggestion on the travelogue will be more appreciated. do criticize, i appreciate that, but not on out-of-context statements.

regards
indrajit
---
Ok. You posted the travelogue in 2007, a decade later. That's a lot of time, chronologically speaking, and since you did not see anybody taking county made guns in 2007, it is not right to say that "local people are actively involved in shooting", and coming from a seasoned trekker like you, it sorts of maligns the community ( Even previously, all in the community could not be hunters, else why would they works as porters, guides and laborer).

Reading these kind of views, one goes with a preformed veil of prejudice against the locals, which I feel does not let you mix properly or learn about the tradition and customs from locals.
We found so many of pheasants


---
@ Varunendra
oh yes ... way back in 1997 when i first went there, i saw some locals carrying country-guns to the jungle near gandaur-bantoli - some others said they were going to bear-hunt. not very palatable for nature-lovers ... other than this how can i offer concrete evidence? i have not been there for a long time ... i don't know present scenario
regards
indrajit
---
| | | |
| --- | --- | --- |
| | You have written that "locals are actively involved in poaching". How did you come to this conclusion, did you actually see somebody poaching? | |
---
Really such a nice place ................

Heaven on earth............I wish to go there.

I am sure GOD is still there...............
---
Thanks for your comments. I undertake such treks by myself. Sorry, cannot name any organization.
Indrajit
---
| | | |
| --- | --- | --- |
| | Marvelous pictures and amazing journey. I have always dreamed of a outing like this, but never able to. Can you please forward any information about a group/ organization who undertakes these kind of adventures? my email is invader_1007@yahoo.com. Thanks, | |
---