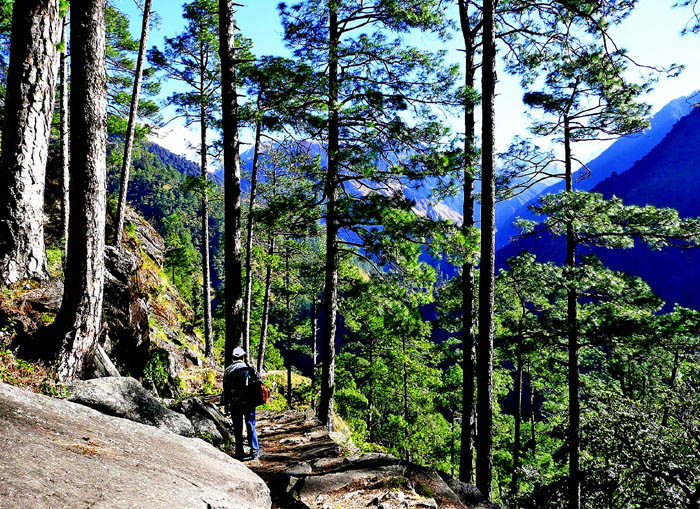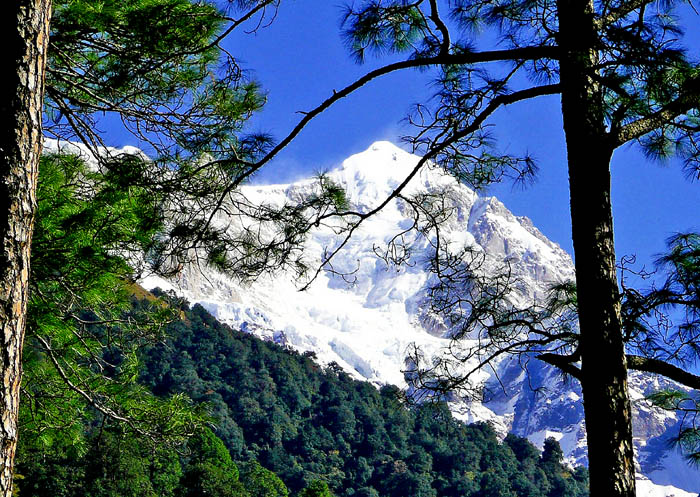 Mountains through Pines and another view of Chaukhamba.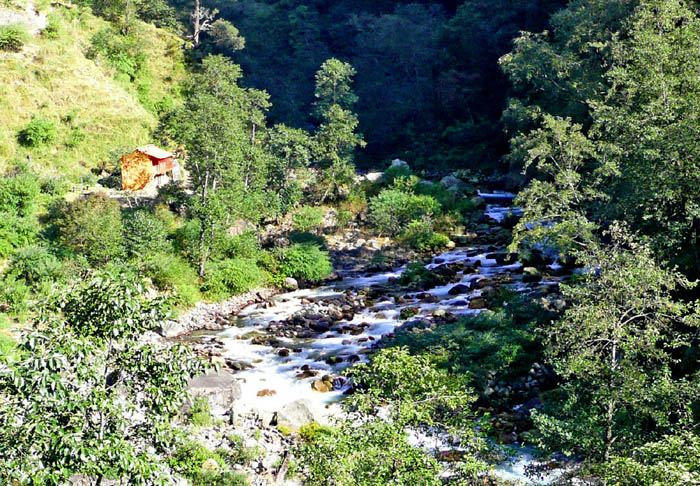 After reaching Gaundar we have our lunch at Ramesh Panwar's 'Kailash Tourist Lodge'. I had stayed here on the previous two visits. We will stay here again during our return journey. Ramesh Panwar's nephew Prakash is a college-educated young man, and also an able guide. This picture is of Gaundar as we leave it for Khadara-khal. The Madmaheshwar Ganga dances her way through dense forest.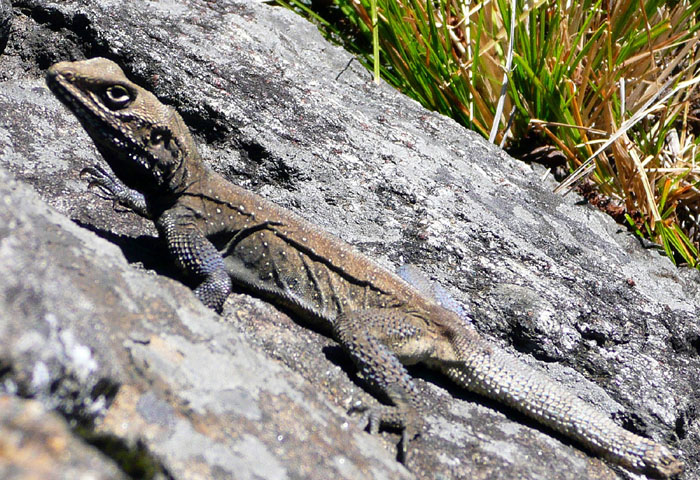 Portable dinosaur! These giant lizards are found in huge numbers in these parts of the Himalayas. As we pass them, they camouflage on the rocks.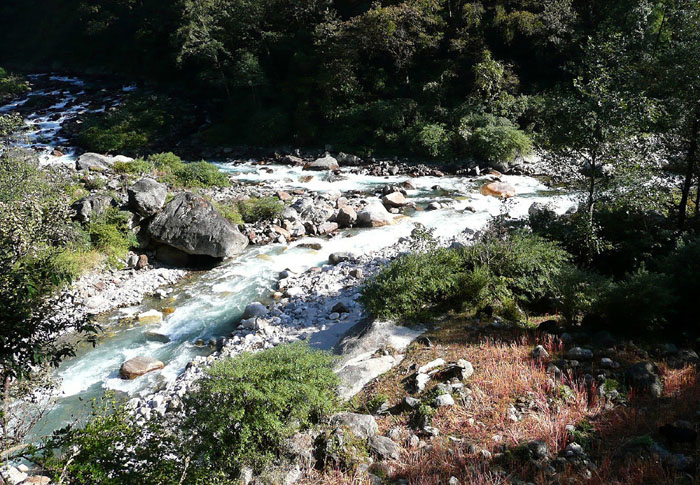 After a trek of 1 km we have reached Bantoli.

This is the confluence of Mourkhanda or Markandeya (front-side stream) coming down from Chaukhamba, and river Madmaheshwari (back-side) descending from Nandikund.

Together they form the Madmaheshwar Ganga, which meets the Mandakini at Kund.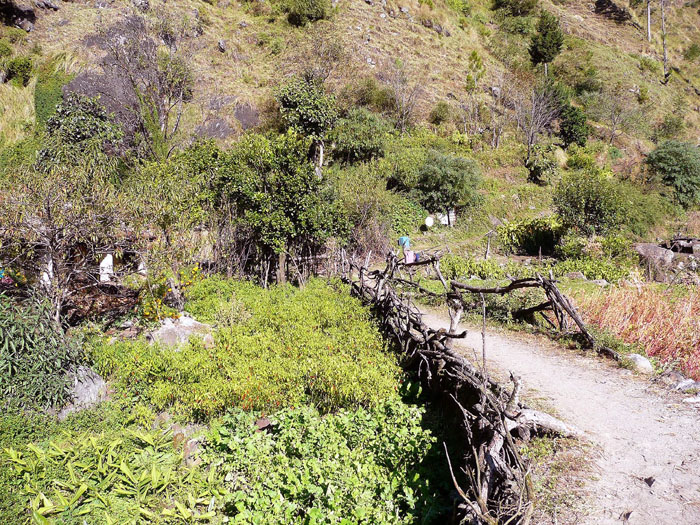 Our trail streams through a lush green Bantoli village.

Late Umaprasad Mukherjee liked this place so much that he had a hut constructed here. That is, however, gone, and a local hut has sprouted in its place.

During my first visit here in 1996, the remnants of Mukherjee's hut was still here.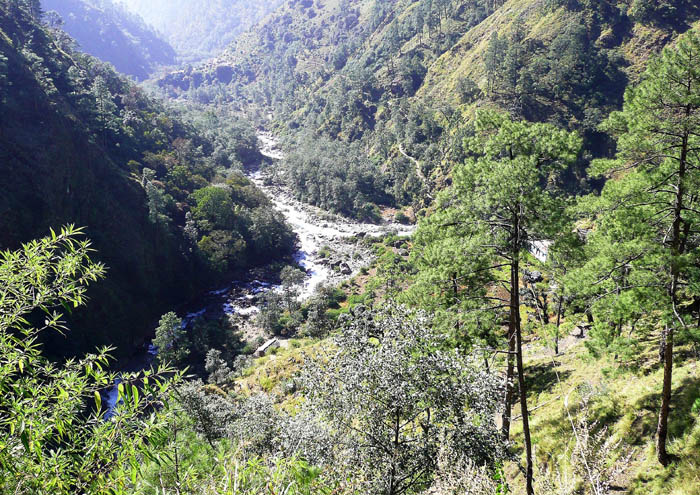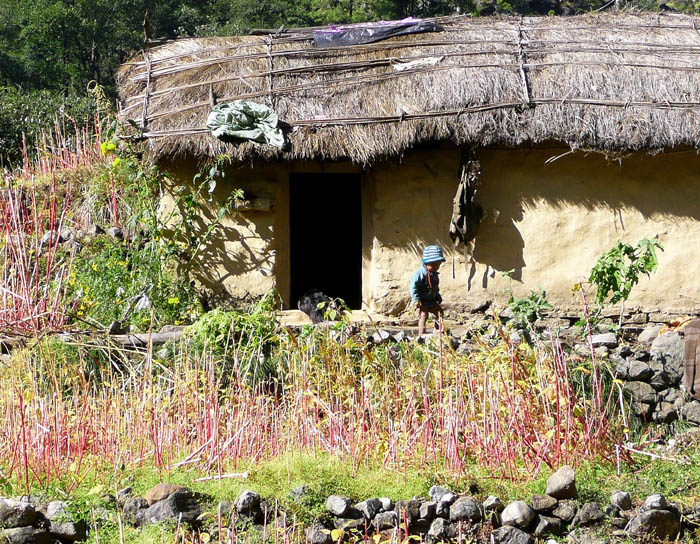 Now starts a continuous ascent from Bantoli. This is a picture of the confluence at Bantoli and the Gaundar village as we take occasional rests while ascending. We have reached upper-Bantoli. There is now a private hotel here with meager accommodation. The gentleman in this picture seems to be very busy answering Nature's call. Not a missed-call, I suppose.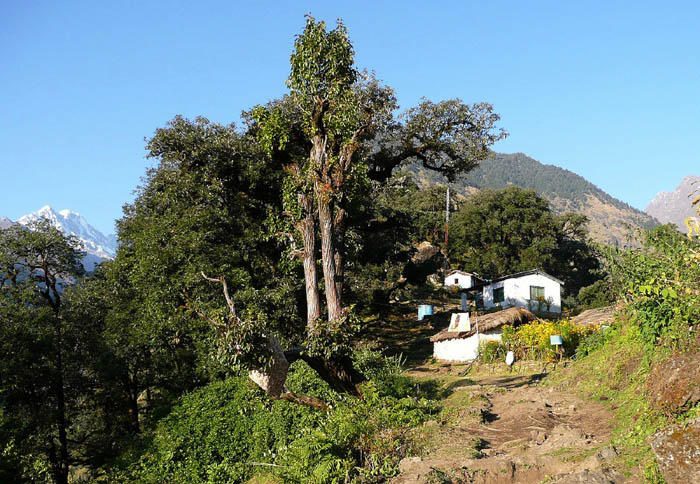 We have reached Khadara-khal and our night's shelter is visible there.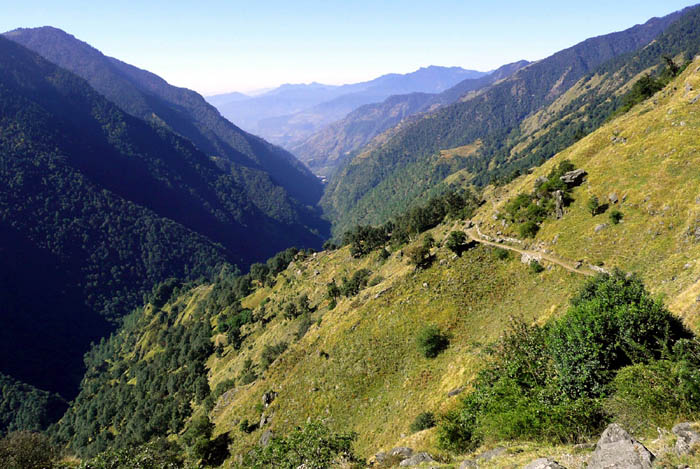 We start our next day's trek early in the morning. We have to have a very arduous trek of about 8 km today to reach Madmaheshwar valley.

We occasionally turn back to see what we are ascending.
We reach Kun-Chati (2780 m), a trek of 1.5 km from Maikhamba. The place is shadowed by huge and ancient mossy rhododendron trees.

Continued to Madmaheshwar Valley

Pages: 1 | 2 | 3 | 4 | 5 | 6