Continued from Mighty Chaukhamba

At last we have reached the Madmaheshwar valley. The temple is visible on the left.
Madmaheshwar temple close-up. The mountain at the backdrop is the Buda-Madmaheshwar peak. We will soon trek up there.
Shepherd hut at Madmaheshwar valley. fter lunch with Chapati-Dal and a rest of 2 hours, we start our trek to Buda-Madmaheshwar, an ascent of about 2 km to have our most cherished view. This middle picture is taken just as we have started our final trek. Leaving the Madmaheshwar temple below we go uphill.
Turning back as we climb up.
The top is visible up there. Chaukhamba peak and Mandani peak reveal themselves and are keeping a benign watch on us. A close up of the Mandani peak.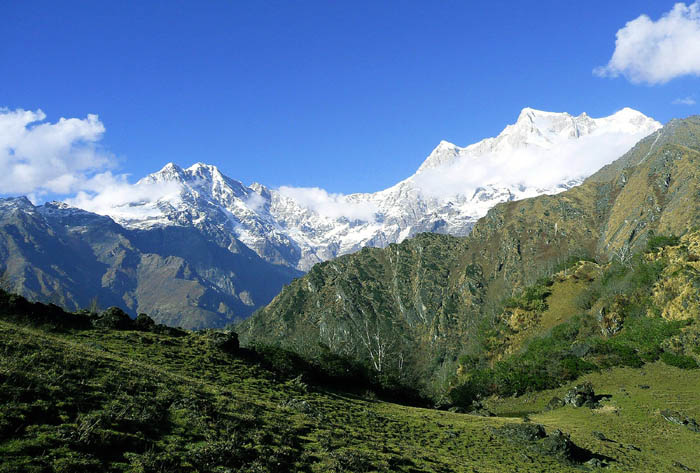 We have almost reached the top after a trek of about 1 hour. It should have taken 40 minutes, but we pardon ourselves for the delay. After all we have gained additional weight with the Chapatis!
We have reached the top, and this is the scene for which I have traveled thousand miles for the third time. There are four pools of water in Buda-Madmaheshwar top mirror-reflecting the mountain ranges.

Continued to The Buda-Madmeheshwar Temple

Pages: 1 | 2 | 3 | 4 | 5 | 6