As usual
my wife brought
groceries this weekend.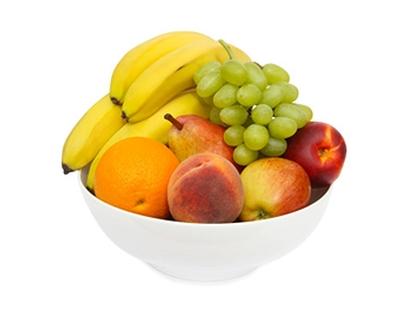 She put the
assorted fruits in a bowl,
and kept it on the dining table

I asked Jiya
my four year old
grand-daughter
pointing towards the bowl :

"What is this?"
"Fruits", came the wise answer.

I took out
five different fruits
and spaced one of each
on the table

Then pointing towards
the individual pieces,
I asked Jiya again :

"What is this?"
"Banana, Peach, Apple, Mango and Orange",
was the knowledgeable reply.

In this understanding
of the individual and the collective
The wise fruit
seemingly went out for a stroll
somewhere!!!
...

Inference:
Collectively fruits
individually identified.
Both correct
perceptively incisive
of general and specific

Comments on this Poem
---
"Collectively fruits
individually identified." - Nice food for thought.
---
Really- a different style attempted in poetry- This is a good experiment, I can say-

Thanks
Santosh
---
10 October 2012
TO: Mr. Rajender Krishan
Somehow goes against Bhagvat Gita's sermon "Ma Faleshu Kadachana" (= Don't hanker after fruits)
Rajat Das Gupta
---
self merges in the whole.

Rajender ji a lovely composition, and somehow am wondering what if fruits were holding hands... what would have been the Jiya's reply.
KIDS HELP US LOOK AT THINGS WITH A FRESH PERSPECTIVE
---
| | | |
| --- | --- | --- |
| | This is the core speciality of our country India: Unity in diversity. | |
---
sum up; knowledgeable and wise knot tagged on a rope
----- avoidable insight both, right or wrong, beautifully crafted
---
Philosophy taught in a simple example. Masses versus individual. Individuality easily lost in a crowd! Work in team without losing identity is the best policy.
Kids are really smart, old nuts have to admit!
---
| | | |
| --- | --- | --- |
| | I am reminded of how Sw. Dayanandaji explains 'miTyA' of Vedanta (non-real) to his audience. He raises a rose ande asks "What is this?". There is a general roar: "Rose". Then he shreds the rose to its different components, lifts each part up and asks again "What is this?". The audience then name each part - like stem, petal and son on. Ultimately, when nothing remains to be named, he asks "Where is the rose?" driving home the point that miTyA is just a game of names and forms that occurs and perishes in time. All this in this world of ours, of what you call specifics and collectives, is simply miTyA. Even the so-called specific is a collective conglomerate of specifics if further divided. | |
---
| | | |
| --- | --- | --- |
| | Well this is the ultimate wisdom...united we stand divided we fall. | |
---