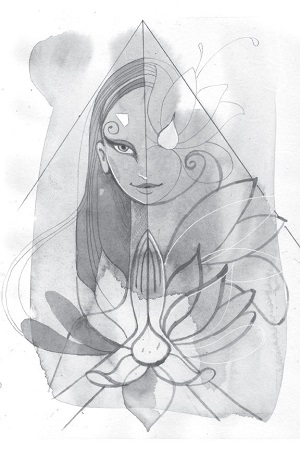 Salutations to the One
That pervades the entire Cosmos

As I honor that space in thee
Where dwells
The very Cause of Life
Unanimously
We hear together
The symphony playing the notes
Of love, light, truth, harmony
In our throbbing hearts' solitude
Vibrating and enriching
Humility, compassion, fortitude


See also: Greetings
Illustration by Niloufer Wadia
Comments on this Poem
---
| | | |
| --- | --- | --- |
| | Beautiful inspirational poems. | |
---
| | | |
| --- | --- | --- |
| | It says a lot about the sacred bond and one set in the value system. Kudos. | |
---
This short piece of sublime poetry is loaded with the love of spirituality, highly essential for the peaceful and meaningful existence of mankind.I remember the insightful meaning of Namaste- with all the love in my heart , strength in my arms and warmth and humilty , I embrace you.
Sir , the last five lines of your poems have a transcendental effect.
Loving regards
R. K. Bhushan Sabharwal
---

With
The folded hands,
Namaste,
Brahma, Vishnu, Maheshwara,
Folding
The hands
And saying,
Namaste
With the closed eyes.

Closing
The eyes
And with
Namaste
To Brahma, Vishnu, Maheshwara
Whoever be it,
I showing
My respect to
With.

---
| | | |
| --- | --- | --- |
| | A combination of spirituality and earthly love, the poem has a delicate touch to it. | |
---
A very good poem for this morning - such thoughts make us somehow overcome the dreadful stagnation and status quo of a life in lockdown.

Namaste! Stay safe, stay well.
---
Sublime thoughts superbly conveyed,Rajendra Krishan sir.
Divinity dwells in all.Realization lends grace to life.
Saluting the Supreme Being in every one or object around is noblest Sanskar inherited.regards.

---
| | | |
| --- | --- | --- |
| | One of the best ever salutations and tribute to the Truth of cosmos, the Supreme Soul, BRAHMAN. | |
---
Salutation to the All pervading radiance - Gurudevo Maheshwara
Sublime thought - tasmai shree guranennamah




---
Realization is a path to Supreme Bliss...acceptance of the eternal
power in man you salute...

It is comforting. Beautiful and sanctifying. Thanks.

pckprem
---