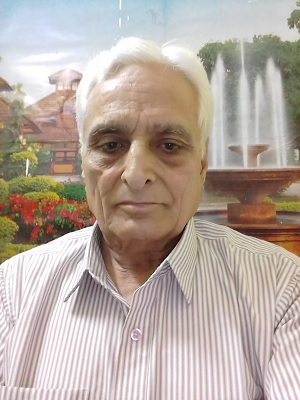 Prof. R. K. Bhushan Sabharwal (b 1947 at Kartarpur in Jalandhar) has been a Director, Professor and HOD for about 43 years in different institutions of higher learning. He was HOD, PG Dept of English, DAV College, Jagraon; HOD, English and Coordinator, Languages, Lovely Professional University; HOD, Communication Skills and Applied Sciences, NWIET and Professor, Communication Skills, LGC; Director, MLB Institute of Mgmt and Tech.

I have been heading the Interview Panels of Aryabhatta Group of Institutions, Barnala. I have been a visiting faculty and a Resource Person for UGC Conferences and Workshops. I have taught courses in Humanities, Engineering, Management and Personality Development. I owe this potential professional accomplishment to my professional ethical commitment and ethical approach with forthright honesty of purpose throughout. I am a creative writer, poet, critic, fiction writer, book reviewer and editor and am also well-researched. Km. Anita Singh of KMV, Kanpur, did her M. Phil on my poetry from Nagaland Open University. An anthology of Critical Research Essays by eighteen renowned teachers and scholars from India and abroad was compiled by Dr. Shaleen Singh with a Foreword by Professor and HOD, Dr. Tejinder Kaur, of Punjabi University, Patiala.

My articles, book reviews, articles and stories have been published in internationally reputed Research Journals like Remarkings, Virtuoso, Post-colonial Literatures, Contemporary Vibes, Illuminati, Dialogue and boloji.com etc. So far, I have published six poetry collections, three books of Criticism, one book of short fiction. One book of Critical Essays on Modern Indian English Writing and Translation is in the press. A collection of poems, a book on Personality Development, a novel in English and a book of short stories are in the process of fast completion.