The Social Base
Workshop # 17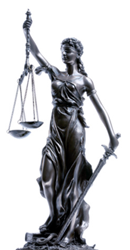 Never ever seen, but only spread
more vision than sight to go ahead
Imbalance in life totally eliminated
retains virtues of life that are sacred
A strange mysterious sword
tears all the layers of fraud,
Unjust venom crushed under its foot's might
'justice', outcome of the perfect and the right.
It is the social base one can't survive without:
no one till now, could ever trespass this route
Never it trails or fails nor it ever tires,
makes more heat than many big fires.
It is more than its image and the word
packs more power than any we've heard.
It is satisfying and a dream come true
when people who live in reality sue.
It makes us tingle and walk on air
helps us do all that we don't dare,
Can turn into a frown a false smile
seize all life from being worthwhile
Live with it, it keeps us up so high
drops one low when it says goodbye.


---
Workshop # 17

Act! Oh, Goddess of Justice! by G. Venkatesh
Advocacy by Dr. Raj Vatsya
Against All Odds by Shernaz Wadia
Animal Farm Again by T. A. Ramesh
Before The Bench by Kamal Wadhwa
Blind Justice Symbolism by Rajha Rajesuwari Subhramanium
Blind to Hypocrisy by Jayaprakash Raghavan Pillai
Can Justice Reach India's Toiling Masses? by Dr. Uddipan Mukherjee
Coomaraswamy's Last Stand by Kamal Wadhwa
Encounter by Shernaz Wadia
Give Humanity A Chance by Rupradha Mookerjee
Gizzards by Afanwi Stella
How Long, Oh Goddess of Justice! by Dr. Kumarendra Mallick
In A World of Big Lies... by N. S. Murty
In Defense of A Committed Judiciary by Kamal Wadhwa
In(Justice) by Ramesh Anand
Is Justice Blind? by Nikhil Sharda
Is Justice Humane? by Shibsankar Bagchi
Is the Statue of Lady Justice Relevant in India Today? by Ganesh Joshi
Just Justice by Dr. Madhavi Godavarthy
Justice Delayed: Justice Denied by Bharat B. Trivedi
Justice Delivered by Janaki Janar
Justice for All by Mukesh Williams
Justice in Adversarial System by Dr. Raj Vatsya
Justitia Versus Justice by Ramesh Anand
Lady Justice by Ramesh Anand
Lady Justice's a Pretty Nice Girl by Dipankar Dasgupta
Lost is Our Humanity by Rupradha Mookerjee
Miss Justice, a Villanelle by Steve Talbert
Mother Justice by Prof. Siva Prasad Peddi
On Her Blindness by G Swaminathan
Order by Dr. Raj Vatsya
Reform or Perish by Rajinder Puri
Reforming India's Judiciary by Rajinder Puri
Rejoice! by Pavalamani Pragasam
Righteousness is Divine ... by Deepak Yadav
Self-realization through Internal Justice by Prof. Siva Prasad Peddi
Shall We? (Tyburn) by Ramesh Anand
She Laughs at It! (Senryu) by Ramesh Anand
Strength of a Woman by Yogita Tripathi
The Lady Justice's Lament by Ramesh Anand
The Lady of Justice by Supriya Bhandari
The Origins Of Justice by Gaurang Bhatt, MD
The President's Pardon by Jayaprakash Raghavan Pillai
The Public Prosecutor by Kamal Wadhwa
The Social Base by Prof. Siva Prasad Peddi
Universal Justice (NONET) by Ramesh Anand
Whatsoever (Limerick) by Ramesh Anand
Who Am I? by Dr. Shirisha Dabiru
Why? by Pavalamani Pragasam
20-Nov-2010
More by : Prof. Siva Prasad Peddi
---