Rejoice!
Workshop # 17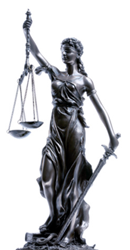 Wow! What an awesome beauty this brave lass is! An imposing figure she is with finely chiselled features! A stately maiden posing with strength and valour!

Yea, a very bold lady indeed bespeaks the long, mighty sword held nonchalantly in her left hand! A sword which, methinks, she would plunge unhesitatingly into the chests of cheating villains and shameless charlatans. Beware, ye, corrupt law-makers and cunning law-breakers! The damsel shows no sign of clemency or pliancy. She stands straight to set the crooked world straight, I suppose.

So straight is her purpose that she blindfolds herself confident of precise execution of her mission, I presume. Her unseeing eyes have seen them all: the squalor, the vices of mean-minded men and the atrocities of the wicked who wield gigantic power.

Her resolution needs no aid of vision to proceed. The path is clear to her. The light within her is sure to guide her. Here comes the emancipator of the upright from the clutches of the lowly monsters in the form of human beings.

What does she want to weigh in the scales she holds loftily in her right hand? I wonder! Not some fruits, grains or gold, I am sure! Anyway not with closed eyes, I should say. Why then is she holding it? The query persists. Ah! It is symbolic! She heralds equality and justice that shall embrace mankind bringing peace and prosperity ever after.

What an enthralling prospect indeed! We shall veritably see heaven on earth soon! Let the world sing and rejoice to welcome an era of unprecedented virtue and fulfillment! Amen.


---
Workshop # 17

Act! Oh, Goddess of Justice! by G. Venkatesh
Advocacy by Dr. Raj Vatsya
Against All Odds by Shernaz Wadia
Animal Farm Again by T. A. Ramesh
Before The Bench by Kamal Wadhwa
Blind Justice Symbolism by Rajha Rajesuwari Subhramanium
Blind to Hypocrisy by Jayaprakash Raghavan Pillai
Can Justice Reach India's Toiling Masses? by Dr. Uddipan Mukherjee
Coomaraswamy's Last Stand by Kamal Wadhwa
Encounter by Shernaz Wadia
Give Humanity A Chance by Rupradha Mookerjee
Gizzards by Afanwi Stella
How Long, Oh Goddess of Justice! by Dr. Kumarendra Mallick
In A World of Big Lies... by N. S. Murty
In Defense of A Committed Judiciary by Kamal Wadhwa
In(Justice) by Ramesh Anand
Is Justice Blind? by Nikhil Sharda
Is Justice Humane? by Shibsankar Bagchi
Is the Statue of Lady Justice Relevant in India Today? by Ganesh Joshi
Just Justice by Dr. Madhavi Godavarthy
Justice Delayed: Justice Denied by Bharat B. Trivedi
Justice Delivered by Janaki Janar
Justice for All by Mukesh Williams
Justice in Adversarial System by Dr. Raj Vatsya
Justitia Versus Justice by Ramesh Anand
Lady Justice by Ramesh Anand
Lady Justice's a Pretty Nice Girl by Dipankar Dasgupta
Lost is Our Humanity by Rupradha Mookerjee
Miss Justice, a Villanelle by Steve Talbert
Mother Justice by Prof. Siva Prasad Peddi
On Her Blindness by G Swaminathan
Order by Dr. Raj Vatsya
Reform or Perish by Rajinder Puri
Reforming India's Judiciary by Rajinder Puri
Rejoice! by Pavalamani Pragasam
Righteousness is Divine ... by Deepak Yadav
Self-realization through Internal Justice by Prof. Siva Prasad Peddi
Shall We? (Tyburn) by Ramesh Anand
She Laughs at It! (Senryu) by Ramesh Anand
Strength of a Woman by Yogita Tripathi
The Lady Justice's Lament by Ramesh Anand
The Lady of Justice by Supriya Bhandari
The Origins Of Justice by Gaurang Bhatt, MD
The President's Pardon by Jayaprakash Raghavan Pillai
The Public Prosecutor by Kamal Wadhwa
The Social Base by Prof. Siva Prasad Peddi
Universal Justice (NONET) by Ramesh Anand
Whatsoever (Limerick) by Ramesh Anand
Who Am I? by Dr. Shirisha Dabiru
Why? by Pavalamani Pragasam
09-Oct-2010
More by : Pavalamani Pragasam
---