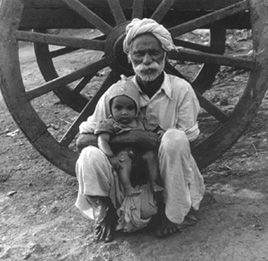 (A Farmer's Ode to His Son)
Along this wheel, O my son!
I spent my childhood and exhausted my youth
And now when the sun of my existence
Is about to set
I bequeath this wheel to you, O my son!
So that you know and realize
Through which sanguine yet barren paths
Your father has brought you up over here.
It hurts me that I could give no better gift to you
No comforts, no solaces, no peace
Nor power, nor pelf
Neither dreams nor hopes
Nor a penny, nor a dime
I bequeath you only this wheel of time.
But this wheel must move
On the earth making its rut
Traversing the green fields of wheat,
Millet and maize - blooming out of your sweat.
And when you, too, O my son!
Come of age
And grow exhausting your youthful days
Hand over this wheel to your son
Neither dreams, nor hopes, nor thought
The earth wants labor, the earth wants fraught.
Tell him that this is the man's station sublime
From generation to generation
Carry away the wheel of time.