Youth & Reminiscence
Workshop # 2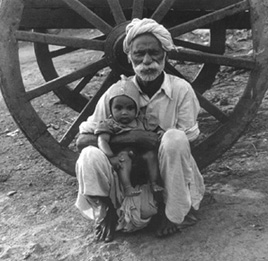 Sometimes we live life too fast
and yearn to take a seat.
At times our hearts thrive
to embark on life's journey.
And then there are other times...
when the youthful exuberance and elder wisdom entwine
and become as one
As the spokes of a wheel
unite to make a wagon advance along its way.

With arms embracing one another
The elders hold steadfastly to the exuberance.
With eyes of wildfire,
the youthful ones strive to discover
new breathtaking sunrises
and soothing sunsets.

As the journey of life continues,
wheels of strength and endurance,
there come times
when our eyes close
to focus on the wisdom of the past.

Many individuals note:
How can the past be another stepping
stone to my future?
One way is to embrace heartily
the experiences gained and
the losses and triumphs thereof.

"Gear up, my fellow companions,
and again turn the wheels of life."

A never ending story is written
through every path trod
and every heart touched.

High-spirited living
is like a fountain of youth
for one's soul.

If nothing else, take heart in this:
Keep the wheels constantly moving;
Don't fret over future endeavors.
Why?
Because the wheels turn in so many perfect circles,
we dare not try to fathom them all.

Completeness shall lie ahead for thee and thy loved ones.
I close my eyes and pray.
Workshop # 2
A Golden Tomorrow by Pavalamani Pragasam
Again by Patrick Durnil
Bliss by Pavalamani Pragasam
Chakra-View by Maalok
Emancipation by Frank Sheehan
Eyes of the Child by Cynthia Proctor
Heritage by Hecletia
India by Dr. Soumya Panigrahi
Inner Lights by Judy N. Morningstar
Just Another Day by Danielle
Kaal Chakra by B.K. Swaminathan
Liberated by Mary Ann Harrison
Life Holding Life by Shubhra Krishan
Life Moves On by Rajender Krishan
Lost and Alone by Beth Hancock
Missing Link by Hillol Ray
My Grandpa by Pavalamani Pragasam
Nirvana by Ramendra Kumar
Nurturing Naiveté by Anton Piskac
Ode To A Grandchild by Mallik Bulusu
Pearls of Wisdom by Subhajit Ghosh
Poverty by Esmond Jones
Remembering Father by Nicholas LaMattina
Rest by Pavalamani Pragasam
Safe by Pavalamani Pragasam
Suffering by Ankita Kumar
The Picture by Maria Reed-Shore
The Wheel of Life by Anonymous
The Wheel of Time by Bijal Dwivedi
The Wheel of Time by Shveta Kabra
Wheel by Ambika Bhatt
Wheel of Fortune by Hillol Ray
Wheel of Time by Meenakshi Madhur
Wheel: Symbol of Progress by Dr. C.S. Shah
You Are The Purpose of My Life by Meera Chowdhry
You, Me and The Wheel of Time by Suniti Chandra Mishra
Youth & Reminiscence by Joseph Allen Hardy

03-Oct-2000
More by : Joseph Allen Hardy
---