Kabir Love Songs
Aayee Na Sakun Tujhpe, Sakun Na Tujhe Bulai
Jiyara Yonhi Lehunge, Birha Tapayee Tapayee
Yeh Tan Jalun Rakh Karun, Jyon Dhuan Jayee Sarggi
Matti Te Ram Daya Karen, Barsi Bujhave Aaggi
Yeh Tan Jalun Massi Karun, Likhon Ram Ka Naam
Likhni Karun Karank Ki, Likh Likh Ram Pathaon
Is Tan Ka Deeva Karun, Baati Melun Jiv
Lohi Seenche Tel Jyon, Kab Mukh Dekhun Pi
Ke Birhan Kun Meech De, Ke Aap Dikhlayee
Aath Paher Ka Dujhna, Mo Pe Sahya Na Jayee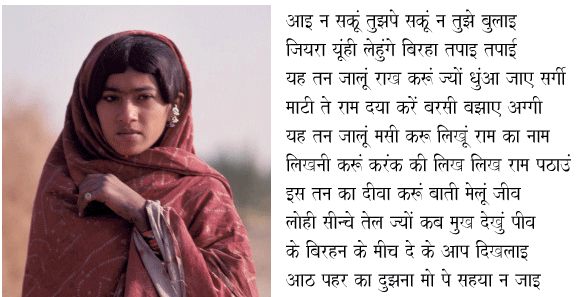 Translation
Unable to come to you, and helpless to invite
The heart remains lonely, separation makes me burn
Shall burn the body to ash, like smoke soar above
May RAM bless the mind, His grace extinguish the flame
Shall burn the body to make ink, I write the Name of RAM
Write I shall with bones as pen, and send messages to Him
Shall make the body a lamp, the wick being my life
My blood fueling the lamp aglow, I shall see the face of Love
Either destroy this loneliness, or show me your Self
This unceasing separation, I cannot endure myself
My Understanding
In this love song, Kabir reveals the intensity that is felt due to the painful pangs of separation. In our lives too, we all feel this emptiness. And it is in the state of this emptiness, that we discover our true yearning to unite, to merge and become complete.

Comments on this Love Song
---

so refreshing,pious n relieving.
monika
22-Aug-2010 04:38 AM
---