Kabir Love Songs
Sahib Hai Rangrej Chunri Mori Rang Daari
Syaahi Rang Churaye ke re Diyo Majitha Rang
Dhoye Se Chhute Nahin Re Din Din Hote Surang
Bhav Ke Kundi Neh Ke Jal Mein Prem Rang Dayee Bore
Dukh Deh Mael Lutaye De Re Khoob Rangi JhakJhore
Sahib Ne Chunri Rangi Re Preetam Chatur Sujaan
Sab Kutch Un Par Vaar Dun Re Tan Man Dhan Aur Pran
Kahat Kabir Rangrej Piyare Mujh Par Huye Dayal
Seetal Chunri Orike Re Bhayee Haun Magan Nihaal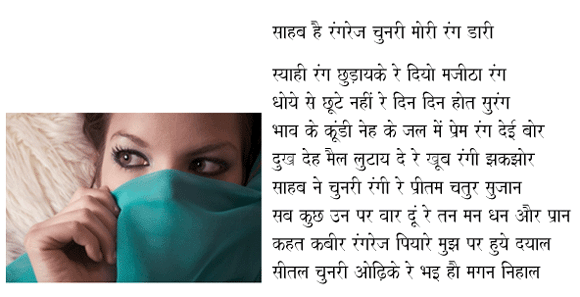 Translation
The Master is an expert Dyer, He has colored my veil
Removing the dark stains, he gave that color of love
By washing which fades not but becomes brighter by the day
Using water of affection in the tub of feelings, He poured the color of love
Rinsing away the bodily sorrows and dirt, the Expert dyed it deftly
The Master who dyed the veil is expert, beloved and great
I surrender everything to Him : Body, Mind, Wealth and Life
Says Kabir, The Beloved Dyer is benevolent on me
Covered with this cool veil, My being is blissfully fulfilled.
Explanation
In this wonderful love song, Kabir brings into focus the sense of completeness, fulfillment and realization of the Truth within.

Most of the worldly acquisitions (referred as colorings) lose their luster over time. In other words, even though they may attract us immensely in the beginning, they lose their charm as time progresses. For example if we buy a new car, we feel so thrilled to have it as our possession. Even other people compliment us on our new acquisition. We take extreme care that it doesn't get dirty, stained or scratched/bumped by another vehicle. But as time progresses, it slowly becomes just like any other possession we have.

Kabir, in this song, points how a spiritual or inward-directed coloring is the only reality that actually grows in its beauty and luster with time. The veil, in this song, represents the sheaths of perception that cover our innermost being. These sheaths, in turn, are the mechanism of how we perceive reality. The coloring of spirituality (given to us by the Guru) indeed permeates all these sheaths. While normally our perceptions are covered by a myriad of worldly colors, the spiritual coloring, on the other hand, is unique, one-pointed and singular. That is, it replaces our dispersed perspective by a single color of love for God. This oneness removes confusion and cleanses the root of all maladies. And once an unalloyed clarity emerges even this color disappears, making us the display the glorious radiance of our inner being in all its purity and joy.


August 12, 2001