Kabir Love Songs
Tun Mun Dhan Baaji Laage Ho
Chaupar Khel Peev Se Re Tun Mun Baaji Lagaya
Haari To Piya Ki Bhayee Re Jeeti To Piya More Ho
Mansa Vaacha Karmana Koyee Preeti Nibaho Aur Ho
Chausariya Ke Khel Mein Re Jugam Milan Ki Aas
Nurd Akeli Reh Gayee Re Nahin Jivan Ki Aas Ho
Chari Baran Ghar Ek Hai Re Bhanti Bhanti Ke Log
Lakh Chaurasi Bharmat Bharmat Pau Pe Atki Aaye
Jo Aab Ke Pau Na Pari Re Fir Chaurasi Jaye Ho
Kahen Kabir Dharmadaas Se Jeeti Baaji Mat Haar
Aab Ke Surat Charaye De Re Suhagin Naar Ho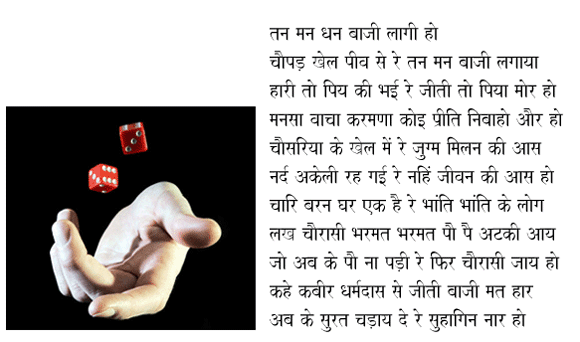 Translation
Body, Mind, Wealth are all at sake
To play the game of dice with my love
I have staked my all
My Love wins me if I lose
If I win, He becomes mine
Let others express their love
By mind, word or deed!
In the game of dice
The hope of 'union' is always there
Except when the last draught fails
To enter the home square.
All the four-sided squares have but one 'home'
Only the players vary
Passing through many squares
Facing impediment at the critical stage
If the dice is not played correctly
Recurrence of moving from square to square
Becomes inevitable.
Says Kabir
Use intelligence and diligence now
Do not lose the prospective victory.
My Understanding
If Life be the game, then human birth is to play. And play to win. In this love song, Kabir, attempts to reveal the mystery of this play (Theory of Karma) and the essence of life. Using the example of Chaupar - the game of dice, he explains the traditional Hindu concept of a soul wandering through 84 lakh forms before adorning the human body - a stage in the evolution of life from where one can proceed to liberation or Nirvana. Exemplifying the Human life as the most precious for all the four varnas, he emphasizes the absolute need for realizing this. And he does not leave at that. Kabir highlights the importance to lead one's life intelligently and diligently, watchful of one's actions for the ultimate aim of attaining liberation or entering the 'home square'. Nothing less than a victory is the way.

Failure to attain the objective in 'this' birth would necessitate the soul to pass from square to square i.e. take many more births, all over again, until one attains victory.
April 15, 2001