Kabir Love Songs
Baalam Avo Humre Geh Re, Tum Bin Dukhiya Deh Re
Sab Koi Kahet Tumhari Nari, Mo Ko Eehe Andeh Re
Dil Se Nahin Dil Lagayo,Tub Laga Kaisa Sneh Re
Ek mek Ve Sej Na Soyo,Tub Lug Kaisa Neh Re
Anna Na Bhave Neend Na Aave, Ghar Bar Dhare Na Dheer Re
Kamin Hai Balam Pyara, Jyon Pyase Ko Neer Re
Hai Koi Aisa Upkari, Piv Se Kahun Sunaye Re
Ab To Behal Kabir Bhayo Hai, Bin Dekhe Jiya Jaye Re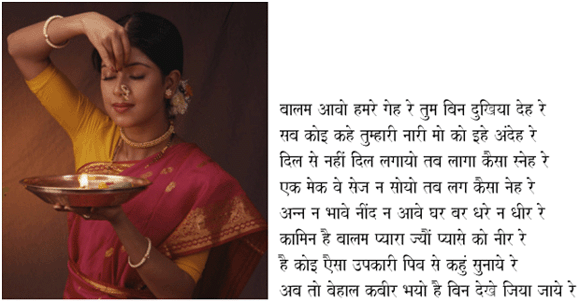 Translation
O my Love! come to my house
My body is in intense pain
While all say I am your spouse
I have the very doubts
So long your heart isn't immersed in mine
What kind of love is that
I don't relish food neither do I sleep
I feel discontent in my own home
Passionate is my Love
Like the thirsty longs for water
Will someone do me a favor
And narrate my predicament to my beloved
Kabir is now in total distress
Without seeing the beloved, he is going to die
My Understanding
A poem full of sublime love and mounting passions, Kabir in this verse picks up the pangs and pains of separation. As has invariably been the case, Kabir's verses depict situations that occur naturally in everyday life.

In this particular verse, Kabir sounds like an average person. Given the literal meaning or translation of the verse, he establishes the pain of separation from one's loved one. If the intensity of this pain can be understood, then one will realize how intense is the longing to realize the God - that inexpressible Self.

Imagine a tense atmosphere and the couple in the same bed sleeping in distress. There is no contact, no communion. What kind of agony it must be, all in the name of Love? Now view the same situation as a seeker of Truth and one will realize that it takes a very intense longing, an unshakable intent, an unbending desire to achieve one's desired goals. Success is not easy, it takes a lot of patience, fortitude and endurance. Such is the path of Love.
---
Image under license with Gettyimages.com
Comments on this Love Song
---

It is heartly touched song., which inspirate the lover.
Chandan
18-Mar-2011 01:59 AM
---

Dear Mr. Krishnan,
You have done a wonderful service to humanity by publishing Kabir ji's poetry. Therer is a deep meaning of the above poem and who are on the path of sprituality or we can say seeker of Truth. Kabir ji in the above lines expresses his longing towards the God.
Great work, pl. keep it up!
Naveen
28-Jan-2011 02:50 AM
---