Kabir Love Songs
Mein Ka Se Bujhon, Aapne Piya Ki Baat Ri
Jaan Sujaan Pranpriya Priya Bin, Sabe Bataun Jaat Ri
Aasa Nadi Agadh Kumati Bahe, Roki Kahu Pe Na Jaat Ri
Kam Krodh Dou Bhaye Karare, Padhen Bisaye Rus Maat Ri
Je Panche Aapmaan Ke Sungi, Sumiran Ko Alsaat Ri
Kahe Kabir Bichuri Nahin Milihe, Jyon Taruvar Bin Paat Ri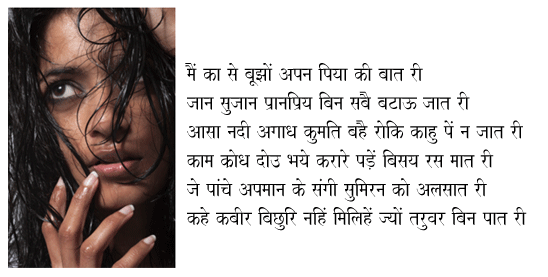 Translation
Whom shall I inquire, the riddle about my Love ?
Life is lifeless without beloved, I go and tell this to all
In the river of hope thrive crooked desires,
None can stop this reckless flow
Both Passion and anger, are battling their strength
To plunge me in the vicious quagmire
Defamation comes with the company of the Five*
Lethargy takes over and devotion is lost
Says Kabir, once split do not unite
Like a leaf fallen from the tree.
* Panch - Five - Passion, Anger, Greed, Attachment and Ego :
The elements that lead to Selfishness and Possessiveness
My Understanding
In this verse, Kabir highlights the importance of commitment and understanding in a Love relationship. It invariably happens that struck by the 'Five' - we become selfish and seek outlets to satisfy our own cravings without caring for the other. And this becomes the very cause of splits.


Comments on this Love Song
---

This is beautiful, meaningful and a great lesson for a good life! Thanks for sharing Rajender Krishan ji. Respects and much Appreciation.
Padmaja Iyengar
27-Sep-2012 12:44 PM
---