Sadho Ye Murdon Ka Gaon
Peer Mare, Pygambar Mari Hain, Mari Hain Zinda Jogi
Raja Mari Hain, Parja Mari Hain, Mari Hain Baid Aur Rogi
Chanda Mari Hain, Suraj Mari Hain, Mari Hain Dharni Akasa
Chaudan Bhuvan Ke Chaudhry Mari Hain, In Hun Ki Ka Asa
Nauhun Mari Hain, Dus Hun Mari Hain, Mari Hain Sahaj Athasi
Tethis Koti Devata Mari Hain, Badi Kaal Ki Bazi
Naam Anam Anant Rehat Hai, Duja Tatva Na Hoi
Kahe Kabir Suno Bhai Sadho, Bhatak Maro Mat Koi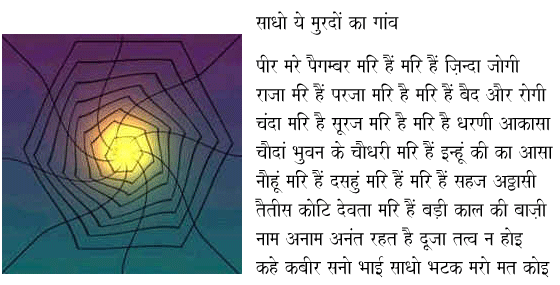 Translation
Oh Sadhu This is the Village of the Dead

The Saints Have Died, The God-Messengers Die
The Life-Filled Yogis Die Too |
The Kings Die, The Subjects Die
The Healers and the Sick Die Too ||

The Moon Dies, The Sun Dies
The Earth and Sky Die Too |
Even the Caretakers of the Fourteen Worlds Die
Why Hope For Any of These ||

The Nine Die, The Ten Die
The Eighty Eight Die Easily Too |
The Thirty Three Crore Devatas (Enlightened Beings) Die
It's a Big Game of Time ||

The Un-Named Naam Lives Without Any End
There is No Other Truth ||
Says Kabir Listen Oh Sadhu
Don't Get Lost and Die ||
Explanation
The reality as we experience it every day is dynamic in nature - i.e., if there is one thing that is constant is the fact that everything is changing all the time. Whatever takes birth must die too, and vice-versa, what dies must be born also (the former is easier to see, while the latter is not obvious from our daily experience - try reflecting on why that is the case). Nothing escapes the tentacles of this "Kala Chakra" or the "Wheel of Time", whether it is an ant, a peasant, a king, the ten avataras, the sages, the cosmic entities or the pantheon of gods and goddesses.

Kabir tells us that the internal power of attention in each of us is the primary driving force. Wherever we focus our attention is the place where we eventually end up. A poor man who really wants to be a king will surely, over time, become one, even though it may take multiple time-windows (called lifetime) to achieve the goal. The same holds true for the goal of reaching/uniting with a God or Goddess.

Kabir warns us of the limitation of these goals or destinations as they are still intrinsically caught in the virtuoso game of time. The velocity and momentum of movement for each of these entities maybe different giving an appearance of relative stability/magnificence, but the fact is that each is basically working within the tenets of the same dynamic, time-driven framework.

Looking at all this from a perspective that is beyond time, Kabir tell us that if the desire is not to keep going around in circles of time, we should seek what is end-less (and begin-less). Guru Nanak summarizes this beautifully - Jaki Chinta Karo Jo Anhoni Hoi - meditate/focus on that that never happened. In his inimitable way, the great master, Kabir, urges us to break away from the shackles of this village of the dead ruled by Kala or time. Kabir then explains that the sound of Naam is the only true substance of value, which takes us to the absolute source beyond all destinations of birth and death.


October 21, 2001