Gagan Ki Ot Nisana Hai Bhai

Dahine Sur Chandrama Banye, Tin Ke Beech Chipana Hai Bhai
Tan Ki Kaman Surat Ka Raunda, Shabad Baan Le Taana Hai Bhai
Maarat Baan Bidha Tan Hi Tan, Satguru Ka Parwana Hai Bhai
Maaryo Baan Ghav Nahin Tan Me, Jin Laaga Tin Jaana Hai Bhai
Kahe Kabir Suno Bhai Sadho, Jin Jaana Tin Maana Hai Bhai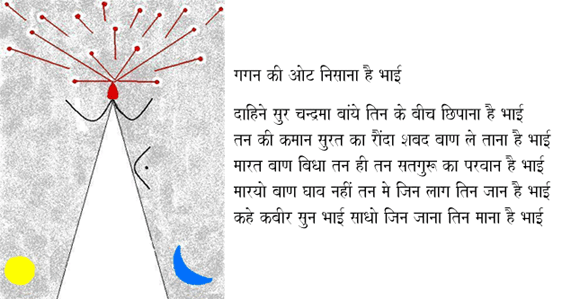 Translation
Concealed Beyond the Sky is the Target

On the Right is the Sun, Moon is on the Left
Bisecting them it has to be Hidden
Body is the Bow, Visualization is the Roll of String
Unstruck Sound is the Arrow - Erect and Ready to Take Off
The Arrow is Released Leaving the Body-Instrument Behind
It's the Messenger of the True-Guru
Despite Shooting the Arrow there is no Injury Mark on the Body
Only those who are Struck Experience it
Says Kabir Listen Oh Practicing Aspirant
Those who Experience Know it
Explanation
Sky represents the cosmic reality that is unfettered and emancipated from the burden of gravity (or earthly matters). Sky is the first element that detaches itself from the earthly limitations and embodies a cosmic traveler. In effect the sky element overcomes the constrictions of space and therefore exists everywhere.

In this song the target is told to be beyond space (sky) - and even beyond time - a reality that is ever-present, everywhere but cannot be perceived by the senses. Therefore this destination cannot be described in words or shown visually but only told as something "beyond" what we can touch, taste, smell, hear or see.

The sun is the passionate hot current while the moon is the dispassionate, detachment-like cooling flow. A practice of balancing these opposing forces is indicated for reaching the target - i.e. being neither the bhogi (a mere materialistic enjoyer) nor a sanayasi (who rejects life completely and goes looking for the ultimate outside of life) but instead adeptly balancing these two polarizing life forces.

Having balanced these two forces, body becomes a perfect instrument (bow) for launching the life force into the ultimate. Visualization is the string-like support on which the arrow of the internal un-struck sound rests - taut and ready to be released. The implication is that meditative visions and the sounds within are tools but not the ultimate reality.

The arrow carrying the life force is released leaves the body instrument and visions behind. The inference is that internal vibratory sound within (i.e. the arrow) goes beyond the visual meditative states and takes you to the doorstep of the ultimate. At this point in the journey the guidance is coming from the (internal) true-guru's message, instruction and grace.

Even though this (vibration-form) arrow is penetrating incisively through the body, no wound or external marks are evident because the journey is subtle and completely internal. Only the person practicing knows of this revelatory travel.

After giving such a detailed roadmap, Kabir, in his unparalleled mystical instruction tells the aspirant - only in self-experience does one know of what is being described - urging them to find this truth for themselves!


May 19, 2001