Moko Kahan Dhundhere Bande Mein To Tere Paas Mein
Na Teerath Mein, Na Moorat Mein Na Ekant Niwas Mein
Na Mandir Mein, Na Masjid Mein Na Kabe Kailas Mein
Mein To Tere Paas Mein Bande Mein To Tere Paas Mein
Na Mein Jap Mein, Na Mein Tap Mein Na Mein Barat Upaas Mein
Na Mein Kiriya Karm Mein Rehta Nahin Jog Sanyas Mein
Nahin Pran Mein Nahin Pind Mein Na Brahmand Akas Mein
Na Mein Prakuti Prawar Gufa Mein Nahin Swasan Ki Swans Mein
Khoji Hoye Turat Mil Jaoon Ik Pal Ki Talas Mein
Kahet Kabir Suno Bhai Sadho Mein To Hun Viswas Mein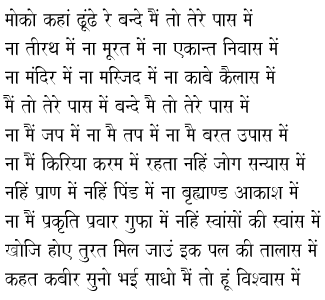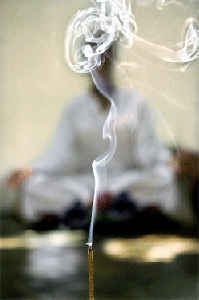 Translation
Where do you search me? I am with you
Not in pilgrimage, nor in icons, Neither in solitudes
Not in temples, nor in mosques Neither in Kaba nor in Kailash
I am with you o man, I am with you
Not in prayers, nor in meditation, Neither in fasting
Not in yogic exercises, Neither in renunciation
Neither in the vital force nor in the body, Not even in the ethereal space
Neither in the womb of Nature, Not in the breath of the breath
Seek earnestly and discover, In but a moment of search
Says Kabir, Listen with care, Where your faith is, I am there.
My Understanding
In spite of the different approaches of all religious and philosophical teachings, it is very clear that the all-pervading, omniscient, omnipresent factor is finally God. Due to our customs, traditions, languages we only address Him by various names. Yet, it is also true that in spite of this awareness, we spend a lot of time in arguing about God and try to impose attributes.

Kabir noticed this centuries old phenomenon in his times also. And this great Master, in the above verse highlights the underlying principle that God is everywhere.

Kabir reveals in this verse the various search patterns adopted by mankind. And each one seems to be justifying his chosen method. Some say God will be realized through pilgrimages while some justify the idol worship. Some say He is up in the mountains while some believe that He is in places of worship. Some proclaim prayers and meditation the path, others believe realization through fasting. Many talk about yogic exercises (activity) and renunciation.

In this verse Kabir seems to be saying that God is NOT in any of these. However, this cannot be true. To my understanding, Kabir is saying that God is everywhere and therefore in all these too. However, his saying "No" simply means that we should apply our faith to One and follow it up sincerely. This will lead to instant realization of the divinity within us. However, if we "switch" our approach from one path to another, then we are simply conducting a sort of gymnastic. In his typical mystical ways, Kabir shows us the omniscience of God.