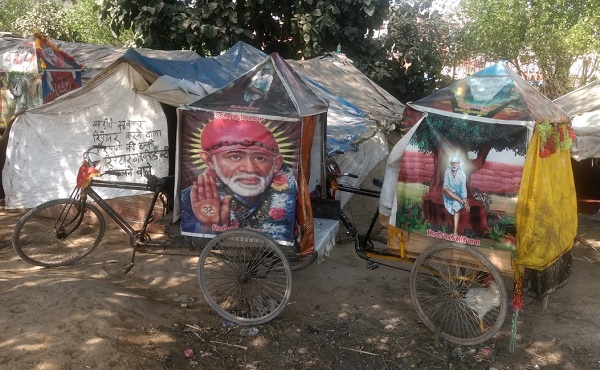 Ever wondered, what this Sai Palki is all about? These guys who take out the Sai Palkies are not even linked to any temple or an institution selling faith. They are in fact, beggars in disguise!

Recently, I happened to have stopped by a Jhuggi cluster. I noticed half a dozen hand pulled rickshaws, all identical looking. The cart area had a housing with Sai Baba pictures all around. It was like, Temple on the move. Offering home service to devotees! Opportunity to worship the Baba at doorstep. Save on petrol, traffic and parking; just shell out a few coins or Rs.10 notes as are common give-aways, in complete surrender and reverence to your God!

The wooden frame, covered with Sai Baba photos colour printed on flex banner material (Rs.8/- per square feet!), gives home shape to the rickshaw cart. Inside the housing is small idol of Sai Baba along with a garlanded photo frame. Ash of Incense sticks can be seen in the front. Looks like deity is captured within the precincts of the housing to be strolled around the city!

I asked the rickshaw owner, why alone Sai Baba? He shyly said, Sai Baba is in fashion. "Sai Baba 'Chalta Hai', Saheb" !

I kept probing, he kept answering. It is obvious that "we don't want to disturb the domain of main temples. Also, people are more generous when it comes to Sai Baba". He said, more superstition is attached to Sai Baba than any other god. People think Baba can do magic and not rendering a tribute could make him unhappy. We don't stop at every door step. Over a period, we have identified homes who respond. We carry the temple bell and ladies come out with offerings on hearing the bell sounds. All persons in my family are engaged in this service to the Baba. We travel 5 to 10 kilometres every day in different localities. We are able to make five to seven hundred daily.

That's a lot of money, I thought. A construction worker charges only 350/- and does hard physical labour for 8 hours! The chowk labourers are able to save a lot even out of meagre earning they make as daily wagers and send all their savings to support their families in village. But what about this fellow? He revealed many more things about his life which are a subject matter of ailments Indian society is gripped in. He and all his family lives in acute poverty. The good earnings bestowed by Baba are lost in liquor or cards. What comes home is only food items donated by people. Adult or young, none gone to school in family.

Will the grace of Baba ever be on them!