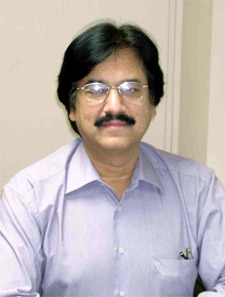 M. Qaiser is the CEO and Chief IPR Strategist of iPrex Solutions. Prior to this, M. Qaiser, was associated with General Electric for twenty-two years. Prior to working with GE, he was an employee of Caterpillar, Inc., USA. Starting a venture during 1997 in Singapore, he brought iPrex Solutions to India in 2003. M.Qaiser has focused his efforts on the all- around development of iPrex, nurturing and developing relationships with corporations, and academic institutions, as well as planning and directing intellectual capital development, pursuing Knowledge Process Outsourcing (KPO) and overseeing the organization's IPR-research activities. M.Qaiser is guided by his long-term vision of seeing iPrex as one of the leading Intellectual Property companies.
M.Qaiser's vision is evident through the pro-active initiative he has taken in establishing an IPR Company & KPO in India to provide high-end quality in IP strategy, critical IP competitive edge, & marketing of Innovative Products.
He is specialized in business strategies, financial planning, patent mapping, IP strategy formulation, Six Sigma quality process, and business process mapping. He is instrumental in the market positioning aspects of IPRs.
M. Qaiser has degrees with majors in Commerce, Science, Law, and Management. He also has certifications in Six Sigma (China), FMP (USA), FABD (Singapore), and many more. Over the last 25 years, he has worked in USA, UK, DUBAI, Bahrain, Saudi Arabia, Hong Kong and Singapore, and has gained significant knowledge and experience in Quality Programs, Marketing, Law, and Intellectual Property.
He has done extensive study focused on IPR strategy and impacts of Intellectual Property on business growth. He was invited to speak in seminars and awareness programs conducted by Government bodies as well as commerce associations. He has also featured in television interviews. He has authored several business articles, seven of which appeared on the Cover Page of IP Frontline, which is a leading IPR magazine based in USA.