Hell hath no fury like a woman spermed… We get to meet the newest avatar of Maa Kali in one of the boldest bollywood flick of all times The fascist avenging woman has always been a favourite figure of fantasy fashioning for our films. Who can forget Nargis gunning down her own son in Mehboob Khan's Mother India?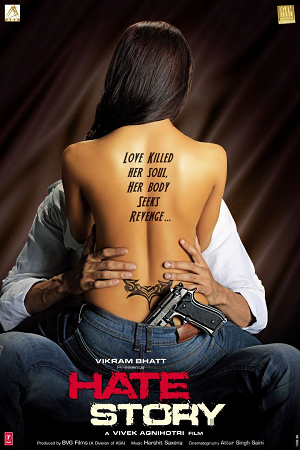 The motivations for revenge in Hate Story are not quite the ones that impelled the woman protagonist to rise up in arms in Mother India or for that matter in Bhavna where Shabana Azmi killed her own husband.
Really, who needs a gun to get even when you have sex? Paoli doesn't give a damn if her bare back or flesh flash across the screen. She displays a healthy attitude of disdain for the camera, letting it swoop down on her vulture style, never allowing her vengeful character's erotic journey to get sleazy cheesy or lurid. The camera violates her character's privacy with her consent.
Hate Story is a tale that invites provocative measures of counter-argument. When the protagonist Kaavya gets down to revenge she spares no one, least of all herself. In a line that has by now become a national catch-phrase she announces, 'Main iss shaher ki sabse bade randi ban-na chahti hoon'.
Thereafter there's no looking back. And quite a comely back it is. Paoli's Kaavya uses her physique to lure her enemy into her trap. Director Vivek Agnihotri cuts into her journey of self-destructive vendetta like a knife.