Kabir Dohas
Jeevat Samjhe Jeevat Bujhe, Jeevat He Karo Aas
Jeevat Karam Ki Fansi Na Kaati, Mue Mukti Ki Aas



Translation
Alive one sees, alive one knows
Thus crave for salvation when full of life
Alive you did not cut the noose of binding actions
Hoping liberation with death!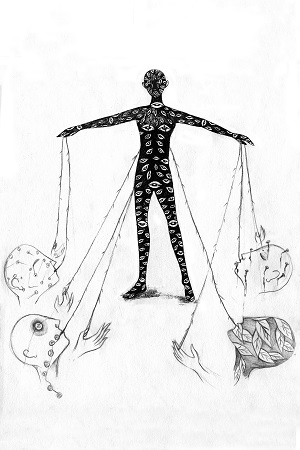 My Understanding
In this Doha, Kabir is referring to the concept of salvation which all religions guarantee in one form or the other. When someone dies, we all tend to offer condolences by saying, "May God give peace to the departed soul".

However, liberation cannot come until one snaps all earthly bonds. Besides, what good is liberation or salvation, when one is dead, unable to recount, unable to narrate and unable to share?

Referring to the theory of Karma, Kabir clearly suggests in this Doha that while conducting our actions, we should be diligent. We should not get attached or enslaved by them and thereby get trapped in the quagmire of ego, greed, hatred, fear, procrastination, etc. Only when one is non-attached to the fruits of the action, only then one can be free from the bondage, only then one can be liberated while full of life.

Related Doha: Jis Marne Te Jag Dare
That Death the World is Terrified Of
Comments on this Doha
---
In this Doha, Kabir says ....whatever is to be done, do it when we are alive. When we are alive, we have to cut all bondage - which lie in terms of our like, fondness, passion, love, ego, hatred, and anything that defines "I", "me", "mine", and "myself."

This bondage has to be cut when we are alive. if we don't cut when we are alive then only death is our break. Only death is what can given us break from "pain" as whatever defines us gives us pain, irrespectively of what it is.

In other words, "Mukti" or "liberation" is when we are alive not when we are dead.
---
| | | |
| --- | --- | --- |
| | I am so glad and grateful to you for introduce to me and perhaps many this extraordinary mystic Kabir. I started to read a bit at the time to savor slowly his essence. Thank you. | |
---
| | | |
| --- | --- | --- |
| | thanks sir for all your work... | |
---
Hello Mr Rajender,

Thankyou for putting up Kabir. I coincidentally landed here and started reading.
Though we are all taught some bit of kabir in school...it doesn't register. Worse still he seems silly and is sidelines by our general society /teachers/colleagues and the popular curriculam takes over!
I cant tell you how fortunate I am to discover him thru you. So I'd like to thank you. I got so inspired that i read some more from another book.
I just read the Gita...and am still buried under its profoundness and am surprised at how simply Kabir put out the same learnings for easy access to every1 ...am equally astounded by how simply we missed him so far!!! Im 34 and I do not know of any1 around interested in him and the younger lot , wouldn't even care!
Nevertheless, am sure more people like me would get here somehow and benefit like i did.
Please add more dohas if you know...id love to read them..

Thankyou so much.

Love
Garima

---
its a well matched poem relating to lives nicely written within two lines.
......great.......
---
| | | |
| --- | --- | --- |
| | Real Inspiring..... | |
---
| | | |
| --- | --- | --- |
| | very nicely presented | |
---