Kabir Dohas
Pehle Agan Birha Ki, Pachhe Prem Ki Pyas
Kahe Kabir Tab Janiye, Naam Milan Ki Aas



Translation
First the pangs of separation
Then grows the thirst for Love
Says Kabir then only hope
For the union to materialize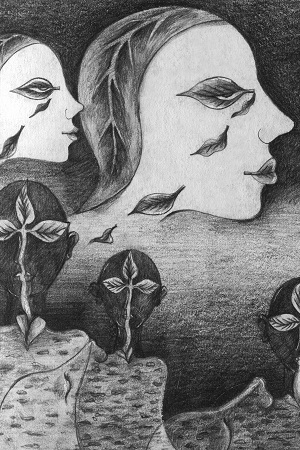 My Understanding
How does one merit Love? How does one become one with the One? How does one attain that ultimate unity? In this Doha, Kabir shows the way.

First, it is the longing of a person to be with one's beloved. It can be one's choicest person or one's Ishta or God. Because, one feels the emotional pang of separation the intensity or thirst to meet the other person increases. Like a flame, it kindles the very being of a lover. Only when the desire becomes unshakeable and unbending, Kabir says, the seed of hope germinates to eventually sprout into a true union.

This phenomenon applies to almost every aspect of our life. Even in our vocation, studies, pursuits or daily chores, we find that only when our intent becomes clear, only then our hope and faith grows. Only then the work becomes a source of joy. Only then we realize fulfillment.
Comments on this Doha
---
| | | |
| --- | --- | --- |
| | The reference of viraha (feeling of separation) here is the first step of identifying that we are missing something in the life. The divine power is omnipresent and exists in all of us as soul, yet we cannot experience it. The feeling of separation makes us remember it constantly and remembrance result in falling in love. Meera is a great example of such love.. A state of fallen in love and pangs of separation is prerequisite to getting Guru's initiation aka Naam. Guru ensures readiness to start and complete this arduous journey and commits to help the disciple until she reaches the goal. Without Guru grace/Naam one cannot hope for any experience. | |
---
| | | |
| --- | --- | --- |
| | Very gooddddddddddddddddddddddddddddddddddddddddd | |
---
| | | |
| --- | --- | --- |
| | nice | |
---