Kabir Dohas
Jis Marne te Jag Darey Mere Mun Anand
Marne Hi Te Paiye, Puran Paramanand



Translation
That death the world is terrified of
Fills my heart with Joy
For only after its annihilation one attains
The state of complete bliss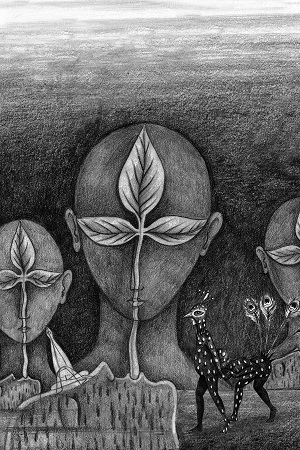 My Understanding
It is interesting to note that Kabir starts this couplet* with "Jis" which in English means "that". There is a very clear reason for this as Kabir in this couplet is not referring to physical death because for Kabir, like anyone else, physical death is inevitability or as Hinduism calls it ultimate truth. Kabir has referenced about physical death and its inevitability in very candid terms in his mystic song "Deh Dhare Ka Dand Hai", wherein, he categorically states that the fear of physical death is justified, if it "only happened to me", whereas the truth is that death, old age and perils of life, must come to pass to everyone.

The question then arises as to what is "that" death which Kabir is referencing in this couplet?

In my understanding, the answer to this question is "Ego". Kabir is referring to Ego when he says "Jis Marne te...".

Isn't it true that in our work-a-day life we see people loaded with pride and attributing all the credit to their individuality for the successes achieved? It is this ego which makes them forget that any success attained, in this inter-dependent world, is in reality a collective effort of many. And it is also due to this unchecked ego that drives many to live with a sense of insecurity. Insecurity of any kind, in turn breeds fear. Fear of losing something that one possesses or what one aspires to possess in turn breeds greed. Fear, greed and insecurity join hands to make one more and more egoistic and eventually lead such a person to even follow corrupt practices and carry out misdeeds. The fear of "What if …" is always hanging like a sword on the head of such people.

No wonder, the world of such egoists is terrified of the ego's death.

Supposedly, one opts to interpret "Jis Marne te ..." as "physical death"; it spontaneously leads us to the question as to why the world is afraid of death? Because the worldly life does not explain what lies after death, the mind gets engrossed in uncertainty - a void or the fear of the unknown. Obviously this causes attachment to "this" life and one wants to hold on to it under all circumstances and for as long as one can. Thus, fear (of death) and greed (to possess) reinforces one's ego.

Either way the world is terrified by the very concept or any possibility of death.

There is, however, no fear in the mind of Kabir from "that" death or the death of the ego. "Mere Mun Anand" is written in present tense, implying that Kabir (while alive) is totally aware or conscious of the joy that he feels in his heart on the very possibility of "that" death. Kabir goes on to assert in the second line that upon the actuality of "that" death or the absence of ego, one experiences a blissful state.

The last words of this couplet are "Puran Paramanand" translated as "the state of complete bliss". It can also be translated as "the state of Supreme bliss". Now when is one really in a state of complete bliss? Either when one is innocent as a baby or when one has a feeling of total freedom – free from all attachments, bondages caused by fear and greed. Therefore, the inference can be drawn that Kabir is delighted in combating head-on to conquer the mind and vanquish the ego, thus being blessed to be always in a state of freedom, humility and supremely blissful state.

* intentionally presented the English translation in four lines for better readability.

June 14, 2020
Read also another perspective on the same doha by P C K Prem

Related Doha: Alive One Sees, Alive one knows ...
Comments on this Doha
---
The fear of "What if …" is always hanging like a sword on the head of such people. .....hits hard!!
Having fallen prey to this, unable to let go, we exist, dying every minute of our physical existence.......




---
'Me', 'My' the ego within goes out within seconds. The so called great persona becomes a 'body'
Very beautifully explained
---
Soul stirring
We love,adore and worship His Dohas
You love and worship this saint
God bless us all
---
Yes, Rajender Krishanji , death, inevitable comes naturally to all bio organisms.

As you have pointed out, we have to strive to cause certain deaths in us- death of ego, jealousy, unjustified desire, enmity towards others, ploughing hard words and so on.

The irony is to 'live',well,there should be 'deaths' of ego etc.

Thanks for your nice presentation of views.
---
Rajender ji,

Your thoughts are very critical to this time. Kabir, the saint and guru, for all of us, has been the prime motivator of making the divine accessible to the common man.

I salute his insights and many thanks for this post.

Warmly,

Julia Dutta
---
When one reads meaning into a poet's lines one glimpses a light the poet may not have intended but his lines convey as a nuance of meaning then attributed to him. This conforms to the theory that the poet is in each of us, his words inspired from a source of light he translates into words that the reader then derives his understanding from, so that the source of light is the fount of all nuances the words convey, not the poet. The tendency is to see the poet as the source of light instead of its instrument to a public who can appreciate the light through his words, but who rarely, if at all, give credit to the source. This is due to the perennial problem of the invisibility to sense of the source as bedevils the understanding of the material creation itself.

Note: a couplet has two lines. The cited four-line verse is rare as an English form where it is usually one of several in a poem and styled a quatrain.
---

On Reading Kabir

When on the look out for the bad fellow
Found I not none the else but I myself
The most bad fellow.

On reading books none could be a man of letters
One who reads a few letters of love
Can really be a man to be reckoned with.

Where do you search Me,
I am by you, all around you,
Search you in your heart and soul
And presume it as the temple of Mine.

Having got a cottage thatched
Keep you the slanderer of yours
As the critic to show you your faults and mistakes
Committed by mistake
As eye-openers.
---
Extremely beautifully described and translated ! The philosophical meaning adds beauty to the translation. The ego, the root cause of all human misdemeanors, once overpowered can help us achieve complete and ultimate blissful state of mind. Simply loved the expressions. The conquering of the ego leading to tranquility and eternal peace, is what we, human beings, ought to cherish and aspire for.

Quoting a few lines from my poem, 'Is That You Again, My Ego Dear'...
Every time I've knelt and let you succeed,
But now I'm ready for a combat as I wait,
For you to attack and to defeat you in the course,
I hear you knock, no more I have a reason to fear,
Ah! Is that you again, my EGO dear?
---
| | | |
| --- | --- | --- |
| | We want to see a book on Kabir from your pen, be it in a translation form or the thoughts substantiated. Still people remember you as a lover of Kabir, his Kbirism and the Kabirite thoughts taking a transcendental U-turn and volte face. | |
---
| | | |
| --- | --- | --- |
| | Mysticism involving Kabir and Hafez's work is indeed difficult because each time you the read the original verse one gets engrossed in different worlds. But poets as Kabir and Hafez has definitely a place with the ordinary people in the contemporary world. Clutching their verses within crowds we ride trams and buses to work and they make us feel humane again at the most inopportune moments. The pandemic is at its utmost blaze and as a front worker, I shall remember Rajender Kishan sahab's words of Kabir, just to give solace in such times. | |
---
I agree with your interpretation. As we grow older, the fear of death too (apparently) gradually subsides. But yes the question, 'what after death?' always bogs the mind. Here Kabir and other saint's sayings work like a soothing balm.
I believe in 'Whatever will be, will be...'
---
Rajender, you should write more often. It is a good reality call.
Most of us often forget that we are going to die one day and therefore waste our lives on trivial things allowing our best years to just waste away.

---
| | | |
| --- | --- | --- |
| | I know you are very fond of Kabir's works. I remember you have quoted him in a mail to me recently when I have requested for clarifications. Because of that I went into reading some of Kabir's dohas and they are quite philosophical and educative. Your elucidation on this specific doha is quite appealing. Please keep writing more for us to read and enjoy! | |
---
| | | |
| --- | --- | --- |
| | The seer sees the world differently. S/he rejoices when the world laments and vice-versa. Here Kabir is exemplifying exactly the same. The world and it's approach have gone topsy-turvy. He is putting things back into the right perspective. | |
---