Jis Marne te Jag Darey Mere Mun Anand
Marne Hi Te Paiye, Puran Paramanand



Translation
That death the world is terrified of
Fills my heart with Joy
For only after its annihilation one attains
The state of complete bliss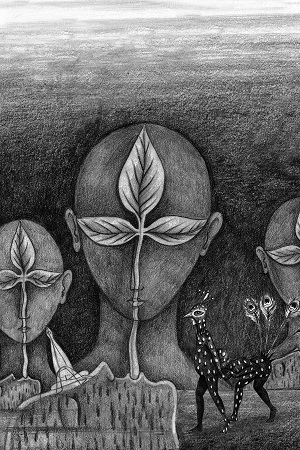 My Understanding
It is interesting to note that Kabir starts this couplet* with "Jis" which in English means "that". There is a very clear reason for this as Kabir in this couplet is not referring to physical death because for Kabir, like anyone else, physical death is inevitability or as Hinduism calls it ultimate truth. Kabir has referenced about physical death and its inevitability in very candid terms in his mystic song "Deh Dhare Ka Dand Hai", wherein, he categorically states that the fear of physical death is justified, if it "only happened to me", whereas the truth is that death, old age and perils of life, must come to pass to everyone.

The question then arises as to what is "that" death which Kabir is referencing in this couplet?

In my understanding, the answer to this question is "Ego". Kabir is referring to Ego when he says "Jis Marne te...".

Isn't it true that in our work-a-day life we see people loaded with pride and attributing all the credit to their individuality for the successes achieved? It is this ego which makes them forget that any success attained, in this inter-dependent world, is in reality a collective effort of many. And it is also due to this unchecked ego that drives many to live with a sense of insecurity. Insecurity of any kind, in turn breeds fear. Fear of losing something that one possesses or what one aspires to possess in turn breeds greed. Fear, greed and insecurity join hands to make one more and more egoistic and eventually lead such a person to even follow corrupt practices and carry out misdeeds. The fear of "What if …" is always hanging like a sword on the head of such people.

No wonder, the world of such egoists is terrified of the ego's death.

Supposedly, one opts to interpret "Jis Marne te ..." as "physical death"; it spontaneously leads us to the question as to why the world is afraid of death? Because the worldly life does not explain what lies after death, the mind gets engrossed in uncertainty - a void or the fear of the unknown. Obviously this causes attachment to "this" life and one wants to hold on to it under all circumstances and for as long as one can. Thus, fear (of death) and greed (to possess) reinforces one's ego.

Either way the world is terrified by the very concept or any possibility of death.

There is, however, no fear in the mind of Kabir from "that" death or the death of the ego. "Mere Mun Anand" is written in present tense, implying that Kabir (while alive) is totally aware or conscious of the joy that he feels in his heart on the very possibility of "that" death. Kabir goes on to assert in the second line that upon the actuality of "that" death or the absence of ego, one experiences a blissful state.

The last words of this couplet are "Puran Paramanand" translated as "the state of complete bliss". It can also be translated as "the state of Supreme bliss". Now when is one really in a state of complete bliss? Either when one is innocent as a baby or when one has a feeling of total freedom – free from all attachments, bondages caused by fear and greed. Therefore, the inference can be drawn that Kabir is delighted in combating head-on to conquer the mind and vanquish the ego, thus being blessed to be always in a state of freedom, humility and supremely blissful state.

* intentionally presented the English translation in four lines for better readability.

June 14, 2020
Read also another perspective on the same doha by P C K Prem

Related Doha: Alive One Sees, Alive one knows ...