Kabir Dohas
Maala Pherat Jug Bhaya, Mita Na Man Ka Pher
Kar Ka Manka Chhor De, Man Ka Manka Pher



Translation
Eons have passed whirling rosary, restless remains the mind
Give up the beads of rosary and rotate the beads of mind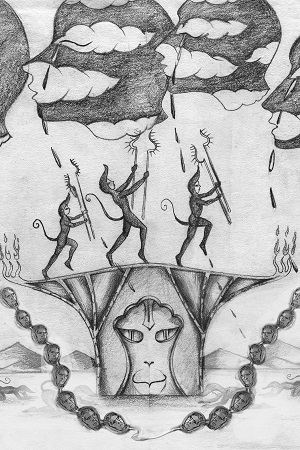 My Understanding
This doha is an extension of the previous one. Kabir in this doha explains that the purpose of using rosary is not the end but a medium which is helpful in meditation. The aim of all meditations is to calm the mind and become its master. The rosary is but a mere tool.

Having explained this Kabir proceeds to state that although many epochs have elapsed since the human civilization started using the rosary as a tool, yet we see that by and large our mind is restless and agitated while the tool appears to have become a symbol in itself.

Addressing the spiritual aspirants, Kabir asserts that instead of concentrating on the rosary beads and its count of rotation, one should focus and become aware of the wandering mind. For only by becoming aware shall we become alert and be able to guide ourselves towards poise and serenity. This is the ultimate aim of meditation - to become calm and experience the oneness between our individual self and the cosmic self.


March 30, 2002
Image (c) gettyimages.com
Comments on this Doha
---
| | | |
| --- | --- | --- |
| | kabir doha i like | |
---
tasbih ke daano se ubz kaam liya
yun zahido ne muft me ilzam liya
tera naam to woh tha jo bina ginti laitay
kiya mila lutf jo gin gin ke tera naam liya
---
Dear Rajender Kishan you have created a fabulous website where Kabir dohas, other poems and spiritual words are so well organized.

Kabir lives in our hearts and minds because Kabir so quintessentially represents Indian culture.

May I offer a slight adaptation of your nice translation for thsi doha:

Eons have passed whirling rosary,
yet restlessly whirls the mind
Give up the beads of rosary
and twirl beads of mind

Again thanks for your committed work.


---
it wasn't like this

the right verge is mentioned here

Mala pherat jug gaya, Phira na mann ka pher
Kar ka manka daal ke, mann ka manka pher
---
It is an excellant attempt. It will bring to the avid Hindi readers as well as youngsters to same paddestral.
Narendra bhatia
9424576993
---