Kabir Dohas
Sayeen Itna Deejiye, Ja Mein Kutumb Samaye
Main Bhi Bhookha Na Rahun, Sadhu Na Bhookha Jaye





Translation
Give so much O God, suffice to envelop my clan
I should not suffer cravings, nor the visitor goes unfed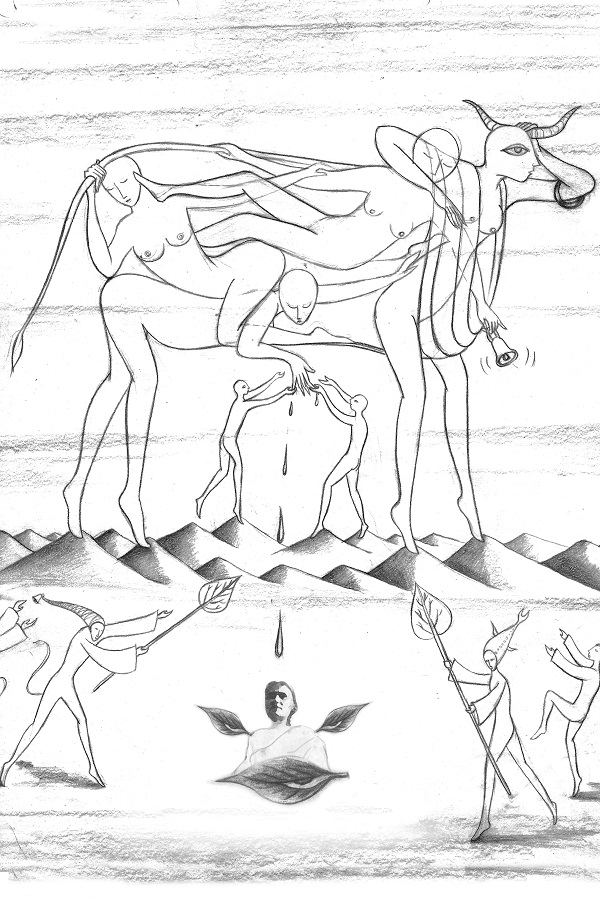 My Understanding
Very simple in the native Hindi, but very difficult to translate. It is also true, that because of its simplicity, the reader can miss the point that Kabir wants to make.
This Doha deals with the concept of contentment, compassion and a very clear attitude of service. It is not greed when Kabir asks God for abundance. We have to remember that Kabir was a professional weaver, a house-holder with children. Thus, being the primary provider, he reveals in this Doha his commitment to his clan. At the same time, Kabir is content. He is not greedy. He prays to God to give him enough that would be sufficient to take care of his needs.

The last line of this Doha adds another dimension. It reveals the compassion Kabir has for others. In India it is a tradition that if a sadhu visits a home, the household will make sure that he doesn't go unfed. Sadhu literally means a monk, a sanyasi, who has renounced the world.

I personally understand that Kabir implies here the 'sadhu' to be any visitor or as we call 'Atithi'– a guest. Kabir wants to ensure that if someone visited his household, that guest should also leave fulfilled.

Comments on this Doha
---
| | | |
| --- | --- | --- |
| | i l u | |
---
| | | |
| --- | --- | --- |
| | In this doha kabir indicates about the hungriness ,earning and accumulation of money which is absolutely wrong.He advise"be satisfy only in that earning which is necessary for you,your family and any person visits your house." | |
---
A more apt translation could be

Just so much O God give, enough for the family
That I may not go hungry, Nor the visitor devotee
---
| | | |
| --- | --- | --- |
| | very best | |
---
| | | |
| --- | --- | --- |
| | Jis insaan kaii jivan ya uskai man mai kabeer kaii doho kii sacchaii hai us insaan ka jeevan safal haii | |
---
---
| | | |
| --- | --- | --- |
| | It's very nicely portrayed by Rajenderji. Thanks. | |
---
| | | |
| --- | --- | --- |
| | pls translate in hindi | |
---
| | | |
| --- | --- | --- |
| | HATS OFF to Rajender ji and Simi its an awesome visual.... None thought ov this visual before!!! | |
---
| | | |
| --- | --- | --- |
| | Nc quote given,i like it | |
---
| | | |
| --- | --- | --- |
| | We don't know who God has sent to us, the only duty to perform the best is to please the God by treating and serving him at your level best what ever you can afford.We cannot be selfish. | |
---
| | | |
| --- | --- | --- |
| | v.nyc explaination...nyc work...i like ur web.... | |
---
| | | |
| --- | --- | --- |
| | Thank u... I m preparing to become a script writer... ur website will help me a lot thanx a ton | |
---
| | | |
| --- | --- | --- |
| | nice dohas and must for understanding meaning of good behaviour | |
---
| | | |
| --- | --- | --- |
| | good explanation in english | |
---