Aisee Vani Boliye, Mun Ka Aapa Khoye
Apna Tan Sheetal Kare, Auran Ko Sukh Hoye



Translation
Speak such words, sans ego's ploy
Body remains composed, giving the listener joy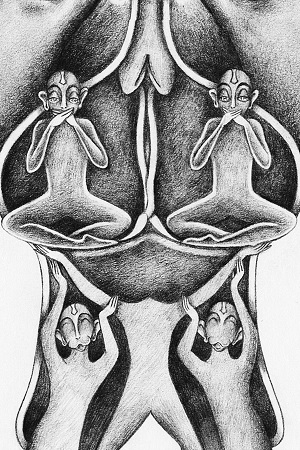 My Understanding
This doha is a gem. It deals with human psychology, metaphysics and a basic tenet of the Indian philosophy. The ancients of the Vedic literature have laid tremendous emphasis on speech. They have mentioned in innumerable shlokas that our speech has a direct connection with our bodily humors. They proclaimed that sound and sight are the underlying source of all vibrations.

This has been scientifically proven over and over again. The spoken words - the human speech - flow exclusively with the exhalation of the breath. While inhaling one cannot speak. Thus the Pranava or the breathing system itself makes the speech a process of the outgoing phenomenon. Words once spoken cannot be retrieved. Hence instead of being apologetic or remorseful later on, it is better to maintain the proper checks and balances on one's speech.

We know that all sounds create vibrations. And these vibrations affect both the speaker and the listener. Soothing, compassionate and loving words breed togetherness, while harsh speech breeds hatred. And, we also know that human speech is one of the main ingredients that differentiate mankind from the rest of the animal kingdom.

Thus, with the above perspective we can deduce that Kabir, in this doha crystallizes the power of the spoken word. He teaches us to speak in such a manner that keeps us harmonious and composed thereby making the listener feel a sense of joy in the communication.

Experiment yourself and rediscover the power of the spoken word.

Read also: Word