Kabir Dohas
Mangan Maran Saman Hai, Mat Koi Mange Beekh
Mangan Se Marna Bhala, Yeh Satguru Ki Seekh





Translation

Begging is like perishing, none should go imploring
It is better to die than beg, this is pure Guru's teaching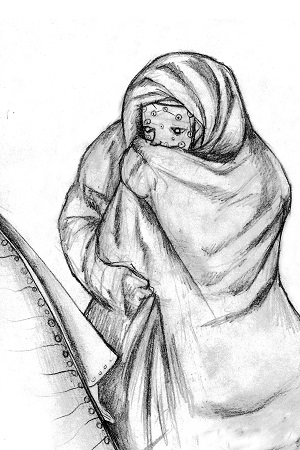 My Understanding

It is unfortunate but true that a vast number of people all over the world survive through begging. In non-affluent countries the scenario is worst. In affluent societies, this phenomenon can be seen in the guise of welfare plans.
The compassionate Guru knows that a person who sets out to beg (at least for the first time), literally kills his inner self and undergoes tremendous shame and humiliation. In this simple verse, Kabir boldly attempts to shake up the conscience of the people. Without using the words, he appeals the masses to work honestly and earn their livelihood.
Comments on this Doha
---
I believe you have misinterpreted the real meaning of this doha.

Kabir is referring to our constant act of begging not in its literal sense, but the fact that every human is a beggar, with unceasing wants and demands, fuelled by perpetual greed.

This doha cautions us against the evil of greed, by suggesting it is better to die than to live this cycle of ever increasing wants - itself a manifestation of the ego.
---
for quite sometime I was just wondering, why kabir said so, where as some bikshus in old days use to beg, that must be a sort of penance to understand and be wise.
It can also be that one who has really understood the creator, is doing his work by taking some alms, this way he maintains himself and also spreads the wealth he has gained by going door to door.
---
As mentioned by several fellow readers the begging St. Kabir refers to is not the literal meaning of begging

Sai itna dijiya, jisme kutumbh samaye
Main bhi bhukha na rahoon, sadhu bhi bhukha na jaaye
---
| | | |
| --- | --- | --- |
| | In this doha,Begging is not only a simple word with his single meaning. Kabir says,don't go here and there for fulfill your desire.In this world each and every person wandering here and there for completion of his desire. This type of activity comes under "Begging".Kabir says,stop either stop this begging kill your desires or better to die.So this type of absolutely different from Buddha's. Bhikshus activity not comes under the activity of begging. | |
---
Moorkh, The begging of Buddhism is different from imploring in many points:

1. There is no pleading involved as the buddhist holds his bowl
2. The buddhist is doing it as a duty towards maintenance of his body and never out of sensual desires
3. The buddhist does it only minimally when there is an absolute need, definitely not as a profession
4. Unlike the beggar, the buddhist is unconcerned with the success of his begging and is prepared to let his body fall off out of hunger. The beggar would plan of other fallback schemes (that might be worse than even begging)
---
Just curious to understand how does the "My Understanding" section go with Buddhism in which begging is the first step towards enlightenment?

Any feedback would be helpful.
---
I knew in my kabir reading that there was somewhere mentioned about begging,all this fantastic kabir writings are as always full of double meaning and ambiguity according to the situation of the moment
so begging forgivance from youir guru is not bad
while begging for funds for some desirable thing is not so good
while strecthing your hand for alms can be seen as gesture of humility which our pride is in dear need of
now beging some divnity for some siddhis to increase your spiritual ego is for sure not that good
begging sirjanhar for ameliorating our rajasic nature cannot do any harm
so basically to discriminate in this matter as on many other
can bring the simple ( sahej) answer to apparently confusing issues I got a bit of a clear light this morning thanks to kabir
---
| | | |
| --- | --- | --- |
| | The doha has spiritual, not physical meaning.The 'my understanding' section has to be revised. | |
---
| | | |
| --- | --- | --- |
| | This Doha is not about asking for physical alms. He is pointing that spiritual awakening can not be obtained by begging from door to door, as it will make you out of true path and waste your time, which is equivalent to deathlike. So, instead of asking spirituality in begging, better you go and die for it. | |
---
If tomorrow I lost my job, I lost my family and I had nowhere to sleep, would it be wrong of me to ask for help? What if I asked a stranger? What if I asked my government? What if I asked a foreign government? Was it wrong for the Japanese to ask other countries for help when they were struck by the tsunami? They had to hold their hand out and implore others for help.

When Kabir talks about begging, it is my feeling that he is talking about all the inner begging that we do. Kabir says "None should go begging." Yet we beg each other for love, for acceptance, for approval. Husbands beg their wives for love. Wives beg their husbands for love. Men beg their friends for love. Women beg theirs. Not with their lips. But inside we are busy begging the world for love in all sorts of ways. Kabir, the Great Guru is simply saying, "Why O human do you hold your hand out? Hold your hand in! You are rich beyond belief! Why do you live like a beggar when within you is a boundless treasure with no end?" "None should go begging." Why do you feel lack when so much fullness is waiting to be discovered inside your own being? Why do you live empty when you can live full?
You have it! Nothing is lost. Your riches are intact. Why do you beg? Awaken from this false dream, this deep sleep. (visit wopg.org and listen to some of the webcasts. I find them to be filled with clarity and understanding)


---
| | | |
| --- | --- | --- |
| | There is nohing like Indian ness. What kabir says is THE UNIVRSAL TRUTH. True at any time any where. | |
---
| | | |
| --- | --- | --- |
| | good one............ | |
---
| | | |
| --- | --- | --- |
| | Its nice to read these Dohas which hold in them the meaning of true Indianness | |
---