Kabir Dohas
Jaise Til Mein Tel Hai, Jyon Chakmak Mein Aag
Tera Sayeen Tujh Mein Hai, Tu Jaag Sake To Jaag





Translation
Like sesame contains the oil, fire in flint-stone
Your temple seats the Divine, realize if you can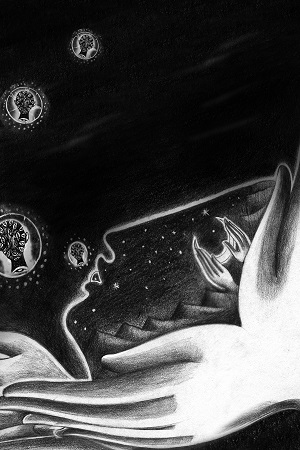 My Understanding

What is real and how is it veiled?
This yearning for the Truth is the basic search of everyone. We all want to know what God really is. Kabir in this doha reveals the secret. He unfolds the mystery in a very simple way. He takes the example of the sesame seed which contains the oil. However, when we see the seed, we don't see the oil. It is only seen when energy is used to extract the oil from the seed. Same way fire is not visible when we look at the flint stone. However, vigorous rubbing ignites the fire which is latent in the flint. Same way, Kabir asserts, that our body - the temple - seats the Divine. This divinity is our true self. However, due to our ignorance, we are unaware of this reality. Kabir challenges us in this doha to shed the veils of ignorance and awaken to realize our true self.
This doha also reminds me of Swami Vivekananda, who said, "Man is potentially divine and the sole purpose of this life is to discover that divinity. The time to do is here and now".
Comments on this Doha
---
The DIvine resides within us. Only after wandering unmindfully, in despair, when we come home, He is waiting for us to recognize Him/Her.The interpretation is simple, compels to introspection. This is the essence of all spiritual traditions
Thanks
---
| | | |
| --- | --- | --- |
| | Yaar bagal aur shehar dhandhora | |
---
| | | |
| --- | --- | --- |
| | In this Doha,kabir wants to say that in this world each and every person wandering here and there in the search of God.He doesn't know that God is present within him,for whom he is searching outside.When he reaches near to this,one can say that now he awakened. | |
---
Somewhat nearer translation could be

As sesame has Oil and fire is in Flintstone
Your God is in you, wake up if you can
---
| | | |
| --- | --- | --- |
| | i will try to follow these lines in my life | |
---
The key is Jagna. Reminds me the bhajan: uth jaag musafir ....
This is journey of soul and we forget about the journey part and live here as if this is our Home. No this is only a Motel.

If one wakes up what happens? Then one becomes detached and works on Liberation. Path? There is no path to the truth as J. Krishnamurti says.
Ishwargarg@yahoo.com
---
| | | |
| --- | --- | --- |
| | i wanna know all the explanation of kabirdas'dohe sakhi | |
---
| | | |
| --- | --- | --- |
| | The real meaning is that jab tak tum keval bahari awaran ko dekhoge tab tak kebal tum ho, aur jis din tumne us bahar ko mita diya us din tumhare aur parmaatma ke bich me kuch bhi nahi rah jayega. | |
---
| | | |
| --- | --- | --- |
| | jag sake to jag means if u can wake up wake by any means.. kabir is not suggesting any way hear.. its extremely difficult to a sleeping person to wake up himself. usingh97@yahoo.com | |
---
Tinka lekha nibadaya, jin satguru pakdi baah!

Only those soul's accounts are nullified, who have got a True Master / Poorn Guru.

In all walks of life, we needed someone to guide us to teach us, similiarly when it comes to Sprituality, we need a guru who has achieved Enlightenment and is capable of taking us as well on that path.
We must find a True Master in our life. Even if we dont find one, but this try and effort will make our life worth finding one.

WE SOULS ARE LIKE SHEEP, WHO ARE NOT AWARE OF WHICH WAY TO GO..! AND GURU IS LIKE A SHEPHERD WHO KNOWS THE WAY AND ALSO TAKES RESPONSIBILITY OF TAKING US TO OUR HOME/DESTINATION IF WE SURRENDER OURSELVES.
---
Sant Kabeer represents an idiom in Hindi —
"Gagar Mein Sagar bharana". Now, it depends on reader that how much water S/he can take? Commendable effort. Best wishes

---
| | | |
| --- | --- | --- |
| | This Doha is so meaningful. It has made me developed. | |
---
| | | |
| --- | --- | --- |
| | How simple was this bhakt Kabeer and how enlightened he was, one can visulise from his quotes which are so simple to read but how deep is its meaning. No wonder if one goes through his quotes and their meaning regularly can cleanse his innerself. | |
---
Dear Friends
The very art of interpretation is keeping it simple and look into your own life to know what it means, rather than thinking out all the possibilities.
Simplest meaning is : Jaise Til mein tel hai - Til ke andar tel hai yeh koi dekh nahi sakta, sahi tarike se til se tel ko alag kiya jaa sakta hai, Jaise Chakmak mein Aag - Chakmak pattar se aag aag nikala jaa sakta hai

ussi tarah, bhagwaan hamare andar hi hai, sahi soch vichaar aur karmon se usse paaya jaa sakta hai

Today people run to Temples, pay god, go to babas pay them heftily to Get MOKSHA (getting a place near to God), whereas you can easily get MOKSHA by being good, doing good deeds, since God is inside you, Feel your SOUL, then you will surely feel being near to GOD.


Comments are welcome
My Sincere thanks to Shri.Rajender Krishan and Simi Nallaseth for enlightning this Networked World.
---
I might want to add something here. As I understand Great, Kabir says here that as the oil is intricately mixed in seed (particularly sesame; as it is of no use, once the oil has been taken out) that it can't be seen through eyes only a procedure of oil extraction can separate 2, leaving the remaining seed of no use. In the same way Kabir says that God is inseparable, invisible to an individual and reside in every organism as a energy source called SOUL, which is invisible, and inseparable (till death) and once it leaves the body, body is of no use.

thanks
---
| | | |
| --- | --- | --- |
| | Kabir Dass ji in his doha saying that God is inside our body but He is hidden like oil hidden in seeds. So we should find the God inside our body. We should not go anywhere i.e. Rivers Ganga, Jamuna, Tamples, Forest to find the God. For this purpose we should find perfect Guru who can tell us about God and ways to find the God in our body. Kabir Saheb in his Shabad "Meri Najaro mei moti aaya hai" clearly mentioned about the way to find God i.e. "Hai til ke til til ke bhitar birle sadhu paya hai". So without the help of Guru, we can not find God. | |
---
| | | |
| --- | --- | --- |
| | This is true and good interpretation. All true religions accept that the body is the temple of God | |
---
Sreenivas,
Your own interrogation: "Whatever I am is not really I am?" is worth pondering. The core of this doha is also same as it attempts to discover the divine self within. And the divinity or the true self can only be discovered when you transcend the bounds and limitations of this body which makes the mundane "I".
---
| | | |
| --- | --- | --- |
| | Raj, I didn't understand properly, how can we shed the ignorance to realize ourself? I am just wondering, whatever I am is not really I am? what should we have to shed out? please clarify me. | |
---
| | | |
| --- | --- | --- |
| | Yeah better state the right interpretation if you know it Jin...honestly, I'd love to understand it..thanks in advance! | |
---
| | | |
| --- | --- | --- |
| | Simply stating that it is wrong means nothing. Per you, what is the correct interpretation, you should be magnanimous to post that. | |
---
| | | |
| --- | --- | --- |
| | This is wrong interpretation of this Doha | |
---